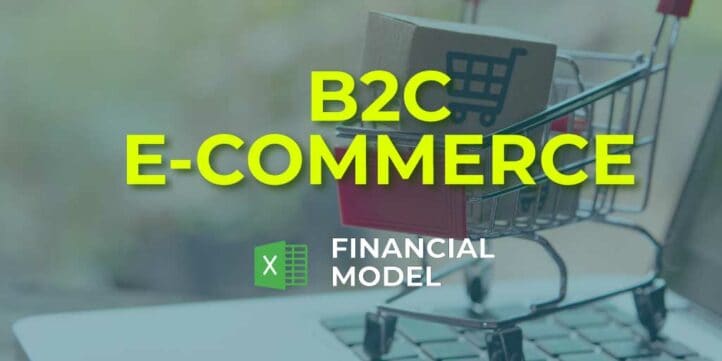 eCommerce & Webshops, Financial Model, Online Businesses & IT
5-year financial projections, Average Order Value (AOV), Excel, Financial Feasibility, Financial Model, Financial Modeling, Financial Planning, Financial Projection, Financial Projections, Financial Reporting, Financial Statements, Free Financial Model Templates, Pre Money Valuation, Revenue Projections, Startup Financial Models, Three Statement Model | Three Financial Statements, Uses and Sources of Funds, Valuation
NOTE: Single-User pertains to a limited Single User License where the template can only be used by one single user; while Multi-User is a license for users sharing the template with up to 20 members. Please refer to Terms of Use and License and Permitted Use for clarification.
BUSINESS TO CUSTOMER E-COMMERCE EXCEL PRO FORMA TEMPLATE KEY FEATURES
Video tutorial:
Saves you time
Excel Financial Model Template allows you to spend less time on finances and more time on your products, customers and business development
Convenient, All-In-One Dashboard
Includes all required forecasting reports, including assumptions, profit and loss pro forma, cashflow forecast, balance sheets, performance reviews and summaries for months and years (incl. numerous graphs and KPIs).
Save Time and Money
Business To Customer E-Commerce Financial Projection Template allows you to start planning with minimum fuss and maximum of help. No writing formulas, no formatting, no programming, no charting, and no expensive external consultants. Plan the growth of your business instead of fiddling around with expensive techy things.
Plan for Future Growth
Cash Flow Forecast can help you plan for future growth and expansion. No matter you're extending your company with new employees and need to take into account increased staff expenses. Or to scale production to keep up with increased sales, future projections help you see accurately where you're running — and how you'll get there. Forecasting is also a well-known goal-setting framework to help you plan out the financial steps your company has to take to reach targets. There's power in Statement Of Cash Flows and the insight they can provide your business. Fortunately, this competitive advantage comes with little effort when you use the Cash Flow Pro Forma.
Saves you time
Allows you to spend less time on Cash Flow Statement Projection and more time on your products, customers and business development
Update anytime
You can easily adjust inputs at the launch stage and throughout the further activities of your business to refine your Business To Customer E-Commerce Financial Model In Excel.
REPORTS and INPUTS
Break Even
This Business To Customer E-Commerce Financial Projection has a break even point excel tab that predicts the period within which the company is supposed to move to a new level, i.e., start to bring profits to its owners. break even analysis uses forecasted revenues and expenses and makes Financial Projection Model on the period when its overall revenues become significantly bigger than costs.
Liquidity KPIs
Working Capital. The working capital financial metric reflects the money you need for short-term operations. Working capital shows the difference between current assets and current liabilities.
Valuation
With our Business To Customer E-Commerce Financial Projection Model Excel, you will get proformas for valuation analysis. You will be able to perform a Discounted Cash Flow (DCF) valuation analysis and other valuations you may need.
Benchmarks
The financial benchmarking study tab in this 3 Way Financial Model will help the companies assess their key performance indicators and compare them with other companies' KPIs.
The term 'benchmarking' means the process of comparing the business, financial or other metrics of your company to that of other firms within the same industry. It is essential to use other businesses' best practices in the same industry as a 'benchmark' to improve your own company's standards.
As a result of the benchmarking study, companies can learn how to operate in a certain industry more efficiently. This benefit makes the financial benchmarking study an essential planning tool for start-ups.
Sources and Uses
The sources and uses of funds proforma in this Business To Customer E-Commerce Cash Flow Proforma tell stakeholders the sources where a company obtains its money and how it spends it.
Cap Table
The Cap table template in our Business To Customer E-Commerce Pro Forma includes four rounds of financing, and it shows how the shares issued to new investors impact the investment income. After each round of financing, the Cap table shows users the ownership structure and the percentage of changes, i.e., the dilution.
Top Revenue
When the company's management starts to make a Budget Spreadsheet, revenue is the most crucial component in the Excel Pro Forma Template. Revenue is one of the main drivers of the enterprise's value in the Three Way Financial Model. That is why financial analysts must pay special attention to the planning and devising the best strategy to approach modeling future revenue streams.
Revenue forecasts should also have assumptions about the growth rate based on historical financial data. Users can find all the components of wise financial planning of the revenue streams in our Business To Customer E-Commerce Financial Model Excel Template.
File types:
Excel – Single-User: .xlsx
Excel – Multi-User: .xlsx
Free Demo – .xlsx