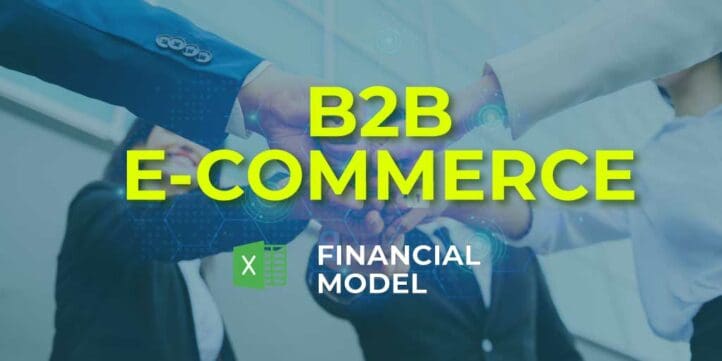 eCommerce & Webshops, Financial Model, Online Businesses & IT
5-year financial projections, Average Order Value (AOV), Financial Model, Financial Modeling, Financial Planning, Financial Projection, Financial Projections, Financial Reporting, Financial Statements, Free Financial Model Templates, Revenue Projections, Startup Financial Models, Three Statement Model | Three Financial Statements, Uses and Sources of Funds, Valuation
NOTE: Single-User pertains to a limited Single User License where the template can only be used by one single user; while Multi-User is a license for users sharing the template with up to 20 members. Please refer to Terms of Use and License and Permitted Use for clarification.
BUSINESS TO BUSINESS E-COMMERCE FINANCIAL PROJECTION KEY FEATURES
Video tutorial:
Manage accounts receivable.
By creating a startup cash flow projection that takes invoices and bills into account, you'll be more easily able to identify who is systematically paying late. You could even go on to model different payment dates on overdue invoices to see the real effect of late payments on your cash flow.
Build your plan and pitch for funding
Impress bankers and investors with a proven, solid business to business e-commerce financial model that impresses every time.
Gaining trust from stakeholders
Investors and financing providers tend to think in terms of the big picture. They want the c-level of the companies they invest in to do the same to ensure they maintain a clear idea of the future. Providing stakeholders with a monthly startup cash flow statement will demonstrate a level of awareness that leads to confidence and trust and will make it easier to raise more investment.
Get it Right the First Time
Funding is a binary event: either you succeed or you fail. If you fail, most investors won't give you a second chance. Learn about the pros and cons with Business To Business E-Commerce Financial Model Excel Spreadsheet.
Saves you time
Startup Financial Model allows you to spend less time on finances and more time on your products, customers and business development
Get a Robust, Powerful and Flexible Financial Model
This well-tested, robust and powerful Business To Business E-Commerce Cash Flow Proforma Template is your solid foundation to plan a business model. Advanced users are free to expand and tailor all sheets as desired, to handle specific requirements or to get into greater detail.
REPORTS and INPUTS
Financial Statements
The Business To Business E-Commerce P&L Projection has pre-built proformas for the balance sheet, the pro forma income statement, and the cash flow statement. These proformas allow users to create statements both on a monthly and annual basis.
Users can create detailed financial statements using the financial assumptions inputted in the Cash Flow Format In Excel.
Sources and Uses
The sources and uses statement in this Business To Business E-Commerce Financial Model describes all of the company's funding sources and the ways it spends these funds.
Profitability KPIs
Net profit margin. Net profit margin is a business metric that shows how efficient your company is at generating profit compared to its revenue. In other words, this net profit margin metric tells users how each dollar translates into profits.
The Net profit margin metric is an excellent way to forecast and manage the long-term growth of a business, i.e., how the income exceeds the business's costs.
Liquidity KPIs
Accounts receivable turnover (ART). In the Cashflow Projection, the accounts receivables turnover ratio (ART) calculates a metric that assesses a company's effectiveness in collecting its receivables. This ratio shows how successful the company is in managing its debts.
Top Expenses
This Business To Business E-Commerce Startup Financial Model has a Top expenses tab that displays your company's four most significant expense categories and the rest of the expenses as the 'other'.
Performance KPIs
Lead-to-client conversion rate. Lead-to-Client Conversion Rate is an essential metric for the businesses that attract new clients with the Internet, social media, and other similar channels. Leads do not turn into customers automatically. Company's sale team need to convert these leads into actual customers.
The Lead-to-Conversion business metric is a good measure of the sales team's performance. Moreover, it indicates the quality of your product. If you have a low conversion rate, it may sign that your product is not attractive to the customers.
Burn and Runway
Our Business To Business E-Commerce Financial Model In Excel Template automatically creates cash runway and cash burn analysis based on the forecasted revenues and expenses that, in their turn, show net loss, net profit, cash on hand, and break even formula excel. You can also forecast funding requirements using a set of parameters around funding (e.g., equity, debt, grants) and expected runway to raise (for example, 18 months of forecasted expenses).
File types:
Excel – Single-User: .xlsx
Excel – Multi-User: .xlsx
Free Demo – .xlsx