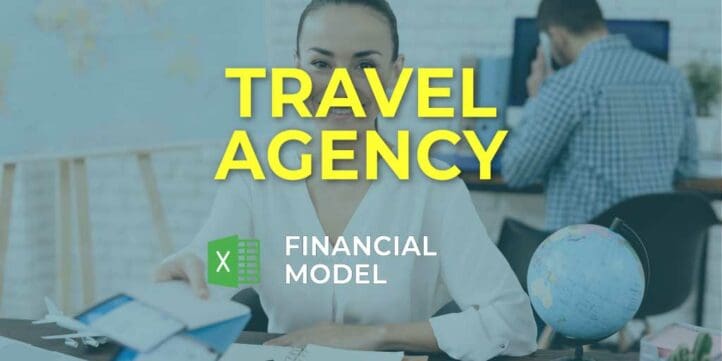 Consulting, Financial Model, Professional Services & Advisory, Service Businesses, Tourism & Attractions, Travel Services
5-year financial projections, Amortization, Break-Even, Budget, Budgeting, Business Valuation, Cap Table, Dashboard, DCF Model, Debt Amortization, Excel, Financial Feasibility, Financial Model, Financial Planning, Financial Projections, Financial Reporting, Financial Statements, Forecast, Forecasting, Loans, NPV (Net Present Value), Pro-Forma, Revenue Projections, Startup Financial Models, Three Statement Model | Three Financial Statements, Uses and Sources of Funds, Valuation
NOTE: Single-User pertains to a limited Single User License where the template can only be used by one single user; while Multi-User is a license for users sharing the template with up to 20 members. Please refer to Terms of Use and License and Permitted Use for clarification.
TRAVEL AGENCY 3 WAY FINANCIAL MODEL KEY FEATURES
Video tutorial:
Get a robust, powerful financial model which is fully expandable
This well-tested, robust and powerful Travel Agency Three Way Financial Model is your solid foundation to plan travel agency business model. Advanced users are free to expand and tailor all sheets as desired, to handle specific requirements or to get into greater detail.
Plan for Future Growth
Cash Flow Statement Projection can help you plan for future growth and expansion. No matter you're extending your company with new employees and need to take into account increased staff expenses. Or to scale production to keep up with increased sales, future projections help you see accurately where you're running — and how you'll get there. Forecasting is also a well-known goal-setting framework to help you plan out the financial steps your company has to take to reach targets. There's power in Projected Cash Flow Statement Format and the insight they can provide your business. Fortunately, this competitive advantage comes with little effort when you use the Startup Cash Flow Projection.
Build your plan and pitch for funding
Impress bankers and investors with a proven, strategic Travel Agency Cash Flow Proforma that impresses every time.
Saves you time
Allows you to spend less time on Projected Cash Flow Statement and more time on your products, customers and business development
Run different scenarios
A Projected Cashflow Statement shows you what your cash balance will look like taking into account the numbers you put into the template. It means you can play with the various variables that impact your cash flow forecast, i.e., wages, sales inflow, supplier payments, taxes, and so on. By adjusting the input amounts, you will be able to see what impact they will have on your businesses' cash flow and when this impact is likely to occur. A well-known example of this is the ability to forecast the effect a new member of staff might have on your cash flow over different periods. Increase the wage costs and see what happens to your cash flow. Running different scenarios in your Pro Forma Cash Flow Projection can have several benefits.
Prove You Can Pay Back the Loan You Requested
When you apply for a business loan, bankers will study your Cash Flow Statement Projection in an attempt to answer this question: Can this business pay back the loan? Requesting a loan without showing your Cash Flow Statement Proforma for paying it back is a common way to land in the rejection pile. It is exceptionally accurate if your current cash flow won't cover all of your monthly operating expenses — plus your loan payment. Don't fall into this kind of situation. Use Cash Flow Statement Forecast to strengthen your case by showing the banker exactly how you plan to use the loan and when you will start repaying the debt. This type of forecasting helps you create a road map that can impress a lender with the confidence they need to approve your loan.
REPORTS and INPUTS
Top Revenue
The Top revenue tab in the 3 Way Forecast Model shows off the financial information regarding each of your offerings. In particular, with the help of this Travel Agency 3 Way Financial Model, you can obtain an annual breakdown of your revenue streams, including the revenue depth and revenue bridge.
Profitability KPIs
Gross profit margin. A gross profit margin is a measure of a company's profitability, which is calculated by dividing gross profit by net sales.
Costs
Our Travel Agency Pro Forma Budget has a well-developed methodology for creating a cost budget. You can plan and forecast your costs from operations and other expenses for up to 72 months. The cost budget has a detailed hiring plan while also automatically handling the expenses' accounting treatment. You can set salaries, job positions, and the time of hiring.
Moreover, the model allows users to calculate hiring as the company scales automatically. Pre-built expense forecasting curves enable users to set how an expense changes over time. These pre-built options include % of revenues, % of salaries, % of any revenue category, growth (or decline) rates that stay the same or change over time, ongoing expenses, expenses that periodically reoccur, expenses that regularly change, and many more. Costs can be allocated to key expense areas and labeled for accounting treatment as SG&A, COGS, or CAPEX.
Break Even
Excel Break Even Formula in economics, business, and cost accounting helps calculate the point of time in which the company's total cost and total revenue are expected to become equal. Companies use a break even analysis to determine the number of product units they need to sell or revenue needed to cover total (fixed and variable) costs.
This Travel Agency Financial Projection Template Excel will also help determine the sales prices for the company's products. Sales cost per unit less variable cost per unit shows the contribution margin and the contribution margin impacts company's profitability.
Performance KPIs
Return on assets. The return on assets financial metric can be calculated based on the information from two main financial statements: Balance Sheet and pro forma income statement. Return on assets measures the accomplishment of earnings to the assets, i.e., the amount of money used to get those earnings.
Top Expenses
In the Top expenses section of our Travel Agency Financial Model In Excel, you can track your more significant expenses divided into four categories. The model also has an 'other' category, and you can expand or change this table according to your needs.
You can reflect your company's historical data or make a Pro Forma for the five years.
Operational KPIs
Our Travel Agency Three Statement Financial Model has convenient, informative, and easy-to-use operational performance graphs. Here you may visually track your company's key operational performance indicators (KPIs) in the form of charts. These operational performance graphs show the stakeholders the financial information related to the company's liquidity, revenues, expenses, cash flows, and other financial metrics. This financial information in the form of graphs will help a business owner to create presentations for banks and investors with minimum efforts.
File types:
Excel – Single-User: .xlsx
Excel – Multi-User: .xlsx
Free Demo – .xlsx