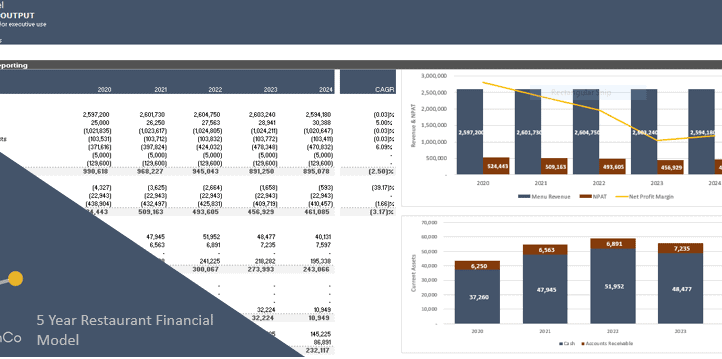 ——————————
KEY INFO
——————————
This model will allow you to forecast the performance of your start up or existing restaurant business for up to 5 years. It provides you with fully integrated financial statements on an annual and monthly basis so that you can track the key metrics and identify the key risks.
Importantly, as restaurant activity are subject to weekly cycles, this model includes calculation of revenues and key expenses on a weekly basis also to ensure that the cashflow modelling is accurate and reflects the cash holdings that you can expect.
NOTE: All purchases entitle you to a free 1 hour consultation with us to ensure that you are able to make the most of this tool and discuss any specific requirements you might have.
——————————
MODEL FEATURES
——————————
– Up to 5 years of projected financials
– Ability to add actuals to provide a comparison of future performance against actual performance to ensure better forecasting assumptions
– Analyse weekly revenue for up to 10 menu items and 5 additional revenue sources
– Restaurant valuation using DCF
– Accurate cashflow analysis taking into account weekly variations
– Fully integrated Financial statements on a monthly and annual basis
– Dashboard that provides an overall summary of the financial statements and key business metrics, as well as cash balances
——————————
ABOUT US
——————————
ModelFinCo specialises in supporting clients with financial projections, investment modelling, and decision support. Our aim is to create simple and easy to use models that can provide you with robust and well thought out analytics to support your decision making. Having worked at top tier investment funds and at the Big 4 we have advised multinationals worldwide on over $10b in transactions and reorganisations and we understand the needs of busy business owners. Usability is our top priority.