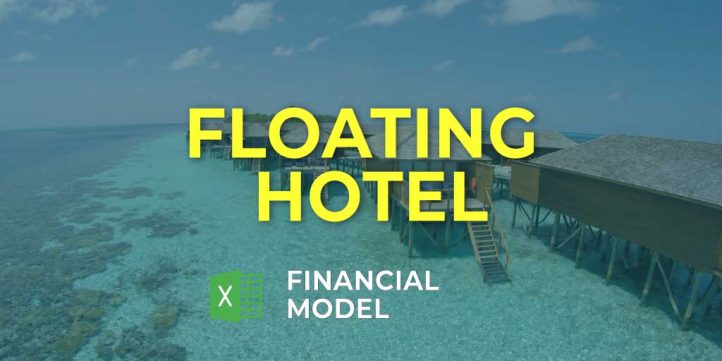 Financial Model, Hospitality, Hotel, Tourism & Attractions
5-year financial projections, Business Valuation, Excel, Financial Model, Financial Modeling, Financial Projection, Financial Projections, Pro-Forma, Startup Financial Models, Three Statement Model | Three Financial Statements
NOTE: Single-User pertains to a limited Single User License where the template can only be used by one single user; while Multi-User is a license for users sharing the template with up to 20 members. Please refer to Terms of Use and License and Permitted Use for clarification.
FLOATING HOTEL CASHFLOW PROJECTION KEY FEATURES
Video tutorial:
Great Value for Money
Use a robust and proven Floating hotel 3 Way Financial Model Template based on years of experience at an affordable price. This pro forma has a one-off payment and absolutely no hidden fees or monthly payments.
5 years forecast horizon
Generate a fully integrated Floating hotel Financial Model In Excel for 5 years (on a monthly basis). Automatic aggregation of annual summaries on outputs tabs.
Run different scenarios
A Pro Forma Cash Flow Projection shows you what your cash balance will look like taking into account the numbers you put into the template. It means you can play with the various variables that impact your cash flow forecast, i.e., wages, sales inflow, supplier payments, taxes, and so on. By adjusting the input amounts, you will be able to see what impact they will have on your businesses' cash flow and when this impact is likely to occur. A well-known example of this is the ability to forecast the effect a new member of staff might have on your cash flow over different periods. Increase the wage costs and see what happens to your cash flow. Running different scenarios in your Cash Flow Pro Forma can have several benefits.
Print-ready Reports
Solid package of print-ready reports, including a p&l forecast, cash flow projection, a balance sheet, and a complete set of financial ratios.
Save time and money
Via 3 Way Forecast you can without effort and special education get all the necessary calculations and you will not need to spend money on expensive financial consultants. Your task is building a strategy, evolution, and creativity, and we have already done the routine calculations instead of you.
Currency for inputs and denomination
In the Pro Forma Budget, define any currency code or symbol and preferred denomination (e.g. 000s) to reflect your preferences.
REPORTS and INPUTS
Liquidity KPIs
Quick Ratio or Acid-Test Ratio. The quick ratio or acid-test ratio uses a firm's balance sheet data to analyze if it has sufficient short-term assets to cover its short-term liabilities. This metric ignores less liquid assets like such as inventory.
Profitability KPIs
Return on investment (ROI). ROI is an essential measure of profitability. Return on investment (ROI) shows a ratio between cash inflows and cash outflows that follow from the investments. The ROI ratio can be calculated as net investment gains divided by total investment costs.
Dashboard
Our Floating hotel Financial Projection Model Template has an integrated all-in-one dashboard. This dashboard consists of a cash flow forecast, Balance Sheet, and cash flow statement for 5 years, and users can perform the monthly or annual breakdown for these statements. Users can also obtain information from the dashboard, both in the form of figures and charts.
Benchmarks
A benchmarking study as the element of the Financial Projection Model Template is usually used to evaluate a business's performance by focusing on one or more particular indicators and comparing them with similar indicators of other companies in the industry.
In respect of the financial benchmarking study, these indicators could be profit margins, cost margins, cost per unit, productivity margins, or others. Later the company's performance indicators should be compared to that of other companies within the same industry.
Benchmarking is a useful strategic management tool, which is essential for start-ups. Companies can evaluate any economic, business, or financial metric or process and compare them to the processes of 'best practice' companies within the same field or industry.
Loan opt-in
Calculating the necessary payments related to the obtained loan or mortgage is essential, especially for start-ups. At the same time, many companies may find this calculation to be a difficult task. In this case, our P&L Projection has a loan amortization schedule with an amortization calculator that will help to plan and list these loan payments.
Top Revenue
The Top revenue tab in the Cash Flow Proforma shows off the financial information regarding each of your offerings. In particular, with the help of this Floating hotel Excel Financial Model, you can obtain an annual breakdown of your revenue streams, including the revenue depth and revenue bridge.
Top Expenses
This Floating hotel Pro Forma Template Excel has a Top expenses tab that displays your company's four most significant expense categories and the rest of the expenses as the 'other'.
File types:
Excel – Single-User: .xlsx
Excel – Multi-User: .xlsx
Free Demo – .xlsx