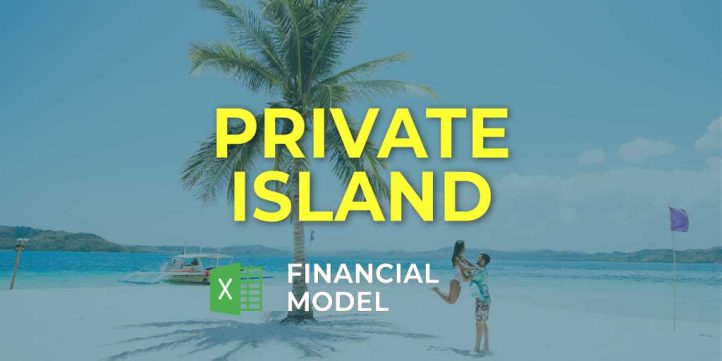 Financial Model, Hospitality, Hotel, Tourism & Attractions
5-year financial projections, Business Valuation, Excel, Financial Model, Financial Modeling, Financial Projection, Financial Projections, Pro-Forma, Startup Financial Models, Three Statement Model | Three Financial Statements
NOTE: Single-User pertains to a limited Single User License where the template can only be used by one single user; while Multi-User is a license for users sharing the template with up to 20 members. Please refer to Terms of Use and License and Permitted Use for clarification.
PRIVATE ISLAND FINANCIAL PROJECTION EXCEL KEY FEATURES
Video tutorial:
Plan for Future Growth
Cash Flow Statement For 5 Years can help you plan for future growth and expansion. No matter you're extending your company with new employees and need to take into account increased staff expenses. Or to scale production to keep up with increased sales, future projections help you see accurately where you're running — and how you'll get there. Forecasting is also a well-known goal-setting framework to help you plan out the financial steps your company has to take to reach targets. There's power in Projected Cashflow Statement and the insight they can provide your business. Fortunately, this competitive advantage comes with little effort when you use the Pro Forma Cash Flow Projection.
Integrated Model to convince Investors
3 Way Forecast Excel Template includes and connects everything (assumptions, calculations, outputs) and presents it in an investor-friendly, deal-proven way.
Save Time and Money
Private Island P&L Projection allows you to start planning with minimum fuss and maximum help. No writing formulas, no formatting, no programming, no charting, and no expensive external consultants. Plan the growth of your business instead of fiddling around with expensive techy things.
Simple-to-use
A very sophisticated Private Island Pro Forma Template Excel, whatever size and stage of development your business is. Minimal previous planning experience and very basic knowledge of Excel is required: however, fully sufficient to get quick and reliable results.
Build your plan and pitch for funding
Impress bankers and investors with a proven, solid private island financial model that impresses every time.
Convenient, All-In-One Dashboard
Includes all required forecasting reports, including assumptions, forecasted income statement, projected cash flow statement, balance sheets, performance reviews, and summaries for months and years (incl. numerous graphs and KPIs).
REPORTS and INPUTS
Profitability KPIs
EBIT. Earnings before interest and tax (EBIT) is a measure of a company's earning power from ongoing operations, equal to earnings before deduction of interest payments and income taxes. EBIT shows the operating performance of the company that excludes income and expenditures from unusual and non-operational activities.
Performance KPIs
Cost of acquiring new customers. The cost of acquiring new customers is a critical financial metric for start-ups, and it should be in our Private Island Pro Forma Budget. The cost of acquiring new customers is the total cost of the marketing divided by the customers' number during the year.
Costs
Our Private Island Cash Flow Proforma has a well-developed methodology for creating a cost budget. You can plan and forecast your costs from operations and other expenses for up to 72 months. The cost budget has a detailed hiring plan while also automatically handling the expenses' accounting treatment. You can set salaries, job positions, and the time of hiring.
Moreover, the model allows users to calculate hiring as the company scales automatically. Pre-built expense forecasting curves enable users to set how an expense changes over time. These pre-built options include % of revenues, % of salaries, % of any revenue category, growth (or decline) rates that stay the same or change over time, ongoing expenses, expenses that periodically reoccur, expenses that regularly change, and many more. Costs can be allocated to key expense areas and labeled for accounting treatment as SG&A, COGS, or CAPEX.
Break-Even
A breakeven analysis tab in this Pro Forma Template shows the break-even point analysis. This calculation illustrates when your company is supposed to become profitable. In other words, a break-even point analysis indicates when the company's overall revenues exceed its expenses.
Sources and Uses
The sources and uses statements presented in this Private Island 3 Way Forecast Excel Template show where a company is making money and spending those funds.
CAPEX
Detailed capital expenditure (i.e., CAPEX ) planning and automatic calculation of depreciation is an essential part of any 3 Way Forecast. Our CAPEX calculation template allows users to apply straight-line or double-declining balance depreciation for financial planning purposes.
Cap Table
A capitalization table or the cap table is an essential financial tool for start-up companies. A cap table in our Private Island Pro Forma Budget has four rounds of raising funding. This approach will help users anticipate the company's ownership stakes by its shareholders, which will lead to dilution of existing shares. A cap table considers equity shares, preferred shares, share options, employee stock options, convertible bonds, and others.
File types:
Excel – Single-User: .xlsx
Excel – Multi-User: .xlsx
Free Demo – .xlsx