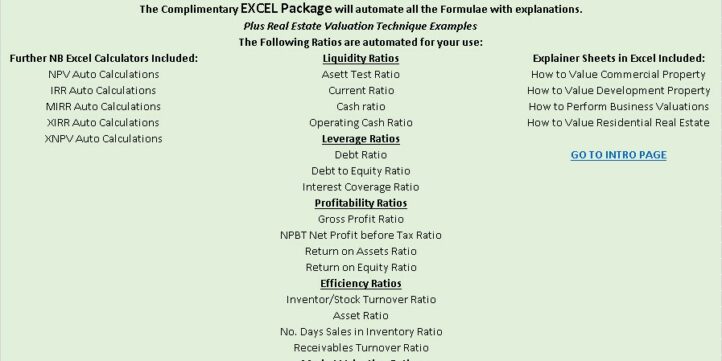 Financial Model, Real Estate
10-year financial projections, Break-Even, Business Valuation, Cash Flow Analysis, Debt Amortization, Developers, Economic Indicators, Financial Debt, Financial Feasibility, Financial Planning, Financial Projection, Financial Projections, Financial Ratios, Financial Reporting, Financial Statements, Financing, Forecasting, Goodwill, Gross Yield, Investment Multiple, Investor Cash Flows, IRR (Internal Rate of Return), Levered yield, Management, MRR, Net Yield, NPV (Net Present Value), Payback Period, PDF, Profitability Analysis, Project Management, Property Appraisals, Property Valuation, Real Estate Valuation, ROI, Sensitivity Analysis, Stress Test
The Financial Model makes Financial Management and decisions easy with all the necessary performance ratios automated.
This Excel template includes the following:
4 x liquidity Ratios
4 x Leverage Ratios
4 x Efficiency Ratios
4 x Profitability Ratios
3 x Market Value Ratios
PLUS Calculators are built-in for NPV, IRR, MIRR, XNPV, and XIRR.
Also, included are detailed explainer sheets on how to correctly value Commercial Property, Development Property, Business Valuations, and Residential Real Estate – the new way to current market Valuations.