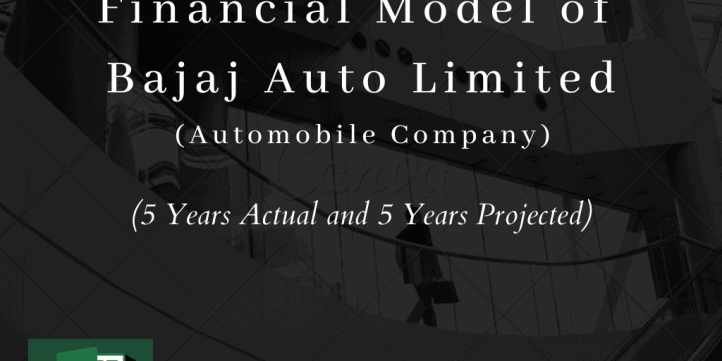 Automotive Supplier, Car Dealer, Car Services, Financial Model, Transport, Travel Services
5-year financial projections, Accounts Payable, Accounts Receivable, Amortization, Business Valuation, Cash Flow Analysis, Cash Flow Projections, DCF Model, Discount Rate, Excel, Financial Model, Financial Modeling, Financial Projection, Financial Ratios, Financial Statements, Forecast, Forecasting, Revenue Projections, Scenario Analysis, Sensitivity Analysis, Terminal Value, Three Statement Model | Three Financial Statements, Valuation, WACC (Weighted Average Cost of Capital)
The Bajaj Group is amongst the top 10 business houses in India. Its footprint stretches over a wide range of industries, spanning automobiles (two-wheelers manufacturer and three-wheelers manufacturer), home appliances, lighting, iron and steel, insurance, travel, and finance. The group's flagship company, Bajaj Auto, is ranked as the world's fourth-largest three and two-wheeler manufacturer and the Bajaj brand is well-known across several countries in Latin America, Africa, Middle East, South, and South East Asia. Bajaj Auto exports to 70+ countries and a significant share of revenues come from Exports. This stands as a testament to the new brand image – The World's Favourite Indian.
Content-
1. Financial statement forecast: This includes Source Data of Profit and loss statement, Balance Sheet, and Cash Flow Statement of the past five years.
2. Assumptions: This includes making 3 types of cases namely Best case, Base Case, and Worst-Case.
3. Output: This includes final profit and loss statement, Balance sheet, and Cash flows for a period of 5 years.
4. DCF model: This contains the estimated discounted value of cash flows of Dr. Reddy's Laboratories.
5. Beta & WACC calculation along with ratios and sensitivity analysis
6. Company Analysis includes financial ratios with fundamental information of the company.
This model contains Currency in Indian National Rupees and the unit of measurement is in Crores.