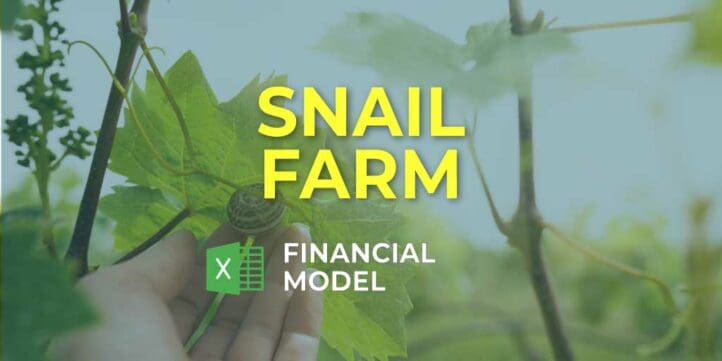 Agriculture, Financial Model
5-year financial projections, Cash Flow Analysis, Cash Flow Projections, Free Financial Model Templates, Revenue Projections, Startup Financial Models, Three Statement Model | Three Financial Statements, Uses and Sources of Funds, Valuation, WACC (Weighted Average Cost of Capital)
NOTE: Single-User pertains to a limited Single User License where the template can only be used by one single user; while Multi-User is a license for users sharing the template with up to 20 members. Please refer to Terms of Use and License and Permitted Use for clarification.
SNAIL FARM EXCEL PRO FORMA KEY FEATURES
Video tutorial:
Predict the Influence of Upcoming Changes
Does your company plan to purchase new equipment or to launch a new product? Cash Flow Projection enable you to obtain a complete picture of the effect that specific changes will have on your Startup Cash Flow Projection. When planning your finances in the Projected Cash Flow Statement Format, you will forecast cash inflows and outflows based on future invoices, bills due, and payroll. You can then create multiple 'what if' scenarios, such as buying new equipment to choose the best way for you. Forecasting shows you how the upcoming changes will affect your cash balance.
Works for startups
Financial Model Excel creates a financial summary formatted for your pitch deck
Currency for inputs and denomination
In Three Statement Financial Model Template define any currency code or symbol and preferred denomination (e.g. 000s) to reflect your preferences.
Saves you time
Cash Flow Proforma allows you to spend less time on finances and more time on your products, customers and business development
We do the math
Financial Projection Excel has all the required features ready with no formula writing, no formatting, no programming, no charting, and no expensive external consultants! Concentrate on the task of planning rather than programming.
Spot problems with customer payments
Preparing the Cash Flow Statement encourages the business to look at how quickly customers are paying their debts. Identify unpaid invoices and take necessary actions to make them pay.
REPORTS and INPUTS
Burn and Runway
The cash burn rate shows the difference between the cash inflows and cash outflows of the company. It is essential to monitor this metric because it shows how long the company will last with its current funding level. Business owners can also see a clear picture of how various business strategies change the cash burn rate.
All in One Place
Get a sophisticated but easy-to-use Budget Spreadsheet that is fully expandable. Our robust and powerful Snail Farm P&L Projection will be your roadmap for many different business models. If you have financial experience, you can expand and tailor all sheets as desired.
Financial Statements
Our Snail Farm Three Way Financial Model has a pre-built integrated financial statement structure that contains all the primary financial statements (Balance sheet, p&l forecast, and cash flow statement for 5 years) and creates financial forecasts for the next five years automatically.
This integrated financial statement structure has pre-built proformas, financial and managerial reports, and financial ratios. Users can choose the presentation of financial information in GAAP or IFRS format for their convenience.
Liquidity KPIs
Working Capital. The working capital financial metric reflects the money you need for short-term operations. Working capital shows the difference between current assets and current liabilities.
Break Even
This Snail Farm Cashflow Projection has a breakeven analysis tab that predicts the period within which the company is supposed to move to a new level, i.e., start to bring profits to its owners. break even formula excel uses forecasted revenues and expenses and makes Financial Projection Template on the period when its overall revenues become significantly bigger than costs.
Performance KPIs
Lead-to-client conversion rate. Lead-to-Client Conversion Rate is an essential metric for the businesses that attract new clients with the Internet, social media, and other similar channels. Leads do not turn into customers automatically. Company's sale team need to convert these leads into actual customers.
The Lead-to-Conversion business metric is a good measure of the sales team's performance. Moreover, it indicates the quality of your product. If you have a low conversion rate, it may sign that your product is not attractive to the customers.
CAPEX
Capex, or capital expenditures, represents the total company's expenditures on purchasing assets in a given period. These expenditures include both assets acquired and built by the company.
Usually, the company's investments, or expenditures, related to these assets are significant. These capital assets provide value to the company over a more extended period than one reporting period. Therefore, the company reflects these CapEX calculations in the Balance Sheet and does not recognize the whole amount of investments in the profit and loss proforma in one reporting period.
File types:
Excel – Single-User: .xlsx
Excel – Multi-User: .xlsx
Free Demo – .xlsx