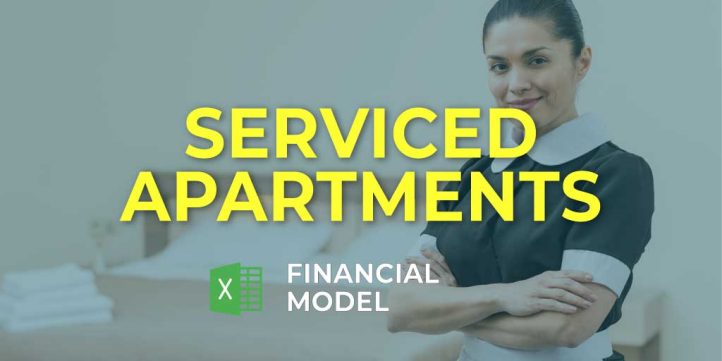 Commercial Properties, Financial Model, Furnished Apartments, Hospitality, Real Estate, Residential Properties
5-year financial projections, Business Valuation, Financial Model, Financial Modeling, Financial Projection, Financial Projections, Free Financial Model Templates, Pro-Forma, Startup Financial Models, Three Statement Model | Three Financial Statements
NOTE: Single-User pertains to a limited Single User License where the template can only be used by one single user; while Multi-User is a license for users sharing the template with up to 20 members. Please refer to Terms of Use and License and Permitted Use for clarification.
SERVICED APARTMENTS CASH FLOW PROFORMA TEMPLATE KEY FEATURES
Video tutorial:
Works for startups
Financial Model Excel Template creates a financial summary formatted for your pitch deck
Update anytime
You can easily adjust inputs at the launch stage and throughout the further activities of your business to refine your Serviced Apartments Three Statement Financial Model Template.
Build your plan and pitch for funding
Impress bankers and investors with a proven, solid serviced apartments financial model that impresses every time.
Convenient, All-In-One Dashboard
Includes all required forecasting reports, including assumptions, profit and loss statement, projected cash flow statement, balance sheets, performance reviews and summaries for months and years (incl. numerous graphs and KPIs).
Get Investors to Notice
Most entrepreneurs can't get investors to return their calls. With the Serviced Apartments Excel Financial Model Template, you will secure meetings with potential investors easily.
External stakeholders, such as banks, may require a regular forecast.
If the business has a bank loan, the bank will ask for a Serviced Apartments Pro Forma Projection regularly.
REPORTS and INPUTS
Loan opt-in
A loan amortization schedule is a table that shows the company's stakeholders the details of the periodic payments for an amortizing loan. It reflects the principal of an amortizing loan that is paid down over the life of the loan. In most cases, such payments have equal amounts, and the company regularly makes them during a certain period.
A Serviced Apartments Financial Projection Model Template includes the pre-built amortization calculator, which reflects the initial amount, periodic terms, and interest rate of the loan. With this loan amortization schedule, the companies can better plan and track how much they still owe and how they plan to repay the loans.
Performance KPIs
Sales growth year-to-date. Every entrepreneur wants to see the company grow month-over-month. In some industries, sales depend on the season or other external factors. The sales growth year-to-date metric shows the pace at which the company's sales revenue increases or decreases.
Users can monitor sales volumes over various periods – daily, weekly, monthly, or yearly. Sales growth metric helps to manage sales growth goals in the form of a percentage of last month's sales volume or others. If the company has several sales teams, the management can monitor this metric for each team separately. It will help to monitor better each team's achievements.
Cap Table
The Cap table template in our Serviced Apartments Pro Forma includes four rounds of financing, and it shows how the shares issued to new investors impact the investment income. After each round of financing, the Cap table shows users the ownership structure and the percentage of changes, i.e., the dilution.
Break Even
Our Serviced Apartments Pro Forma has proforma for the breakeven analysis. Companies use break even point analysis to determine the price for their products or services that will generate enough revenue for the company to cover its costs.
Dashboard
Our Serviced Apartments Excel Financial Model has an integrated all-in-one dashboard. This dashboard consists of a projected cash flow statement, Balance Sheet, and projected cash flow statement format, and users can perform the monthly or annual breakdown for these statements. Users can also obtain information from the dashboard, both in the form of figures and charts.
Cash Flow KPIs
Cash balance. The cash balance shows the total amount of money in the financial account of the company. Any company needs to hold in reserve enough amount of cash to meet current obligations.
Valuation
This Serviced Apartments Cash Flow Proforma contains a valuation analysis template that will allow users to perform a Discounted Cash Flow valuation (DCF). It will also help users analyze such financial metrics as residual value, replacement costs, market comparables, recent transaction comparables, etc.
File types:
Excel – Single-User: .xlsx
Excel – Multi-User: .xlsx
Free Demo – .xlsx