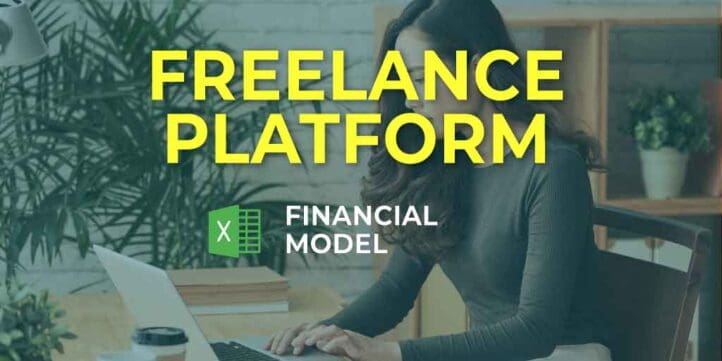 Financial Model, Marketplaces, Online Businesses & IT
5-year financial projections, Break-Even, Budget, Budgeting, Business Valuation, Cash Flow Projections, Excel, Financial Feasibility, Financial Model, Financial Modeling, Financial Planning, Financial Projection, Financial Projections, Financial Statements, Forecast, Forecasting, Investor Cash Flows, Revenue Projections, Three Statement Model | Three Financial Statements, Uses and Sources of Funds
Analyze Freelance Platform Revenue Model, Costs, Profit, And Cash Flow With Freelance Platform Financial Model Excel Template. Get It!
Our freelance platform financial model will help companies that operate in the field of freelance platforms to monitor their financial performance and forecast their successful future.
You can use this business plan template for start-ups and new freelance marketplaces. You can also use it for your existing business.
WHAT'S INSIDE AND FOR WHOM WE DESIGNED THE FREELANCE PLATFORM FINANCIAL MODEL?
This model focuses on the contractors and freelancers that use the platform. It has three types of contractors: small, medium, and enterprises.
The freelance platform financial model has the template for the calculation of the successful deals' percentage.
It has a spreadsheet with a marketing activities analysis. The spreadsheet has two types of marketing: offline and digital marketing. And for each type, you can set launch date, budget, cost, etc.
The financial model calculates the fees received from contractors and freelancers.
The price elasticity analysis will show you the interdependence between the fees for contractors and/or freelancers, and the profitability of the freelance platform.
Like all our financial models, the freelance platform economic model has three primary financial statements, i.e., Income Statement, Balance Sheet, and Cash Flow Statement.
WHAT WILL I GET WITH FINTECH FINANCIAL MODEL?
This model takes into consideration the specifics of freelance platforms' activities. It focuses on the contractors and freelancers that use the platform.
It automatically calculates successful deals' percentage for a period. You can also see the average deal amount for each type of contractor.
You can perform the price elasticity analysis and choose the optimal levels of fees for your contractors and freelancers.
Our model takes into consideration seasonality trends and reflects them in the financial forecasts.
This model helps to manage working capital using forecasts for the accounts receivable and payable.
With our freelance platform financial model, you will get the full picture of your business' financial performance.
You can use our freelance platform financial model in Excel or PDF for your convenience.
You can present this business plan template to your investors.
Get these templates too for a discount!