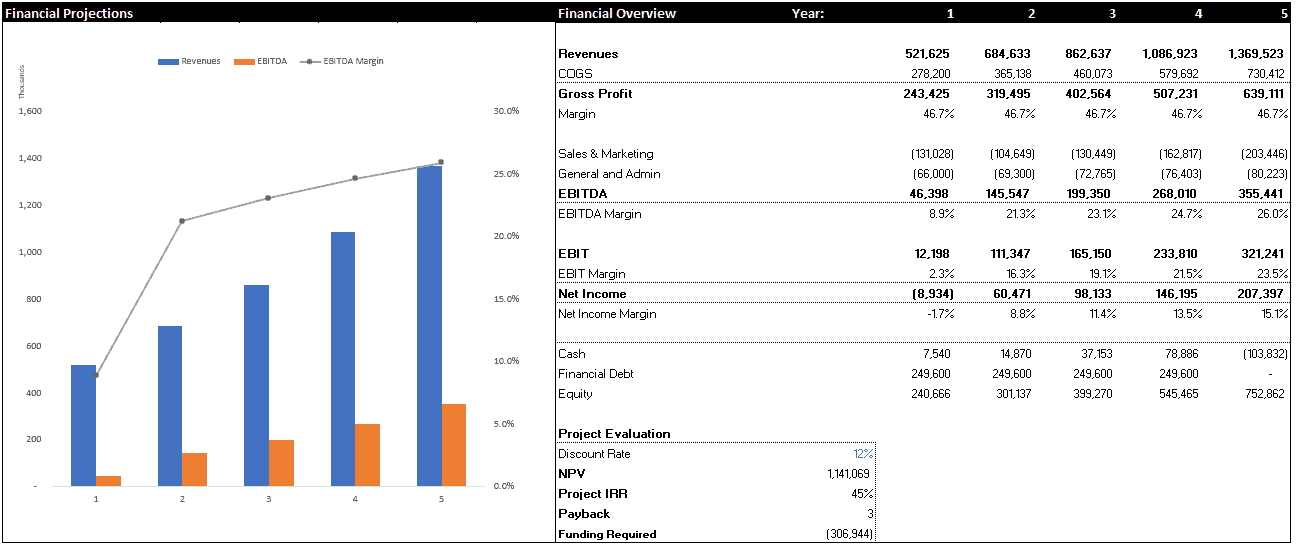 Financial Model, General Excel Financial Models, Retail
5-year financial projections, Business Valuation, Cash Flow Analysis, Cash Flow Projections, DCF Model, Excel, Financial Feasibility, Financial Model, Financial Projections, Forecast, Franchise Model, IRR (Internal Rate of Return), NPV (Net Present Value), Payback Period, Profitability Analysis, Startup Financial Models, Valuation
The model template includes:
– Executive Summary section with charts and key financials
– Key assumptions sheet specific
– Yearly financial projections (Income Statement, Balance Sheet and Cash Flow Statement)
– Simple debt schedule
– Fixed asset depreciation schedule
– Forecasted financial ratios such as Debt/EBITDA, current ratio, quick ratio, ROE, etc.
– Projected Free Cash Flows to Firm which are used to calculate the internal rate of returns (Project IRR) and the Net Present Value (NPV)
– Payback period based on Free Cash Flows to Firm (FCFF)
– Calculation of the Equity IRR by using the levered cash flows from the shareholder's point of view
– Reader and print-friendly layout including charts and graphs
The IRR Model provides the financial model to evaluate the IRRs and NPV of a greenfield project.
The model is based on a set of changeable assumptions for revenue growth, inflation, cost growths, Working capital growth. It follows a strict bottom-up approach: starting from revenues from individual clothing items, COGS, Income Statement, Balance Sheet, Cash flow statements are prepared.
Feasibility template is used to do NPV, IRR and Payback period analysis. The model was developed for a job interview so it has a strict professional outlook with easily changeable assumptions, formulas, and formatting.