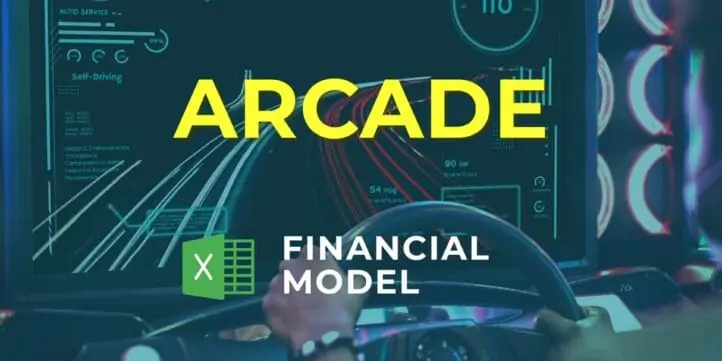 Entertainment, Financial Model, Game Centers & Arcades, Online Businesses & IT
5-year financial projections, Business Valuation, Finacial Projection, Financial Analysis, Financial Model, Financial Modeling, Financial Projections, Startup Financial Models, Three Statement Model | Three Financial Statements
NOTE: Single-User pertains to a limited Single User License where the template can only be used by one single user; while Multi-User is a license for users sharing the template with up to 20 members. Please refer to Terms of Use and License and Permitted Use for clarification.
ARCADE FINANCIAL PROJECTION TEMPLATE EXCEL KEY FEATURES
Video tutorial:
Integrated Model to convince Investors
Excel Pro Forma Template includes and connects everything (assumptions, calculations, outputs) and presents it in an investor-friendly, deal-proven way.
Better decision making
Make better operational decisions with the help of creating Cash Flow Forecast scenarios in your Excel Template. Perhaps you have to choose between new staff members or investment in equipment, and you are wondering which decision to chose. Variants forecasting will give you the information you need to make these decisions with confidence that you know what impact they will have on your cash balance.
Structured
You want an Arcade Financial Projection to be as easy to understand as possible. You also want to make it easy for others to be able to audit if needed.
We make this Cash Flow Format In Excel a simple as possible.
Defensible
You will be able to defend the model to CEO or investors, regardless you are CFO or a startup founder, as the entire Arcade Cash Flow Format In Excel is built on the logic pertinent to marketplaces. You just need to make sure your assumptions are reasonable and the model will do the rest.
Identify potential shortfalls in cash balances in advance.
The Arcade Financial Model Excel Template works like an 'early warning system.' It is, by far, the most significant reason for a Cash Flow Statement For 5 Years.
Convenient, All-In-One Dashboard
Includes all required forecasting reports, including assumptions, Profit And Loss Statement Proforma, Cash Flow Statement By Month, balance sheets, performance reviews, and summaries for months and years (incl. numerous graphs and KPIs).
REPORTS and INPUTS
Liquidity KPIs
Records receivable turnover (ART). In the P&L Projection, the records receivables turnover proportion (ART) ascertains a metric that evaluates an organization's viability in gathering its receivables. This proportion shows how fruitful the organization is in dealing with its obligations.
Benchmarks
Cash Flow Format In Excel benchmark tab computes the organization's key performance markers, either business or financial, and finds an industry-wide average as a correlation. The business average measurements are then used to decide the relative value for benchmarking analysis.
Financial benchmarks are fundamental for the financial planning of organizations, particularly for start-ups. These examinations assist organizations with deciding the 'best practice' organizations inside the business and contrast their own financial outcomes and these prescribed procedures. It is a valuable financial and strategic administration device.
Break Even
The Arcade Financial Projection Model Template has an integrated template for the break-even analysis. The Excel Break Even Formula calculation helps the company's management understand when the company is expected to become profitable. This Financial Projection Template will automatically generate y break-even timing, break-even units, and Break Even Point Excel of the company.
Dashboard
In this 3 Way Forecast Model, users will find a Dashboard with core financial metrics relevant to their business. This financial dashboard is a snapshot of all critical financial metrics at a particular point in time. In particular, on this dashboard, you will see your core financials, such as revenue breakdown by years, Projected Cash Flow Statement Format, profitability forecasts, and cumulative cash flows.
Burn and Runway
This Arcade Financial Model naturally figures the cash consumption rate dependent on the contributions from different spreadsheets, specifically, from the Cash Flow Forecast.
Top Expenses
The Top expenses tab of the Arcade Financial Projection mirrors your organization's yearly expenses, both aggregate and grouped by four classifications. This Three Statement Financial Model provides a diagram of yearly expenses on client procurement, COSS placeholders, compensation and pay rates, fixed and variable expenses, and any remaining expenses.