Creating a Startup Financial Plan
To make sure that you have a healthy business, the need to have a working financial plan is adamant. Just by having a financial plan for a business, it will help with managing the business and also make the right strategic financial decisions. Creating a financial plan is a critical factor for the business' survival against countless competitors and other risks that one might encounter especially for startups that are new to the industry. Hence, it is very important to create a financial plan for startups.
Usually, when creating a financial plan, it is better to build it in Excel spreadsheets since it is more convenient and easier to understand by any user. To have the financial plan in a structured report, the model will be easier to read and understand, as well as better perceived by potential investors.
Startup Models – Financial Model Templates for Startups
Startup Models or Financial models for startups are a comprehensive representation of your future business prospects. It might sound easy and simple, but financial modeling has never been an easy task. Not only do you need to create spreadsheets, graphs, running the numbers, etc., but you will also need the right know-how to analyze the results, determine the right assumptions as well as the factors that will affect the results of the model. Such data gathered will then be used for decision-making, with the goal of earning more profit. Especially for startups, it is important to build a financial model to help ensure profitability and managing the business to make it feasible in the long run.
It's a good thing that with today's technology, it is possible to build a financial model for a startup business without having to spend a lot of time and money. You do not need to be a professional to design a Startup Financial model. To create a startup financial model for your own company or business, you do not need to be a finance expert. What you need is the right set of tools, such as a startup financial model Excel template to get started. Simply by utilizing these available templates for download, you can acquire a template to use as a starting point for your financial model.
There are different types of templates for startup models that you can use as a base to build for your planned business such as:
Startup Financial Plan Excel Template – A financial plan template that turns your conceptual business plan into a numerical model with real numbers. Though the projections are subjective, in the long run, such data will become more realistic, especially with a solid and working business plan. As such, startup financial plan Excel template tend to be the most common template used by owners of startups.
Financial Budget Template – Over time, startup financial plans turn into comprehensive budget plans. As you convert your business plan into figures and graphs, you start to create an all-encompassing financial model for future analysis and planning. It will be a bridge between your business plan and an eventual projection of your financials. Basically, a budget template model will help startups to manage their finances, as well as help, determine the risks and areas of improvement for the business.
Financial Projection Template – After putting your business plan into a numerical presentation, you can then work on forecasting. Projections usually account the internal or historical data and then conduct a forecast while considering the external factors such as the market, economy, industry, trends, etc. It is important for startups to conduct financial projections to predict the path of the business in the future. Basically, it will help with the preparation of the budget and set goals for the year or the incoming years.
Financial Analysis Template – With this template, this provides the startup business a tool to evaluate their performances as well as suitability. This is to ensure if the business is capable of being solvent, liquid, profitable, and stable enough to run the business operations in the long run.
In conclusion, the type of startup financial model you choose will depend on what kind of business you run. But of course, you need to make sure that have the financial model in place before you start your business operations as well as building your first products.
Startup Financial Plans & Model Templates in Excel
Every Startup needs to find a model on how to operate and how to do business. Sometimes, selecting a business model requires time, trial and error. Choosing Startup Models seems easy at the beginning but many Startups will have to Pivot during their lifespan in order to fine-tune and adjust themselves to what the market really needs. We would like to give you some insights on how to best select your Startup Models. For this, you can work with one of the Startup Financial Model Templates from eFinancialModels.
Startup Financial Model Templates in Excel
Startup financial models normally are prepared to obtain visibility over the next month's and year's cash flow needs and to raise funding from investors. A startup financial plan excel file typically seeks to answer the following questions:
How much funding is required?
What is the monthly burn rate?
When do we expect to achieve break-even?
What kind of return does our project have?
How much equity stake can we afford to offer to investors?
What will be the targeted valuation at the time of an investor's exit?
What return can investors expect?
How much is the company worth today?
What is our yearly budget and what is our 5-year financial plan?
So, a financial model for a Startup company will have to address most or all of these questions.
Components included in a Startup Financial Plan in Excel
There are certain components that complete a startup financial plan in Excel which is done accordingly in a sequence to avoid going back and forth through the spreadsheets.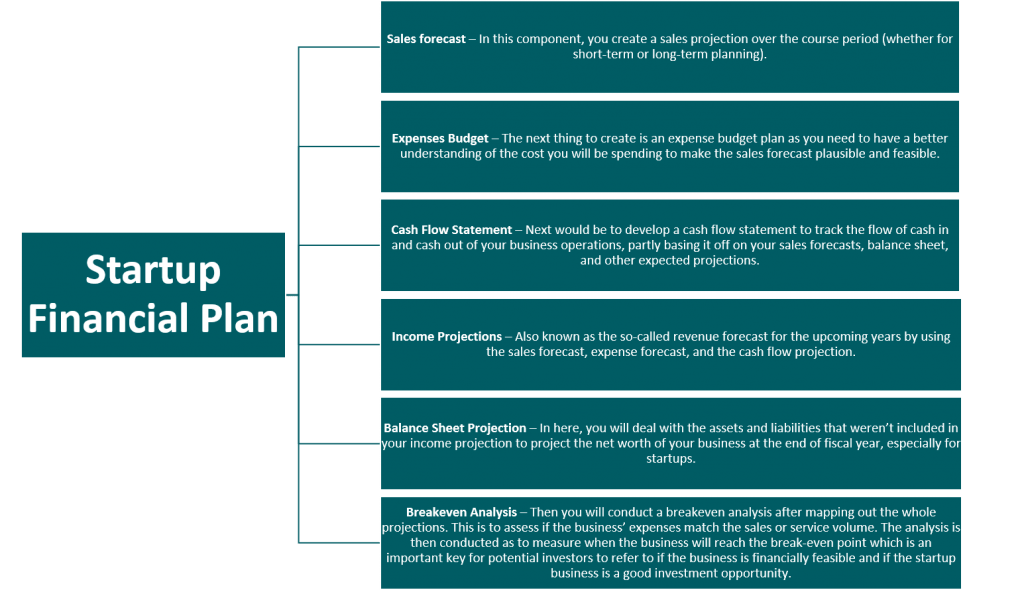 Altogether, it completes a basic startup financial plan in Excel. The process may look simple and easy, but of course, the process is more than it seems. A lot of time is needed to be set aside just to build a financial model for your business or for an investment. Not to mention that you at least need to have an acceptable amount of industry know-how to make the financial model reliable and work as it should be. If you want to build a financial plan for your startup business, try to use a startup financial model template in Excel first to help you familiarize on how to create financial models for startup businesses.
Example Startup Financial Plans in Excel
We would like to review some of the best example startup financial plan excel files available, by discussing their business model and to tackle the most important questions. These templates are available for download and used by users such as entrepreneurs, business executives, finance-related careers, CFOs, etc., from different countries such as in the USA, UK, Canada, Germany, Singapore, Japan, and many more who are in need of assistance with their financial modeling tasks.
Software as a Service (SaaS) Startup
Software as a Service has become a popular topic among Startups since instead of selling software one time, software is sold as a service and secures monthly income for the Startup. The beauty of this Startup business model is that once customers are on board, they will get used to the service and normally, will not leave that easily. Therefore, the key upfront cost lies in the development of the software, the marketing, and the carrying of the operating costs until the number of subscribers can be stabilized and cover the operating costs.
One check to perform to know if the Startup Model works is to focus on the customer lifetime value (CLV). To calculate the customer lifetime value, one needs to estimate what the average subscription will be, which a typical customer will pay, and for how long. The CLV can be adjusted by also taking into account the operating costs required to deliver the service so that we are talking about a Customer Lifetime Gross Profit (CLGP). The CLGP can then be compared to the customer acquisition costs, e.g. the costs for a Google ad campaign. If the CLGP is higher than the acquisition costs, the Startup should be able to make profits in the long-term.
You can check out the SaaS Startup Financial Model below to use as a reference:
Mobile App Startup Financial Plan
Starting a mobile app has become also a way to launch a business. The beauty of this Startup model is that it is a popular service which can be potentially used by millions of people worldwide just with their smartphones. This is a Startup Business Model which potentially is very scalable.
A startup financial model template excel file for a mobile app company should allow to include a variety of revenue streams. Revenues such as from paid app downloads, in-app purchases, advertisement or subscription revenues. User Lifetime Value now can origin from diverse sources of revenues and not only from subscriptions. Using the following Mobile App Startup Financial Model template can provide the framework for the required analysis.
eCommerce Startup Financial Model
Startup financial models for eCommerce stores will have to focus on setting a goal for customers to come back purchasing again from the company. Successful eCommerce Stores manage this very well and keep selling their products to a loyal customer base. So, your startup financial plan Excel file for an eCommerce store should set such a goal for a repurchase rate. When having such a goal, it will become easier to validate and find ways to increase the customer repurchase rate.
You can check out the eCommerce Startup Financial Model below to use as a reference:
Additional Startup financial model template Excel files are provided below.