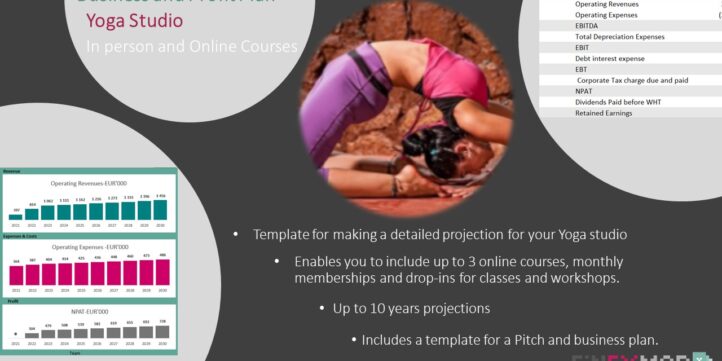 Before opening your yoga studio, you need to have a business plan. Your yoga business plan will be your guide to growing your business effectively in the first year and well into the future.
Using this template you will be able to make up to 10 years projection for your business. It also includes a pitch and a business model included within the template. There are some sections (texts) that you need to write yourself but the data and charts will be populated automatically.
In order to complete the spreadsheet, follow the below steps:
1. Go to the "Inputs" sheet and answer a total of 46 questions. The sections that you need to complete are categorized by type.
1. General Assumptions
2. Timing Assumptions
3. Revenue Assumptions
4. Start-up Costs
5. Operating Expenditures
6. Debt Assumptions
7. Equity Investment Assumptions
8. Fiscal Assumptions
9. Working Capital Assumptions
Once you have completed the Inputs, you can go to the Dashboard and check out the summary tables and charts.
Step 2: Go to "Pitch" sheet and fill up the missing content below:\
1. Brief description of the business
2. Problems that you are planning to solve
3. Solution that you offer/ the need that you are addressing
4. Your target market
5. Funding needs
6. the financial projections will be populated automatically based on step 1
7. Team
You just need to do it once and next time you change your profit plan, you just need to print this page.
Step 3: If you need a more detailed business plan than the pitch then you can use the "Business Plan" sheet. You need to complete the missing boxes:
1. Executive Summary
2. Company Summary
3. Target Market
4. Competition
5. Marketing Plan
6. Funding Plan
7. Financial Plan: This section will be populated automatically once you completed Step 1
This spreadsheet contains below worksheets:
Preliminary sheets
1. Guide: Contains the color codes used in the model & model structure.
2. Tracker: Aims to keep a track of the changes through multiple versions
3. Pitch: enables users to quickly produce a one-page business plan. Users should only complete the text boxes related to the brief description of the business and the financing section will be populated automatically from the model.
4. Business Plan: A more detailed pitch
5. Q&A: To keep track of questions and answers on the financial model
Input Sheets
6. Inputs: Contains the model inputs categories by type.
7. Sens: Contains sensitivity inputs and outputs
Calculation sheet
8. Time: Calculation of the different timing flags and counters, used as time reference throughout the model.
9. CapEx: Calculation of start-up costs
10. Financing "Includes:
– Calculation of equity draws and dividends payments.
– Debt drawdown and repayment profiles"
10. Rev & Opex: "Includes :
– Revenues of the project
– Opex calculation
– Account receivables
– Account Payables"
11. Tax: "Includes calculation of:
– Depreciation
– Corporate Income tax payment
12. IFS: Cashflow, balance sheet, and income statement on a monthly basis.
Data4Chart This sheet contains data for charts included in Dashboard
13. Checks: contains a model error and integrity checks
Output sheets
14. Dashboard: Contains summary assumptions and output presented in the form of charts and tables.
15: AFS: Cashflow, balance sheet, and income statement on an annual basis
Get these templates too for a discount!