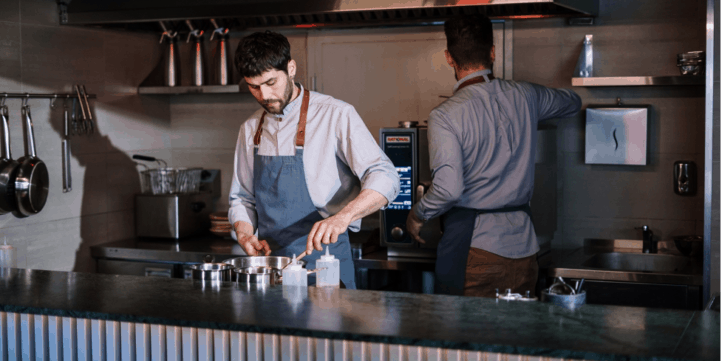 Commercial Properties, Hospitality, Real Estate, Restaurant
5-year financial projections, Cash Flow Projections, Cost Projections, DCF Model, Excel, Financial Model, Financial Modeling, Investor Cash Flows, IRR (Internal Rate of Return), Revenue Projections, Sensitivity Analysis, Three Statement Model | Three Financial Statements, WACC (Weighted Average Cost of Capital)
A Shared Kitchen is a centralized commercial food production plant where any restaurants rent kitchen space to optimize delivery. One kitchen may house multiple brands or the so-called virtual restaurant operating under one roof. It's like a large warehouse with several stations of their own steel prep tables, stoves, sinks, or hood vents with orders coming directly from customers. The Shared Kitchen allows the restaurant to launch multiple brands utilizing the same kitchen infrastructure and resources.
Shared Kitchens are also adaptable, where you can even launch a brand just for a season. For instance, you could offer a salad brand for summer and poutine for winter, letting you take advantage of each type of food's seasonal demand without enduring any downturn.
Operating a Shared Kitchen
Running Shared Kitchen needs a kitchen space to rent, licensed brand, delivery app visibility, etc. In short, all operational requirements of a virtual restaurant must be provided by the Shared Kitchen. Renting a coworking space and incubator for food producers to multiple third-party brands could turn you a profit with lower overheads, better efficiency, brand exposure through a delivery app, etc. This model also involves keeping the property in order by providing pest control, security services, kitchen equipment maintenance, and other resources like paper towels and cleaning supplies.
Shared Kitchen Financial Model
This model allows you to manage multiple third-party brands in one kitchen. The model consists of three kitchen sizes, with the largest kitchen operating in 10 brands. The brands are also categorized based on the average spent by customers.
The model generates revenue through rentals of kitchen space and equipment to third-party brands. If you are looking for the same kind of business opportunity, you might as well invest in this kind of template that would allow you to scrutinize and further analyze this industry. It will help you better understand different variables that you may be missing in your study. The financial model template includes:
EXECUTIVE SUMMARY TAB
Executive Summary section with charts, summarized key financials and the main assumptions of the shared kitchen.
Key assumptions to enter (blue font) include:
Financial Overview
Revenue and Cost Scale
Project Evaluation details
Breakdown, Sources and Uses of Funds
Paid in Capital
Loan/loan ratio
Contingency rate
Investor Consideration
WACC Calculation
Interest Free Rate
Beta
Equity Risk Premium
Equity and Debt ratio
Interest Rate
General Assumption
Revenue Assumption
Direct Cost Assumption
Indirect Cost Assumption
CAPEX Assumption
Working Capital Turnover
ASSUMPTION TAB
The calculation of revenue, direct cost, indirect cost, and operating cost are detailed here. Depending on the level of investment estimated, the appropriate debt financing is calculated. The expenses are determined by using the applicable sales ratio from the input in the executive summary.
FINANCIALS TAB
Projected  Financial Statements (Income Statement, Balance Sheet and Cash Flow Statement, Shareholder Statement) for a five-year period
Five-year financial analysis including relevant KPI's

Growth Indicators
Profitability Indicators
Liquidity Analysis
Balance Sheet Analysis
Efficiency Analysis
Return Analysis
Detailed calculation of Project Internal rate of Return (IRR), Net Present Value (NPV) and Payback Period
Detailed calculation Investor's Internal rate of Return (IRR), investment returns or equity multiple.
Calculation of required equity funding
Detailed WACC calculation
Detailed Discounted Cash Flow (DCF) Valuation
Sensitivity Analysis
CHARTS TAB
Five-year Revenue Chart Projection
Five-year Profitability Analysis Chart Projection
Five-year Return Analysis Chart Projection
The Excel model comes in printer-friendly layout including charts and graphs..
Filetypes:
PDF Adobe Acrobat Reader
.xlsx (Microsoft Excel