"Let us think of education as the means of developing our greatest abilities, because in each of us there is a private hope and dream which, fulfilled, can be translated into benefit for everyone and greater strength for our nation."— John F. Kennedy
Starting a School Business
Education is a preparation to deal with the challenges in life and empowering people to make better decisions based on knowledge. Guiding and leading students to more knowledge can be a very fulfilling mission by itself. Starting an education business does not only mean you endorse and support the idea of Education but you also actively seek to establish a professional learning institution and make a living of It long-term.
In today's world, people start a higher education to acquire the knowledge which is needed to work in higher-paying jobs as they generate more economic value. This means students – the customers of a school business – are willing to spend quite some money since they normally should receive a great payback with higher salaries and better career prospects. This is the basic economic foundation which leads to financial success for a school business. Of course, starting a new school business is risky, as significant work is required to set the business up and there are many aspects to consider to make the business successful. Also, to note, there are many different types of school businesses, each operating in a different market segment such as e.g. language schools, private nursery, private high schools, colleges, advanced education at university level and professional certifications. Aiming for financing success means creating a win-win situation, where both parties, students and the school owners, benefit and therefore creating a solid foundation for sustainable success.
Creating a Business Plan before Starting a School Business
In starting a school business, it is crucial to prepare a business plan to enhance the chances of financial success. To lay its foundation a careful study of market, competitor, marketing, location, team, financial and organizational aspects are required. The business plan forces you think through your concept in more detail and to prepare you ahead of time with the expected challenges you need to overcome and the possible solutions. It is also a valuable tool to ensure your business stays ahead of your competitors and will build up capabilities to deal with the ever-changing market trends. You will also need to develop a solid financial plan, to ensure your business financial success and how to deal with the risks involved. A good business plan will tackle all those components and will allow you to study the financial feasibility of your school business in detail.
Here we present a step by step plan how to develop the important components of your business plan:
Analyzing the Market
In starting a school business, your priority is figuring out to whom will you be catering your business for, what are the demands in the market, what market trends are most effective, what niches that are most interesting, and what kind of potential customers will you have.
Since it's a school business, students are your major customers aside from potential businesses or organizations that are willing to invest. The students can comprise of different groups according to age, interests, lifestyle, and funds. Aside from wanting to attain a higher education in school, some are interested either in supplementing their knowledge or investing in their future for better opportunities.
Nowadays, school businesses create an extension of their programs or courses being offered online, to widen their range of market and to cater convenience to those who aren't comfortable with traveling or have problems with location.
Analyzing your market will help you focus efficiently on what you need to prepare and accomplish before going to the next step.
Analyzing Competitors
Just like in every business, you are bound to have many competitors. Competition is rampant in every kind of business. So, in order to be able to make a stand out of the many, you need to analyze your competitors. Research your competitors' advantages. See what makes them successful. How did they solve their problems? What are their weaknesses? What did they fail to accomplish? How can your own school business, address the unmet demands of the market?
Competitors may not always go for a direct competition where you offer the same solutions in your offering. But often times, it can be in an indirect form of competition where your competitors solve things differently with either different or their own set of solution.
Sun Tzu once said, "Know your enemy, know yourself, and then you can fight a hundred battles without disaster." Once you have figured your competitors, you can then grab hold of their weaknesses and take it as opportunities and an advantage on your end. Eventually helping you expand your customer base.
Defining the Business Model
The first step to ensure that your business will be successful consists of defining a business model. "A business model is the conceptual structure supporting the viability of a business, including its purpose, its goals and its ongoing plans for achieving them." (Source: WhatIs.com).
In making a good business model, you need to know and define the following aspects:
Definition of products and/or services you are going to offer. What kind of school business do you want to start?
Your customers– Who are your target customers? What are their characteristics? What kind of problems do they have?
the value proposition your business offers to customers. What is the problem you are solving and how?
The monetization model – how your business is going to make money? Is it from tuition fees, government subsidies, adjacent revenues, etc.? Where and how will you get your revenue from? Are those one-time revenues (one-time courses) or recurring revenues (e.g. programs which last over the course of several semesters)? What are possible ways that you can earn more profit?
The execution model – will you offer online courses or courses requiring a physical presence? Will it be a full course school or just vocational? Which kind of endorsements or certifications your school requires and how do you get those?
These are essential things to figure out before going to the next step.
Choosing the Best Location
For online training programs and courses which can be attended from the convenience of your home, location aspects of the school business do not really matter. For all other type of schools which have physical classes, in nearly all cases the location of the school matter.
Once you figured out what kind of school business you want and you come up with the conclusion that a physical presence is required, it is essential to choose the best suiting location that will help to attract students and teachers alike and support your business with location advantages. Before choosing the right location, you will need to research and consider all factors which influence the quality of your location:
Neighborhood requirements for your school (commercial or residential area, major landmark or suburbs, city center or country-side, etc.)
Access to public transport such as buses, trams and For programs with international students, proximity to an airport
Proximity to the main street / city center / major attraction
Proximity to residential areas for nurseries, primary schools or high-schools
You want the school's location not to be too far from downtown so that it will be easily reachable by students and teachers, and at the same time, not be too near the hustle and bustle of the city so that it'll be conducive to learning. A careful selection of the school's location is essential. To figure these things out efficiently, choose the right real estate brokers who can help you find the perfect spot. These people are your guardian angels, leading you to your future school business location. Keep in mind that your objective is to select the best spot that is geared to succeed financially. So, you have to carefully compare your alternatives and select the best one.
The next decision you will have to face is if you want to rent the premises or you will want to build a new school. Especially for schools located in major cities, it can be impossible to find land for construction of new building projects or properties at affordable prices. This means you will have to rent it.
For locations where constructible land is available, one can also decide to build a new building. This offers the chance to fine-tune the building concept and tailor it to the needs of the school. Some careful planning is required and seeking the help of an experienced architect familiar with school building projects is highly recommended. In this case, preparing for future expansion and the availability for further growth should also be regarded.
The Management Team
A school business heavily depends on the people who manage it. So, you need to scrutinized who you will hire in the management team and gather Information such as:
What are the skills, education, professional experience of the team?
Have they lead a school business before?
Have they hired and managed a team of teachers before?
Who will run the school?
The present biographies and profiles of key personnel
Where can you hire teachers and staff to run the school?…
Providing a detailed overview of your team will help with convincing investors to regard your proposal more and at the same time, build a good reputation for your school.
Developing the Marketing Strategy
Take note that marketing will be a necessary part of your school business, knowing that there are numerous others in the same business as you and you will need a strategy in place to attract students. A properly executed marketing campaign can lead to leads and contribute to a reputation and image of quality.
What's the first and foremost important thing to consider in making an effective marketing strategy? Yes, that's right, it's the target market. You want to build your marketing strategy, fitting the image of your target market and in the process, bolster your business plan's attractiveness. What are they looking for in an institution? What do they expect? What advantages does your institution have compared to the others? These questions need to be disclosed in your marketing strategy.
There are a variety of methods available to market a school business. To name a few, here are some strategies which can be used:
Advertisements
Word of Mouth marketing
Search Engine Marketing (SEO)
Working with industry associations or professional bodies
Working with specialized brokers e.g. for language schools
Working with partner schools
Endorsements of former students
Either through endorsements or advertisements, you must include key arguments that places your business on a pedestal, as the best choice to further entice your target. We are living in the so-called "internet generation", where everyone depends on the internet to look for answers. Tapping into social media will be beneficial in boosting your school business's market range, brand awareness, and reputation. This will also serve as an opportunity for you to sell and market the school on an ongoing and cost-effective basis.
Marketing in an area with a lot of schools will be a tough competition so you need to put more thought into it and students will more likely compare prices. You want to be more efficient and see if your strategy is working or not. Making use of marketing tools will also be beneficial in managing your marketing progress. There are many on the internet which doesn't cost a lot and some are even for free. But if you want a more comprehensive tool, investing in one won't hurt your pockets at all. This will instead help you earn more revenue and avoid extra marketing expenses.
Creating a financial plan
To ensure the financial success of your business you need to come up with a financial plan. This financial plan should cover the budget of the first months as well as the foreseeable yearly budgets over the next years. Questions such as below will need to be realized.
How much revenues can you realistically achieve and by when?
Will you get paid upfront, at course start or upon invoice?
What are the setup costs of the building?

Construction costs for a new building?
Fit outs, furniture, and fixtures?
Initial marketing costs
Legal and setup costs?
Operating losses at the beginning?

How much are the costs to run the business?

Salaries for teachers and staff?
Fixed costs such as rent, utilities, and services?
Course materials?
It is important to come up with a detailed cash flow projection forecasts for initial months and years to come. Based on that cash flow forecast it will be possible to calculate the total funding amount and the time required to reach break-even. In addition, it will also be possible to calculate important return metrics to determine the financial feasibility of the startup school business project such as the Internal Rate of Return, Net Present Value and Payback period.
Obtaining Funding for Your School Business
Funding will be another important topic when setting up a business. It's very difficult to do anything without proper financial resources. The same goes for creating a new business. You need to plan ahead of time where you're going to get your finances from and how to spend it efficiently.
There are different sources from where you can get funding from:
Self-Funded ("Bootstrapping"): This means you need to create profits early on and use them to finance the further growth of the company.
The Triple "F" (Family, Friends, and Fools): Funding obtained from people who know you for quite a while or who are ready to trust you. These types of investors are centered among personal relationships and connections, gathered via trust in both parties.
Business Angels: Private investors who professionally invest in Startups and their founding teams.
Strategic Partners: Businesses which offer adjacent activities and hope to get a benefit for their own business while investing in you.
Venture Capitalists: Funds who professionally invest and manage institutional or private money by investing in Startups.
Banks: Lenders who will provide debt financing which in contrast to other financing sources will have to be repaid at some point.
Alternative – any other source of financing not mentioned here.
Business Angels, Strategic Partners and Venture Capitalists are called professional investors, persuaded upon seeing the financial feasibility of your school business. For this, you will need to present and explain them your business and financial plan so that they can make up their own mind if they want to invest or not. Investors want to understand how much profit on their investment they can make and by when.
Depending on how good your business plan and your financial feasibility study is, these investors will either flock you and give you the funding you need for your business or decline their interest.
The last funding option would be taking a loan from a bank. Banks normally only provide funding if there is some equity invested in the business as well. In case something goes wrong, bank loans will get repaid first, so a bank wants to see that there is some equity buffer in the funding structure of the business. The same with investors, you need to be convincing that your business will hit it off in the future and you're capable of returning their investments. How to show further proof? By showing them an effective financial plan of your business.
The Risks
A good business plan will also identify and analyze the risks and find mitigation strategies such as:
Not finding any students
New Competitors
Finding teachers and salary levels
Alternate innovative education options (e.g. via online courses or self-learning apps)
Knowing your risks before you start your business will help you prepare for the such circumstances. This will also determine if your business will be a success or a failure. The more risks you assumed and find solution for, the more likely your business will succeed.
Feasibility Study Samples for School Businesses
Starting a school from scratch needs a whole lot of hard work, dedication, and resources. You need to ensure that your school business is financially feasible. Having a constant stream of finances and making sure that your income-to-expenses ratio will remain sustainable in the long run is a process that you need to manage in the present and in the future. And to forecast your business' financial performance into the future, you need to create a financial feasibility study by developing a solid financial model.
Here are two feasibility study samples for school businesses: If you plan to start a business for a language school, see our financial model template as you click this link. And if you're starting a private school, click this link instead.
These Excel templates are best for startup school businesses, highlighting different scenarios and effects of different circumstances in a school business. The financial model will also help you determine on how much your investor returns expectations will be. Thus, the model can be utilized as a financial plan to entice investors, further funding your business. Just click the links above and see more details that you're looking for.
Following the components above to complete your business plan should guide you in starting a school business. Take it slow and plan everything, then the rewards will eventually come.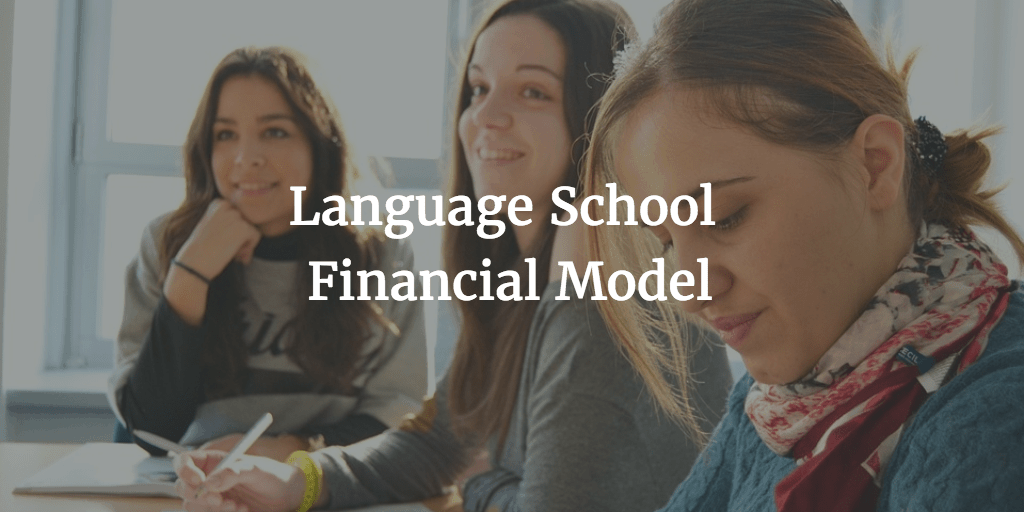 The purpose of the model is to forecast the cash flows in form of a financial model in Excel when…