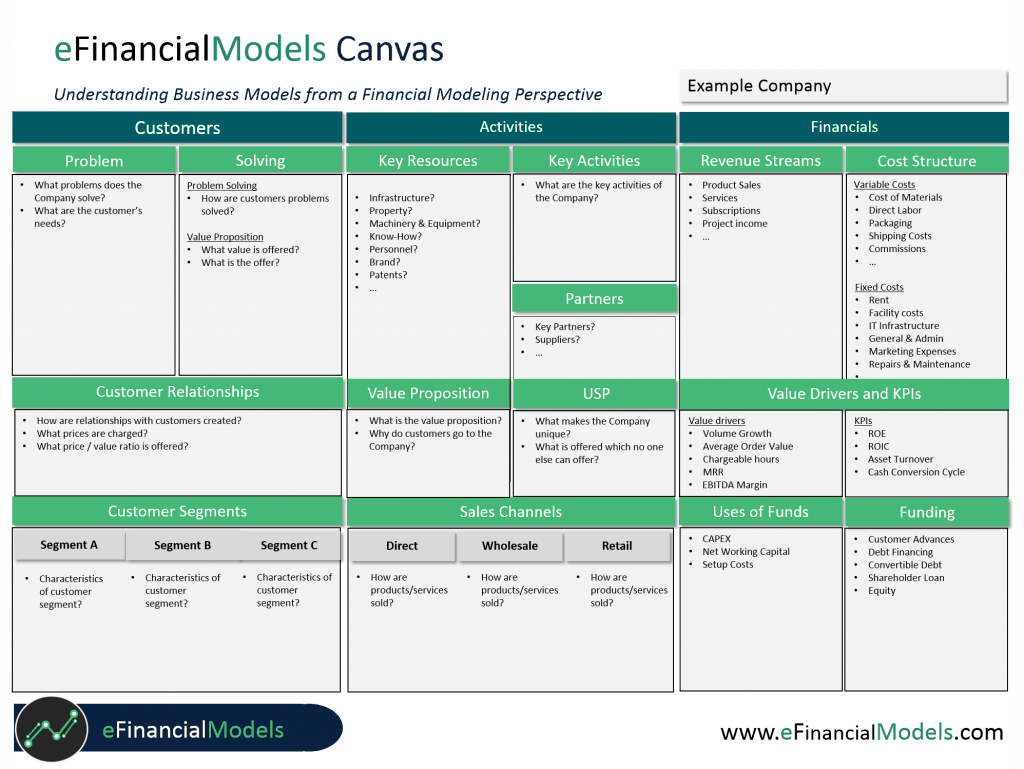 Created by Swiss business theorist Alexander Osterwalder, the Business Model Canvas has become an important and useful method of developing and improving business models. The advantage of it is it can be drawn on a simple single-page – see Business Model Canvas PDF.
A business model canvas normally is made up of nine segments grouped in four areas that business owners or management teams can brainstorm information that is relevant to the company, and identify trade-offs that influence the value of the business. These segments are:

Many businesses choose to develop a form of a Business Model Canvas as it is a useful method of finding certainty during times of concern, stress, or unease. Especially during the beginning phase of your business, you may feel like your business plan lacks focus and you can't seem to direct it in the proper way – using Osterwalder's Business Model Canvas creates a resource for you and your team to make important decisions on – and find knowledge in where your business relates to your competition and even your customers.
eFinancialModels Canvas – Understanding Business Models
Understanding business models from a financial modeling perspective is a prerequisite in designing the appropriate financial model but it is often forgotten. Whenever you feel you are stuck with financial modeling, it can be a good idea to check back the business model canvas of the business you are trying to model. For financial modeling and financial analysis purposes, it is especially important to correctly understand a company's business model.
What kind of problem the company solves?
How is the problem solved?
What customer segments are targeted?
What are the company's activities?
What resources are required?
What partners are involved?
Which sales channels are used?
Which are the company's sources of revenue?
Which costs are variable costs? Which costs are fixed costs?
How much investment is required?
How plans the company finance itself?
Answering these and other questions should help to better understand a business model and therefore build an appropriate financial model and analysis.
Download our Business Model Canvas PDF
We have prepared our own version of a business model canvas – the eFinancialModels Canvas – to better help you to analyze businesses from a financial modeling point of view. Download our free Business Model Canvas PDF – eFinancialModels Canvas – to use as a guideline for whenever you are in need of understanding a business model for your financial modeling tasks.
Before you begin adding notes to your canvas, you may decide to fill it out via your computer/device or you could find it more useful to print the Business Model Canvas PDF and enlarge it onto poster paper for brainstorming purposes.
As you fill out the Business Model Canvas PDF, there are many more questions you can ask yourself to help guide you in finding the most accurate answers. Remember, the ideal revenue streams need to cover the business' cost structure.
If you find there are more costs than foreseeable revenues, you will need to double-check ways of saving costs, turning fixed costs in variable costs, arguments and ways of increasing revenues in order to model a business which at some point will generate positive profits and value for the business' stakeholders.