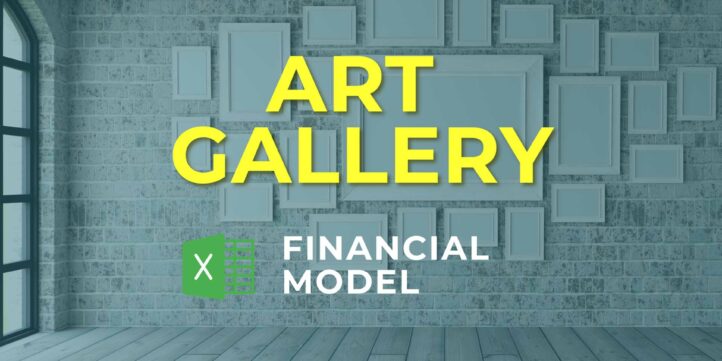 Entertainment, Financial Model, Hospitality, Tourism & Attractions
5-year financial projections, Business Valuation, Financial Model, Financial Modeling, Financial Projection, Financial Projections, Pro-Forma, Three Statement Model | Three Financial Statements
NOTE: Single-User pertains to a limited Single User License where the template can only be used by one single user; while Multi-User is a license for users sharing the template with up to 20 members. Please refer to Terms of Use and License and Permitted Use for clarification.
ART GALLERY THREE STATEMENT FINANCIAL MODEL KEY FEATURES
Video tutorial:
Manage accounts receivable.
By creating a Cashflow Forecast that takes invoices and bills into account, you'll be more easily able to identify who is systematically paying late. You could even go on to model different payment dates on overdue invoices to see the real effect of late payments on your cash flow.
Simple and Incredibly Practical
Simple-to-use yet very sophisticated Art Gallery Financial Model Excel tool. Whatever size and stage of development your business is, with minimal planning experience and very basic knowledge of Excel you can get complete and reliable results. Additionally, you will receive uncompromised after-sales service and access to valuable tutorial videos and blog posts.
Get Investors to Notice
Most entrepreneurs can't get investors to return their calls. With the Art Gallery 3 Way Forecast Excel Template, you will secure meetings with potential investors easily.
Defensible
You will be able to defend the model to CEO or investors, regardless you are CFO or a startup founder, as the entire Art Gallery Three Statement Financial Model is built on the logic pertinent to marketplaces. You just need to make sure your assumptions are reasonable and the model will do the rest.
Avoid cash flow problems.
Cash flow, and especially Cash Flow Projection from operations, is the lifeblood of your business – do not ignore it! The level of cash flow in your company dictates the decisions you can make and how quickly you can grow your business. So you should monitor and manage cash flow regularly. Monthly cash flow forecasting will give you a current view of the cash inflows and outflows within your business and also what the next period looks like. Regular Cashflow Forecast forecasting can highlight where cash gaps will be in the future and where there could be improvements made. Most importantly, a Projected Cash Flow Statement will give you a good idea of the health of your business cash flow at a glance. Finding potential cash flow gaps ahead of time can save you and your business both time and money. You can make decisions and take actions before things get too bad, ensuring your Cash Flow Statement By Month is maintained, based on your forecasts.
Structured
You want an Art Gallery P&L Projection to be as easy to understand as possible. You also want to make it easy for others to be able to audit if needed.
We make this Pro Forma Budget a simple as possible.
REPORTS and INPUTS
Profitability KPIs
EBITDA. Earnings before interest, tax, depreciation, and amortization (EBITDA) of the Pro Forma Template Excel is a financial metric that shows a company's profitability. This metric includes both monetary and non-monetary items and, therefore, differs from cash flows. EBITDA shows the potential profitability of leveraged buyouts and is widely used in various industries.
Cap Table
Three Statement Financial Model Template consist of a Capitalization Table is one of the essential spreadsheets for start-ups. It reflects the company's overall ownership structure and depicts who owns what, how much possesses, and at what value. A capitalization table shows equity shares, preferred shares, options, and stakeholders' prices for such securities.
Liquidity KPIs
Working Capital. The working capital in the Financial Projection Template Excel financial measurement mirrors the cash you need for momentary tasks. Working capital shows the contrast between current assets and current liabilities.
Dashboard
This Art Gallery Pro Forma Template has an all-in-one dashboard. This tab is a snapshot of a business's start-up metrics at a particular point in time. You can see your core start-up financials, revenue breakdown by years, Cash Flow Statement For 5 Years data, profitability forecasts, and cumulative cash flow on this dashboard in the form of charts and graphs.
Burn and Runway
This Art Gallery 3 Way Forecast naturally figures the cash consumption rate dependent on the contributions from different spreadsheets, specifically, from the Cashflow Forecast.
Break-Even
A Break-Even Analysis is a financial tool that helps a company to determine the time and the development stage at which the company as a whole, or its new product, becomes profitable. This Art Gallery Cash Flow Proforma helps determine the company's sales volume to cover its costs (particularly fixed and variable costs).