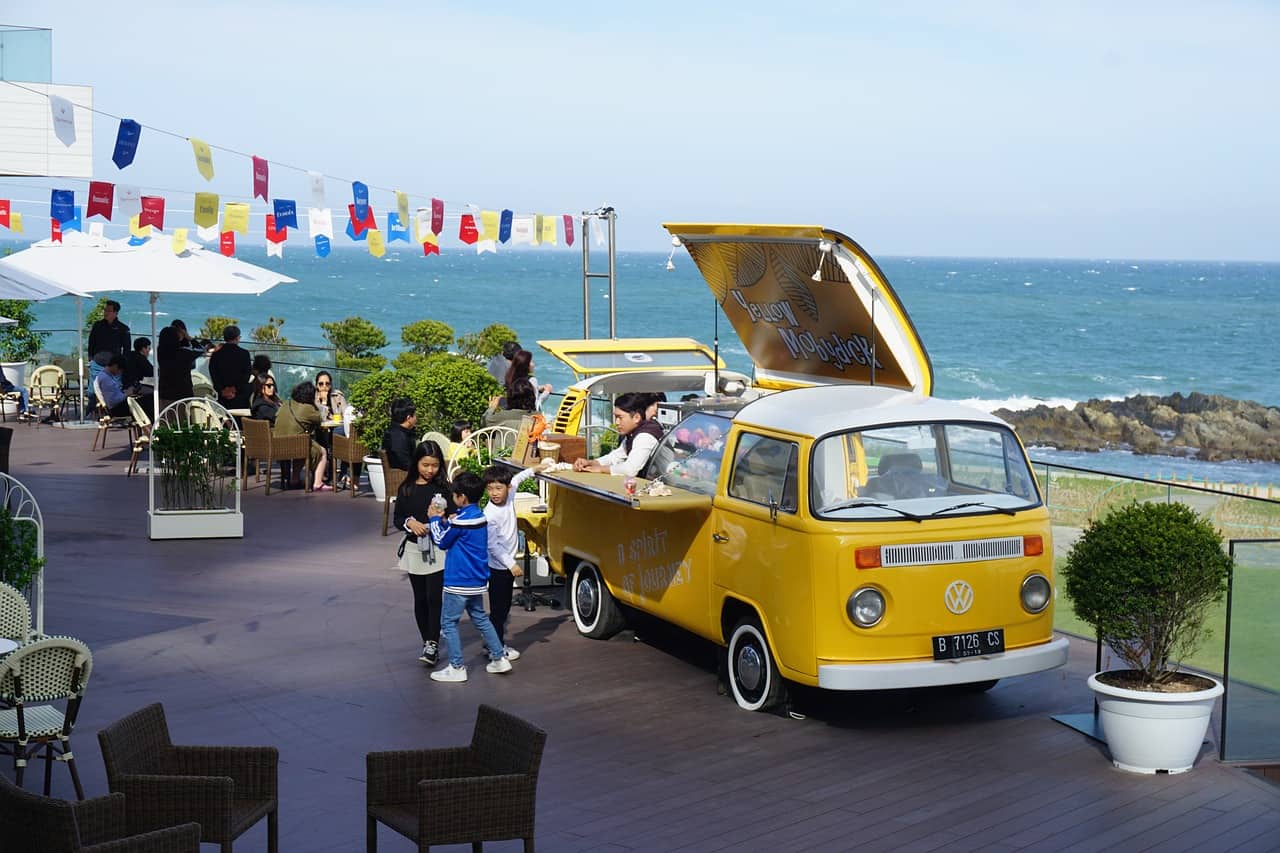 You are a self-proclaimed foodie, your Instagram feed is filled with gastronomic adventures (and mishaps), and you've seen all episodes of the popular US Food Network's TV Series "The Great Food Truck Race". You dream of one day wowing every tummy with your beloved Grandma's barbeque. People would wait in line for an hour to eat at your food truck persistently bugging you what's in your secret sauce. But before you forge ahead, you realized your food truck business is more than just about daydreaming and imagining how success will be like. So, you do what any good entrepreneur does and start creating a business plan.
What is a Food Truck and Why it is a popular Business Model?
According to the Oxford dictionary, a food truck is a large vehicle equipped to cook and sell food. The term food truck is commonly used in the USA and Canada. In other parts of the world like in the UK, it is called a Snack Van while in Belgium, it is fondly called Chip Truck and in Asia such as in Japan and Philippines, it is mostly known as "Truckers". But whatever you call it, it simply means meals on wheels. At first glance, a food truck business seems simple. All you need is a truck and good food, how hard can it be? Seems easier than running a restaurant. Seems like a better alternative to investing in a restaurant. But is it really as simple as it is?
Just like any business, a food truck business model has its own set of challenges but it is still considered as one of the good and affordable options for budding entrepreneurs and start-ups versus the more traditional sit-down, brick-and-mortar restaurant. Most food trucks are usually found at different locations such as near education establishments, subways, side streets, bazaars, and depending on the country or region, some are not allowed to establish stalls wherever and will need for you to request a permit from the local legislation.
The USA food truck industry has grown by 6.8% since 2014 with revenues expected to reach US$1bn in 2019. In a Survey published by the National Restaurant Association, a US-based restaurant industry business association reported that consumers aged 18 to 34 were most likely to buy a meal from a food truck, followed by 54% of consumers aged 35 to 44.
There are many reasons why people prefer to eat at a food truck; food tastes amazing, unique food concepts, cheap gourmet, convenience, on the go food for busy people plus customers get to meet the people who make the food. With these in mind, here are three major reasons for starting a food truck business:
Mobility. When you ask a seasoned entrepreneur what it takes for a restaurant business to be successful, the first thing he will say is the location. A food truck gives you the freedom to choose your location and your success is not tied down into one single place. If one location is not working out as you expected and customers are low, you can move to a different place. Also, you will gain an understanding of who your customers are. Talking and getting to know different customers is invaluable research.
Low barriers to entry. Depending on where you are, a startup food truck business in the USA can cost anywhere from $40,000 to $200,000. If you are in the UK, it will cost from £5,000 to £50,000. The money alone you spend on your first truck is way lower than a long term lease for commercial space. Also, you do not have to fill the space with furniture and fixtures and avoid purchasing fancy tables, chairs, and cutlery.
Low operational costs. You have more control of your overhead cost. You do not have to hire a full kitchen staff like a manager, cook, cashiers, servers, cleaners, etc. You also do not have to spend a substantial sum of money on the upkeep and maintenance of large kitchen equipment and appliances.
Such reasons are the main drivers as to why starting a food truck business is attractive compared to running a restaurant business. Though both have their own advantages and disadvantages, it is still undeniable that the food truck business model is a good option for startups and entrepreneurs.
Essential Elements in a Food Truck Business Plan
Whether you are passionate about food, a born entrepreneur or looking for the next big thing in the food business; regardless of your motivation and reasons, you need to be prepared. After all, in any endeavor you spend your time, effort and money need a plan. Also, just like any business, a food truck needs a business plan. Here are the essential parts of a business plan:
Executive Summary. This is a snapshot of what your business is. Think of it as the business' introduction. It can include your mission statement or the leadership team.
Company Description. Let your potential investors and customers know what your business does. Explain what problem the business solves or service it provides. List down what makes your business different from competitors and showcase your competitive advantages.
Market analysis. Do your homework on your competitors and industry. Answer questions like why competitor A is successful? Why does competitor B have a big share of the market? What does Competitor B offer that Competitor A and C do not? It is also important to look into any trends and themes in the food industry. Are food trucks offering Mexican tacos more successful than those offering hotdogs and sandwiches? Are people preferring food trucks that offer healthier food options?
Organization and Management. Lay out the organizational chart to show who is in charge of making decisions. Also, describe the legal structure by stating whether the business will be registered as a corporation, partnership or sole proprietor.
Service or Product. This is the part where you highlight your product or service. It is important to explain the benefits and advantages to your customers. You can share the product's life cycle, from where you source your raw materials to how meticulous and well-crafted the process is.
Funding. Explain how much money you need for the next 3 to 5 years and how you will spend it. For instance, will the funds be used for equipment, to source materials or cover specific expenses? Specify whether you will take out a bank loan or need potential investors.
Financial Projections. This an essential part of your business plan as this will support your funding request. Banks and potential investors will carefully look into this so your goal is to convince them that your business will be a financial success. It is helpful to use graphs and charts to better explain your projections.
Basically, a business plan presents you how to get from point A to B. You will be starting with what resources and plans you got but in the future (3 – 5 years out), it will be another point of your business where you will have different resources and plan to increase profitability and feasibility. Therefore, a solid business plan not only covers the starting point of a business but also the future.
Building Food Truck Financial Projections for your business plan
You already know, planning about your food truck business' future is important so that you can anticipate scenarios which will either be good or bad for your business. Hence, building food truck financial projections is a fundamental element that needs to be included in your business plan. Below are elements that are included in food truck financial projections.
Sales Forecast. Simply put, this is how much cash will flow into the business once consumers buy your goods. It also shows how you predict your sales will grow in the first 3 years of your food truck business. Why is this an essential step? For one, it is an assessment tool to help you check if your business will truly make money. Second, if you have potential investors, they need to know if your sales will be able to support the expenses needed to run the business. There are various methods and models to forecast sales. For established businesses, quantitative tools such as historical or prior years' sales data are used. For start-ups or new businesses, qualitative tools such as consumer surveys, consulting salespersons or industry experts and market research are used.
Expense Forecast. Consists of how much cash will flow out once you are setting up your business as well as while it is up and running. The expense forecast is important not only for keeping you on track but it also helps you keep expenses down. Your expense forecast includes the following:

Startup expenses. These expenses are mostly considered one time only and are incurred during the creation of your business. Examples are permits, licenses, insurance and, depending on where you set up your business, certifications such as health, food, and fire. For your food truck business, the biggest cost is the truck itself. Carefully consider your options on getting your first truck or fleet of trucks. You can rent a truck or buy used trucks to lessen expenses.
Fixed expenses. These are expenses that are not dependent on your level of sales and remain relatively stable for example utility bills, internet, and phone bills and salaries.
Variable expenses. These are expenses that are dependent on your level of sales such as supplies, cost of ingredients and hourly wages.

Break-even Analysis. Once you have estimated your sales and expense forecasts, making your break-even analysis is a simple matter of math. Why is break-even analysis important? It determines what you need to sell to cover your expenses for doing business and if your business will be profitable. A word of caution when doing break-even analysis, this is not a predictor of demand. It will not determine what your actual sales are going to be or how many consumers will want what you are selling. You can get a great break-even analysis tool here: Break-Even Analysis.
Income Projections. Also called a Profit and Loss (P&L) projection, it shows the sales, expenses, and profit of a business for a particular period of time. This is where your sales and expense forecast are crucial, a P&L projection provides a snapshot of your business' performance and lets you know if the business will be earning or losing in the coming years. For example, if your forecast suggests profit levels will be high, you can consider investing in R&D projects, expansion to new markets, upgrading equipment or increasing your staff. On the other hand, if your forecast suggests profit levels will be lower, you can manage risks and take action to increase profitability. Having a better understanding of your P&L also helps you in coming up with your cash flow projection.
Balance Sheet Projection. In its simplest form, a balance sheet shows what a business owns (Asset), what it owes (Liability or Debt) and value of the owner's investment in the business (Equity). The crucial part of this is making the balance sheet to BALANCE. A typical balance sheet is shown with two columns, Assets on the left side and Liabilities and Equity on the right. You must remember that Assets =Liabilities + Equity. To create a projected balance sheet (also called as a pro forma balance sheet), list the value of all Assets such as Cash, Equipment (in this case your food truck), Inventory and any Prepaid items (for example insurance). Add it all up and show it on the left side. Next, list all Liabilities including any loans received by the business, business credit cards and any amounts owed to your suppliers or vendors. Add it all up and show it on the right side. The difference between Assets and Liabilities is shown on the right side as well under the Owner's Equity. Having a better understanding of your balance will help you manage your assets in the future.
Cash Flow Projections. First, do not confuse cash flow statement with cash flow projection. A cash flow statement shows the movement of cash into, through and out of your business. A cash flow projection shows the anticipated cash your business will generate or expense in the future. Why is a cash flow projection important? It estimates the cash needed to manage the day to day operations, it proves to a potential lender such as a bank the business has the means to repay a loan and reveals instances where cash inflows are not sufficient to cover cash outflows.
Using the data derived from your financial projections, you can use it to come up with insights on how to attract investors as well as have enough financial stability and liquidity to run the operations of your business in the long run.
Key points to remember for a Food Truck Business Plan and Financial Projections
When you are creating a business plan and preparing your food truck financial projections, it is important to be as realistic as possible. It is highly recommended to have a trusted friend or business partner review your business plan and financial projections to avoid over- or underestimating revenues and expenses of your business. Also, grab the opportunity to use online resources available such as financial model templates which will lessen your time consumption on creating financial projections for a specific use case and industry. Feel free to browse our website for more of these useful financial model templates. You can also download food truck financial models here: Food Truck Financial Model Templates as well as get assistance to help you build a customized financial model if you need help with your financial modeling tasks.