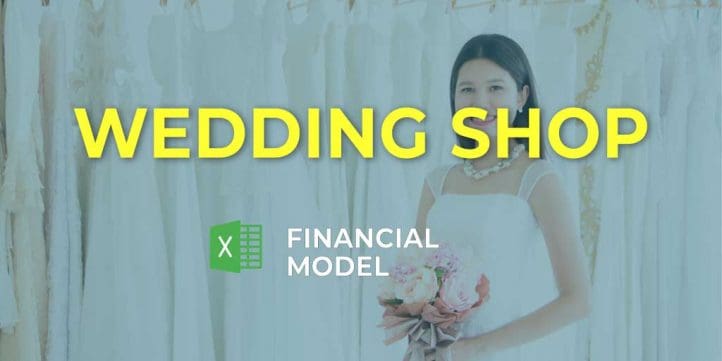 NOTE: Single-User pertains to a limited Single User License where the template can only be used by one single user; while Multi-User is a license for users sharing the template with up to 20 members. Please refer to Terms of Use and License and Permitted Use for clarification.
WEDDING SHOP 3 WAY FINANCIAL MODEL TEMPLATE KEY FEATURES
Video tutorial:
Get it Right the First Time
Funding is a binary event: either you succeed or you fail. If you fail, most investors won't give you a second chance. Learn about the pros and cons with Wedding Shop 3 Way Forecast.
Integrated Model to convince Investors
Financial Projection Model Excel includes and connects everything (assumptions, calculations, outputs) and presents it in an investor-friendly, deal-proven way.
Confidence in the future
Using our financial model, you can effectively plan, prevent risks, manage stocks and Cash Flow Statement Projection and foresee your prospects for the next 5 years.
Avoid Cash Flow Shortfalls
Unexpected Projected Cashflow Statement shortfalls can cause significant damage to your business, and it may take months to recover. Negative Cash Flow can appear if you don't continuously track the incoming cash and outgoing of your business. Fortunately, you can solve Startup Cash Flow Statement shortfalls with a bit of effort. Forecasting your Cash Flow Projection will help you identify — and plan for — market fluctuations, sales seasonality, and other cases that can lead to unpredictable Projected Cash Flow Statement. Cash Flow Pro Forma can even help you visualize Cash Flow Statement Projection trends with the help of automatically generated charts and graphs.
Simple-to-use
A very sophisticated Wedding Shop Pro Forma Budget, whatever size and stage of development your business is. Minimal previous planning experience and very basic knowledge of Excel is required: however, fully sufficient to get quick and reliable results.
Identify potential shortfalls in cash balances in advance.
The Wedding Shop Cash Flow Proforma works like an 'early warning system.' It is, by far, the most significant reason for a Projected Cash Flow Statement Format.
REPORTS and INPUTS
Sources and Uses
The sources and uses of funds proforma in this Wedding Shop Pro Forma tell stakeholders the sources where a company obtains its money and how it spends it.
Benchmarks
Our P&L Projection has the proforma for industry benchmark analysis. Industry benchmarks, including the financial benchmarks, show users the comparison of performance indicators, e.g., financial indicators, with similar performance indicators of the other companies in the same industry.
Break Even
Breakeven Analysis usually involves revenue and sales analysis. At the same time, it is essential to differentiate sales, revenue, and profit in the financial planning process. Revenue shows the total amount of money from sales of a product, and the profit is the revenue less all fixed and variable expenses.
CAPEX
This Wedding Shop Cash Flow Proforma consist a CapEx calculation with pre-built formulas helps users calculate the volume of capital expenditures using numbers in the projected p&l statement and balance sheet.
Dashboard
Our Wedding Shop Financial Model In Excel Template has an integrated all-in-one dashboard. This dashboard consists of projected cash flow statement format, Balance Sheet, and cash flow statement by month, and users can perform the monthly or annual breakdown for these statements. Users can also obtain information from the dashboard, both in the form of figures and charts.
Financial Statements
Our Wedding Shop Financial Model In Excel has a pre-built integrated financial statement structure that contains all the primary financial statements (Balance sheet, profit and loss statement proforma, and pro forma cash flow projection) and creates financial forecasts for the next five years automatically.
This integrated financial statement structure has pre-built proformas, financial and managerial reports, and financial ratios. Users can choose the presentation of financial information in GAAP or IFRS format for their convenience.
Operational KPIs
Our Wedding Shop Three Statement Financial Model has various operational performance graphs that will help business owners manage their business' finances and measure their overall performance. These operational performance graphs also help in making wise business decisions that consider the company's financial capability.
The financial graphs in this Wedding Shop Profit Loss Projection help measure the company's financial health showing the operating cash flows' analysis, return on investment, debt to equity ratio, liquidity ratios, and other relevant financial information. Business owners can use these operational performance graphs both for internal and external purposes.
In particular, they can use these graphs to assess the company's overall financial performance or for the assessment of the project's financial feasibility. Such an approach will improve the financial management efficiency of the company. Business owners can also use these charts and graphs for the presentations for potential investors and bankers. The operational performance graphs have all the necessary pre-built formulas, and they are fully formatted. So, the users can just print out them and bring for the meeting with investors.
File types:
Excel – Single-User: .xlsx
Excel – Multi-User: .xlsx
Free Demo – .xlsx