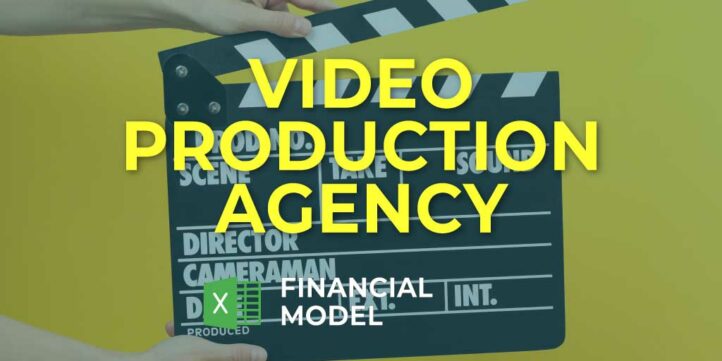 Financial Model, Service Businesses
5-year financial projections, Financial Feasibility, Financial Model, Financial Modeling, Financial Planning, Financial Projection, Financial Projections, Financial Reporting, Financial Statements, Free Financial Model Templates, Startup Financial Models, Three Statement Model | Three Financial Statements, Uses and Sources of Funds, Valuation
NOTE: Single-User pertains to a limited Single User License where the template can only be used by one single user; while Multi-User is a license for users sharing the template with up to 20 members. Please refer to Terms of Use and License and Permitted Use for clarification.
VIDEO PRODUCTION AGENCY CASH FLOW PROFORMA KEY FEATURES
Video tutorial:
Generate growth inspiration
By running various scenarios and looking at the effects they could have on your cash balance, you will begin to see which options are best for your business. Ones that are possible, and what is involved in making them work. Organic growth isn't the only option – there are growing funding options becoming available, and Cash Flow Statement By Month could be a way of looking at the impact an injection of cash could have on your business and its growth plans.
Gaining trust from stakeholders
Investors and financing providers tend to think in terms of the big picture. They want the c-level of the companies they invest in to do the same to ensure they maintain a clear idea of the future. Providing stakeholders with a monthly pro forma cash flow projection will demonstrate a level of awareness that leads to confidence and trust and will make it easier to raise more investment.
Get Investors to Notice
Most entrepreneurs can't get investors to return their calls. With the Video Production Agency Financial Model Excel Template, you will secure meetings with potential investors easily.
Plan for Future Growth
Cash Flow Projection can help you plan for future growth and expansion. No matter you're extending your company with new employees and need to take into account increased staff expenses. Or to scale production to keep up with increased sales, future projections help you see accurately where you're running — and how you'll get there. Forecasting is also a well-known goal-setting framework to help you plan out the financial steps your company has to take to reach targets. There's power in Cash Flow Projection and the insight they can provide your business. Fortunately, this competitive advantage comes with little effort when you use the Projected Cash Flow Statement Format.
Build your plan and pitch for funding
Impress bankers and investors with a proven, solid video production agency financial model that impresses every time.
Confidence in the future
Using our financial model, you can effectively plan, prevent risks, manage stocks and Cash Flow Statement and foresee your prospects for the next 5 years.
REPORTS and INPUTS
Performance KPIs
Return on equity. The return on equity financial metric can be calculated based on the information both from the Balance Sheet and p&l projection. It measures the correspondence of earnings to the equity, i.e., the amount of money used to get profits.
Loan opt-in
Similar to the amortization of the Video Production Agency 3 Way Forecast Model assets, a loan amortization reflects the spreading out the repayment of a loan for a certain period that covers several reporting periods. The process of loan amortization includes a series of fixed payments over time. Usually, companies make these payments on a monthly basis, but there may also be quarterly or annual payments.
Costs
Our Video Production Agency Pro Forma Template has a well-developed methodology for creating a cost budget. You can plan and forecast your costs from operations and other expenses for up to 72 months. The cost budget has a detailed hiring plan while also automatically handling the expenses' accounting treatment. You can set salaries, job positions, and the time of hiring.
Moreover, the model allows users to calculate hiring as the company scales automatically. Pre-built expense forecasting curves enable users to set how an expense changes over time. These pre-built options include % of revenues, % of salaries, % of any revenue category, growth (or decline) rates that stay the same or change over time, ongoing expenses, expenses that periodically reoccur, expenses that regularly change, and many more. Costs can be allocated to key expense areas and labeled for accounting treatment as SG&A, COGS, or CAPEX.
Benchmarks
Cashflow Projection benchmark tab calculates the company's key performance indicators, either business or financial, and finds an industry-wide average as a comparison. The industry average metrics are then used to determine the relative value for benchmarking analysis.
Financial benchmarks are essential for the financial planning of the companies, especially for start-ups. These studies help companies determine the 'best practice' companies within the industry and compare their own financial results with these best practices. It is a useful financial and strategic management tool.
Profitability KPIs
Net present value (NPV). Present value (PV) is a financial metric that reflects discounted cash flows and addresses the type of questions like 'What is the value today of a $1 to be received several years from now?'. The sum of such present values for a multi-period cash inflow stream is called Net present value or NPV.
Break Even
A break even analysis is a financial tool that helps a company to determine the time and the development stage at which the company as a whole, or its new product, become profitable. This Video Production Agency 3 Way Forecast Model helps determine the company's sales volume to cover its costs (particularly fixed and variable costs).
Operational KPIs
Our Video Production Agency Financial Projection Template Excel has convenient, informative, and easy-to-use operational performance graphs. Here you may visually track your company's key operational performance indicators (KPIs) in the form of charts. These operational performance graphs show the stakeholders the financial information related to the company's liquidity, revenues, expenses, cash flows, and other financial metrics. This financial information in the form of graphs will help a business owner to create presentations for banks and investors with minimum efforts.
File types:
Excel – Single-User: .xlsx
Excel – Multi-User: .xlsx
Free Demo – .xlsx