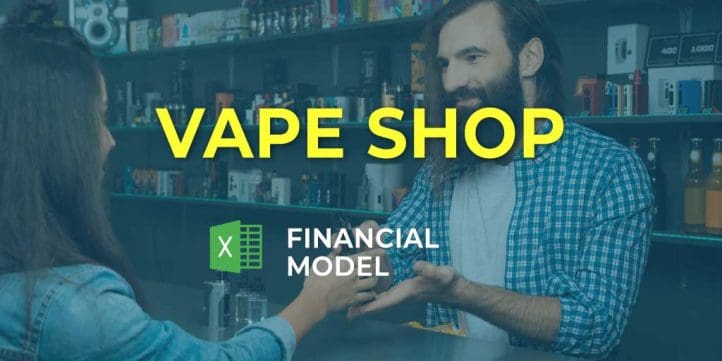 NOTE: Single-User pertains to a limited Single User License where the template can only be used by one single user; while Multi-User is a license for users sharing the template with up to 20 members. Please refer to Terms of Use and License and Permitted Use for clarification.
VAPE SHOP FINANCIAL PROJECTION KEY FEATURES
Video tutorial:
Get it Right the First Time
Funding is a binary event: either you succeed or you fail. If you fail, most investors won't give you a second chance. Learn about the pros and cons with Vape Shop Excel Financial Model Template.
Easy to follow
Clear and transparent Vape Shop Financial Model Excel structure (15+ separate tabs, each focusing on a specific planning category, colour coded => input, calculation and report sheets).
Avoid Cash Flow Shortfalls
Unexpected Cash Flow Statement Proforma shortfalls can cause significant damage to your business, and it may take months to recover. Negative Cash Flow can appear if you don't continuously track the incoming cash and outgoing of your business. Fortunately, you can solve Startup Cash Flow Statement shortfalls with a bit of effort. Forecasting your Cash Flow Statement Forecast will help you identify — and plan for — market fluctuations, sales seasonality, and other cases that can lead to unpredictable Cash Flow Statement Forecast. Startup Cash Flow Statement can even help you visualize Cash Flow Statement Proforma trends with the help of automatically generated charts and graphs.
Simple and Incredibly Practical
Simple-to-use yet very sophisticated Vape Shop Financial Projection Template. Whatever size and stage of development your business is, with minimal planning experience and very basic knowledge of Excel you can get complete and reliable results.
Simple-to-use
A very sophisticated Vape Shop Financial Projection Template Excel, whatever size and stage of development your business is. Minimal previous planning experience and very basic knowledge of Excel is required: however, fully sufficient to get quick and reliable results.
Manage accounts receivable.
By creating a projected cash flow statement format that takes invoices and bills into account, you'll be more easily able to identify who is systematically paying late. You could even go on to model different payment dates on overdue invoices to see the real effect of late payments on your cash flow.
REPORTS and INPUTS
Burn and Runway
The cash burn rate shows the difference between the cash inflows and cash outflows of the company. It is essential to monitor this metric because it shows how long the company will last with its current funding level. Business owners can also see a clear picture of how various business strategies change the cash burn rate.
Top Revenue
This Excel Financial Model Template has a tab for a detailed analysis of the company's revenue streams. With this template, users can analyze the revenue streams by each product or service category separately.
Sources and Uses
The sources and uses statement presented in this Vape Shop Financial Projection Template show where a company is making money and spending those funds.
Financial KPIs
Key performance indicators (KPIs) in the Excel Financial Model are crucial for both the company owner and for an investor. With the help of these metrics, you track your company's financial performance and assess the efficiency of business models and cost structures. You can use them to make you and your co-founders laser-focused on the targets you set.
Costs
Our Vape Shop Financial Projection Model has a well-developed methodology for creating a cost budget. You can plan and forecast your costs from operations and other expenses for up to 72 months. The cost budget has a detailed hiring plan while also automatically handling the expenses' accounting treatment. You can set salaries, job positions, and the time of hiring.
Moreover, the model allows users to calculate hiring as the company scales automatically. Pre-built expense forecasting curves enable users to set how an expense changes over time. These pre-built options include % of revenues, % of salaries, % of any revenue category, growth (or decline) rates that stay the same or change over time, ongoing expenses, expenses that periodically reoccur, expenses that regularly change, and many more. Costs can be allocated to key expense areas and labeled for accounting treatment as SG&A, COGS, or CAPEX.
Dashboard
Our Vape Shop 3 Way Financial Model has a dashboard that summarizes information from the other spreadsheets of the Financial Projection Model. With this dashboard, you can set your key performance indicators (KPIs), and the dashboard will include them into the calculations and the information from the financial statements. You can create the dashboard with core financial information on a month-by-month basis and change any time you need.
Cap Table
The Vape Shop Three Way Financial Model has built-in proformas to calculate discounted cash flows and various sales' and EBITDA valuations. Business owners can use these valuations to assess the exit value and perform the financial projections of returns to investors.
Users can use the Cap table or ignore it; it will not have a negative impact on the other financial calculations in the model.
File types:
Excel – Single-User: .xlsx
Excel – Multi-User: .xlsx
Free Demo – .xlsx