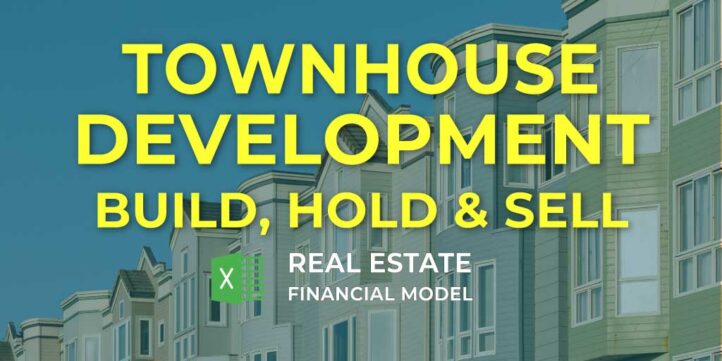 Financial Model, Real Estate
5-year financial projections, Business Valuation, Financial Model, Financial Modeling, Financial Projection, Financial Projections, Free Financial Model Templates, Pro-Forma, Startup Financial Models, Three Statement Model | Three Financial Statements
NOTE: Single-User pertains to a limited Single User License where the template can only be used by one single user; while Multi-User is a license for users sharing the template with up to 20 members. Please refer to Terms of Use and License and Permitted Use for clarification.
TOWNHOMES DEVELOPMENT REFM FINANCIAL PROJECTION TEMPLATE KEY FEATURES
Video tutorial:
Update anytime
You can easily adjust inputs at the launch stage and throughout the further activities of your business to refine your Townhomes Development REFM Financial Model In Excel Template.
We do the math
Budget Financial Model has all the features above ready with no formula writing, no formatting, no programming, no charting, and no expensive external consultants!
Investors ready
Print-ready (including a pro forma income statement for a startup, a Cash Flow Projection, a balance sheet, and a complete set of financial ratios).
Get a Robust, Powerful, and Flexible Financial Model
This well-tested, robust and powerful Townhomes Development REFM Profit Loss Projection is your solid foundation to plan a business model. Advanced users are free to expand and tailor all sheets as desired, to handle specific requirements, or to get into greater detail.
Graphical visualization in a convenient dashboard all in one
All necessary reports and calculations, including variable data for your easement, are displayed on a convenient Cash Flow Format In the Excel dashboard tab. You do not need to move between sheets to compare important data – everything is visible immediately.
Save time and money
Via Excel Pro Forma you can without effort and special education get all the necessary calculations and you will not need to spend money on expensive financial consultants. Your task is building a strategy, evolution, and creativity, and we have already done the routine calculations instead of you.
REPORTS and INPUTS
Break-Even
A breakeven analysis is a financial tool that helps a company to determine the time and the development stage at which the company as a whole, or its new product, becomes profitable. This Townhomes Development REFM Financial Projection Template helps determine the company's sales volume to cover its costs (particularly fixed and variable costs).
Burn and Runway
The cash burn rate shows the difference between the cash inflows and cash outflows of the company. It is essential to monitor this metric because it shows how long the company will last with its current funding level. Business owners can also see a clear picture of how various business strategies change the cash burn rate.
Cap Table
The capitalization table template as a part of the Financial Projection Template is a useful tool for start-up companies and early-stage ventures that shows the detailed listing of the company's securities with the breakdown of investors' shares, value, and dilution over time.
Benchmarks
Our Financial Projection Template has the proforma for industry benchmark analysis. Industry benchmarks, including the financial benchmarks, show users the comparison of performance indicators, e.g., financial indicators, with similar performance indicators of the other companies in the same industry.
Valuation
Our Townhomes Development REFM Budget Spreadsheet has two integrated valuation methods. It has a discounted cash flow (DCF) and the weighted average cost of capital (WACC) calculations to show a company's forecasted financial performance.
Financial KPIs
The Townhomes Development REFM 3 Way Financial Model Template has key financial indicators (KPIs) that show sales and profitability performance: revenue growth rate, gross margin, and EBITDA margin.
It also has KPIs related to cash flows and raising investment: the cash burn rate, runway, and funding need. You can choose the KPIs relevant to your company and industry, and monitor your company's performance. For example, SaaS companies typically monitor and manage customer lifetime value (LTV), customer acquisition costs (CAC), LTV/CAC ratio, and the churn rate. For SaaS businesses, these KPIs are crucial.
Operational KPIs
Our Townhomes Development REFM Financial Model Excel Template has various operational performance graphs that will help business owners manage their business' finances and measure their overall performance. These operational performance graphs also help in making wise business decisions that consider the company's financial capability.
The financial graphs in this Townhomes Development REFM Cashflow Projection help measure the company's financial health showing the operating cash flows' analysis, return on investment, debt to equity ratio, liquidity ratios, and other relevant financial information. Business owners can use these operational performance graphs both for internal and external purposes.
In particular, they can use these graphs to assess the company's overall financial performance or for the assessment of the project's financial feasibility. Such an approach will improve the financial management efficiency of the company. Business owners can also use these charts and graphs for presentations for potential investors and bankers. The operational performance graphs have all the necessary pre-built formulas, and they are fully formatted. So, the users can just print out them and bring them to the meeting with investors.
File types:
Excel – Single-User: .xlsx
Excel – Multi-User: .xlsx
Free Demo – .xlsx