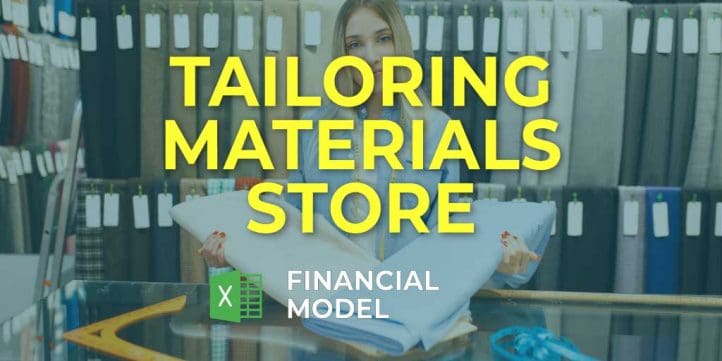 Financial Model, Retail
5-year financial projections, Business Valuation, Financial Model, Financial Modeling, Financial Projection, Financial Projections, Free Financial Model Templates, Pro-Forma, Startup Financial Models, Three Statement Model | Three Financial Statements
TAILORING MATERIALS STORE FINANCIAL MODEL EXCEL KEY FEATURES
Video tutorial:
Generate growth inspiration
By running various scenarios and looking at the effects they could have on your cash balance, you will begin to see which options are best for your business. Ones that are possible, and what is involved in making them work. Organic growth isn't the only option – there are growing funding options becoming available, and Cash Flow Statement Proforma could be a way of looking at the impact an injection of cash could have on your business and its growth plans.
Run different scenarios
A Cash Flow Statement For 5 Years shows you what your cash balance will look like taking into account the numbers you put into the template. It means you can play with the various variables that impact your cash flow forecast, i.e., wages, sales inflow, supplier payments, taxes, and so on. By adjusting the input amounts, you will be able to see what impact they will have on your businesses' cash flow and when this impact is likely to occur. A well-known example of this is the ability to forecast the effect a new member of staff might have on your cash flow over different periods. Increase the wage costs and see what happens to your cash flow. Running different scenarios in your Cashflow Forecast can have several benefits.
Currency for inputs and denomination
In Excel Pro Forma Template define any currency code or symbol and preferred denomination (e.g. 000s) to reflect your preferences.
Get a Robust, Powerful and Flexible Financial Model
This well-tested, robust and powerful Tailoring Materials Store Financial Model In Excel is your solid foundation to plan a business model. Advanced users are free to expand and tailor all sheets as desired, to handle specific requirements or to get into greater detail.
We do the math
3 Way Financial Model has all the required features ready with no formula writing, no formatting, no programming, no charting, and no expensive external consultants! Concentrate on the task of planning rather than programming.
Simple-to-use
A very sophisticated Tailoring Materials Store Cash Flow Format In Excel, whatever size and stage of development your business is. Minimal previous planning experience and very basic knowledge of Excel is required: however, fully sufficient to get quick and reliable results.
REPORTS and INPUTS
Costs
A Tailoring Materials Store Excel Financial Model Template is an important financial tool that enables users to identify actual and forecasted expenditures, as well as financial resources needed to cover these costs. With a well-developed cost budget, you can see the areas where you can save money and the areas of high priority. As a part of a business plan, the cost budget supports the process of pitching to investors and loan applications.
Top Revenue
When the company's management starts to make a Financial Projection Excel, revenue is the most crucial component in the Financial Model In Excel Template. Revenue is one of the main drivers of the enterprise's value in the Financial Projection Excel. That is why financial analysts must pay special attention to the planning and devising the best strategy to approach modeling future revenue streams.
Revenue forecasts should also have assumptions about the growth rate based on historical financial data. Users can find all the components of wise financial planning of the revenue streams in our Tailoring Materials Store 3 Way Financial Model Template.
Liquidity KPIs
Current Ratio. The current ratio is a liquidity ratio that helps users measure a company's ability to meet short-term obligations that should be paid within a year. This financial metric tells investors how a company can maximize the current assets on its balance sheet to cover its current debts.
Break Even
This Finance Projection has a break even formula excel for five years. It presents the calculation of the break even point excel, both numeric and in the form of a chart.
Benchmarks
Financial Projection Template Excel benchmark tab calculates the company's key performance indicators, either business or financial, and finds an industry-wide average as a comparison. The industry average metrics are then used to determine the relative value for benchmarking analysis.
Financial benchmarks are essential for the financial planning of the companies, especially for start-ups. These studies help companies determine the 'best practice' companies within the industry and compare their own financial results with these best practices. It is a useful financial and strategic management tool.
CAPEX
Capex, or capital expenditures, represents the total company's expenditures on purchasing assets in a given period. These expenditures include both assets acquired and built by the company.
Usually, the company's investments, or expenditures, related to these assets are significant. These capital assets provide value to the company over a more extended period than one reporting period. Therefore, the company reflects these CapEX calculations in the Balance Sheet and does not recognize the whole amount of investments in the p&l proforma in one reporting period.
Dashboard
The financial dashboard in our Excel Pro Forma is a great financial planning tool that helps to display the results of financial analysis. This financial summary in the form of charts and graphs will help analysts to explain clearly numbers from the financial statements.
With this dashboard's help, users can analyze and present to other stakeholders' revenue forecasts, financial margins, profit charts, and separate items from the balance sheet, pro forma p&l statement, and cash flow statement proforma.