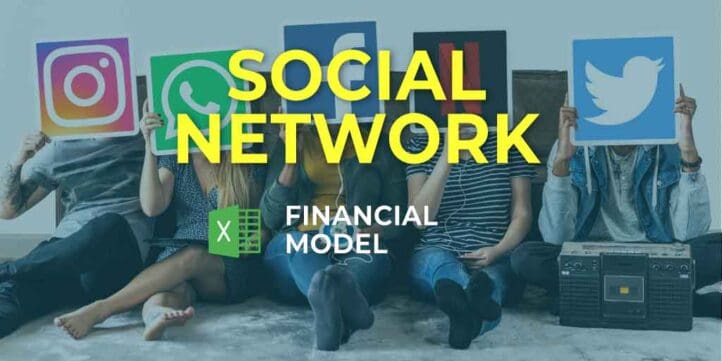 Financial Model, Media, Social Networks
5-year financial projections, Break-Even, Budget, Budgeting, Business Valuation, Cash Flow Analysis, Cash Flow Projections, Cost Projections, Dashboard, DCF Model, Excel, Financial Feasibility, Financial Model, Financial Modeling, Financial Planning, Financial Projection, Financial Projections, Financial Statements, Forecast, Forecasting, NPV (Net Present Value), Post Money Valuation, Pro-Forma, Property Valuation, Sensitivity Analysis, Startup Financial Models, Three Statement Model | Three Financial Statements, Uses and Sources of Funds, Valuation, WACC (Weighted Average Cost of Capital)
Analyze Social Network Revenue Model, Costs, Profit, And Cash Flow With Social Network Financial Model Excel Template. Get It!
This social network financial model will be a solid background for the businesses who want to launch their social network start-up.
WHAT'S INSIDE AND FOR WHOM WE DESIGNED THE SOCIAL NETWORK FINANCIAL MODEL?
Our social network financial model focuses on publishers, the people who will use this social network, and regularly publish posts there.
This social network business model envisages the creation of a new cryptocurrency that will be used within the social network and can be exchanged on US dollars.
The model has three types of revenue: income from advertising, cryptocurrency exchange revenue, and inflation revenue related to cryptocurrency.
Our social network financial model pays special attention to the cryptocurrency. It has forecasts related to the cryptocurrency emission and assumptions of its exchange rate.
The model creates an estimation of new users' attraction and the impact of the number of users on the social network's revenue.
Like all our financial models, the social network financial model has three primary financial reports, i.e., Balance Sheet, Income Statement, and Cash Flow Statement.
WHAT WILL I GET WITH POWERBANKS RENTAL FINANCIAL MODEL?
You will get a unique well-developed financial model designed primarily for social network start-ups.
This model focuses on the types of income relevant to the social network, e.g., revenue from advertising.
Our financial plan for social networks has financial planning tools for cryptocurrency emission.
This financial model reflects the estimated number of likes, dislikes, and reposts in its forecasts.
The model focuses on the publishers, their activity, and their satisfaction.
With our financial model, you will assess your start-up costs, as well as its economic feasibility.
You can use our social network financial plan in Excel or PDF for your convenience.
You can present this social network business plan to your investors.
Get these templates too for a discount!