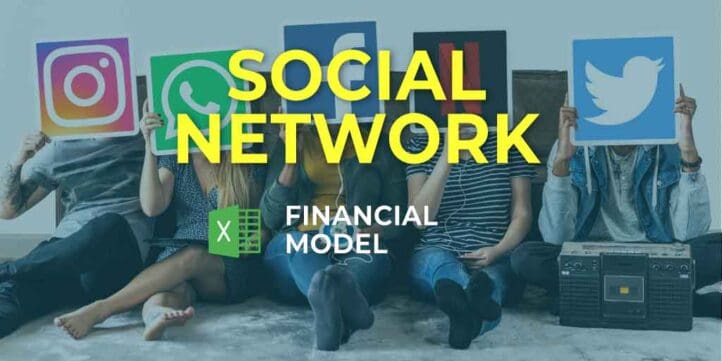 Financial Model, Media, Social Networks
5-year financial projections, Break-Even, Budget, Budgeting, Business Valuation, Cash Flow Analysis, Cash Flow Projections, Cost Projections, Dashboard, DCF Model, Excel, Financial Feasibility, Financial Model, Financial Modeling, Financial Planning, Financial Projection, Financial Projections, Financial Statements, Forecast, Forecasting, NPV (Net Present Value), Post Money Valuation, Pro-Forma, Property Valuation, Sensitivity Analysis, Startup Financial Models, Three Statement Model | Three Financial Statements, Uses and Sources of Funds, Valuation, WACC (Weighted Average Cost of Capital)
NOTE: Single-User pertains to a limited Single User License where the template can only be used by one single user; while Multi-User is a license for users sharing the template with up to 20 members. Please refer to Terms of Use and License and Permitted Use for clarification.
SOCIAL NETWORKING MARKETPLACE P&L PROJECTION KEY FEATURES
Video tutorial:
Identify potential shortfalls in cash balances in advance.
The Social Networking Marketplace P&L Projection works like an 'early warning system.' It is, by far, the most significant reason for a Cash Flow Statement.
Spot problems with customer payments
Preparing the Cash Flow Statement Forecast encourages the business to look at how quickly customers are paying their debts. Identify unpaid invoices and take necessary actions to make them pay.
Convenient, All-In-One Dashboard
Includes all required forecasting reports, including assumptions, profit and loss pro forma, cash flow statement, balance sheets, performance reviews and summaries for months and years (incl. numerous graphs and KPIs).
Get it Right the First Time
Funding is a binary event: either you succeed or you fail. If you fail, most investors won't give you a second chance. Learn about the pros and cons with Social Networking Marketplace Excel Financial Model.
Prove You Can Pay Back the Loan You Requested
When you apply for a business loan, bankers will study your Startup Cash Flow Statement in an attempt to answer this question: Can this business pay back the loan? Requesting a loan without showing your Projected Cashflow Statement for paying it back is a common way to land in the rejection pile. It is exceptionally accurate if your current cash flow won't cover all of your monthly operating expenses — plus your loan payment. Don't fall into this kind of situation. Use Startup Cash Flow Projection to strengthen your case by showing the banker exactly how you plan to use the loan and when you will start repaying the debt. This type of forecasting helps you create a road map that can impress a lender with the confidence they need to approve your loan.
Simple and Incredibly Practical
Simple-to-use yet very sophisticated Social Networking Marketplace Financial Model. Whatever size and stage of development your business is, with minimal planning experience and very basic knowledge of Excel you can get complete and reliable results.
REPORTS and INPUTS
Operational KPIs
Financial graphs and charts in this Social Networking Marketplace Financial Projection Excel help the stakeholders visually track liquidity, budgets, expenses, cash flow, and many other company financial metrics. These graphs will also help a company's management avoid problems by reflecting its financial data in real-time, with a comprehensive financial information overview.
These operational performance graphs will help the business owners and financial managers ensure the best possible performance and financial health of their company because regular financial analytics procedures and the highest quality of financial data are the company's top priorities.
Our financial graphs will also help the company's financial specialists raise financial issues at the general meetings and deliver understandable financial information to other departments and external stakeholders.
Profitability KPIs
Earnings growth. The Social Networking Marketplace Cash Flow Format In Excel has many financial metrics, including the earning growth and growth of net income. Starting the company, we want to see its growth, and the p&l forecast is the best way to monitor such development and to be sure that the company is developing in the right way. In particular, we can monitor sales and revenue growth reflected in the earnings growth.
Burn and Runway
Our Social Networking Marketplace P&L Projection automatically creates cash runway and cash burn analysis based on the forecasted revenues and expenses that, in their turn, show net loss, net profit, cash on hand, and break even formula excel. You can also forecast funding requirements using a set of parameters around funding (e.g., equity, debt, grants) and expected runway to raise (for example, 18 months of forecasted expenses).
Loan opt-in
Our Social Networking Marketplace Financial Projection Template has a pre-built feature for automatic loan calculation. This Cash Flow Proforma Template includes the fees, interest, and principal payments.
Costs
Our Social Networking Marketplace Financial Projection Model Excel has a well-developed methodology for creating a cost budget. You can plan and forecast your costs from operations and other expenses for up to 72 months. The cost budget has a detailed hiring plan while also automatically handling the expenses' accounting treatment. You can set salaries, job positions, and the time of hiring.
Moreover, the model allows users to calculate hiring as the company scales automatically. Pre-built expense forecasting curves enable users to set how an expense changes over time. These pre-built options include % of revenues, % of salaries, % of any revenue category, growth (or decline) rates that stay the same or change over time, ongoing expenses, expenses that periodically reoccur, expenses that regularly change, and many more. Costs can be allocated to key expense areas and labeled for accounting treatment as SG&A, COGS, or CAPEX.
Top Revenue
This 3 Way Forecast Model has a tab for a detailed analysis of the company's revenue streams. With this template, users can analyze the revenue streams by each product or service category separately.
Break Even
Break Even Point Analysis integrated into this Social Networking Marketplace Budget Spreadsheet shows the sales volume or amount of units sold required to break even after all costs, including fixed and variable expenses related to the business operations.
The break even point analysis calculation is a critical business and financial planning tool because financial assumptions involved in these calculations determine the company's ability to bring profits.
File types:
Excel – Single-User: .xlsx
Excel – Multi-User: .xlsx
Free Demo – .xlsx