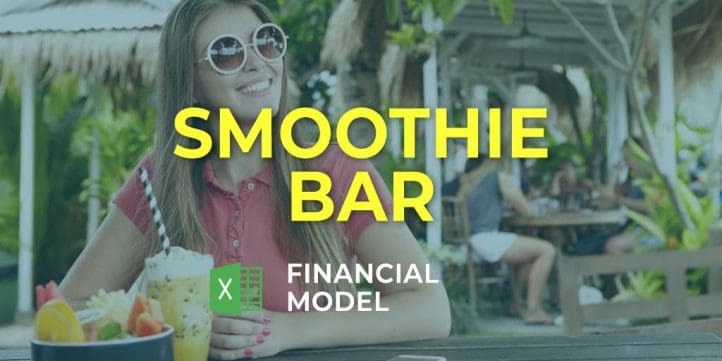 NOTE: Single-User pertains to a limited Single User License where the template can only be used by one single user; while Multi-User is a license for users sharing the template with up to 20 members. Please refer to Terms of Use and License and Permitted Use for clarification.
SMOOTHIE BAR PROFIT LOSS PROJECTION KEY FEATURES
Video tutorial:
Get a robust, powerful financial model which is fully expandable
This well-tested, robust and powerful Smoothie Bar 3 Way Forecast Model is your solid foundation to plan smoothie bar business model. Advanced users are free to expand and tailor all sheets as desired, to handle specific requirements or to get into greater detail.
Get a Robust, Powerful and Flexible Financial Model
This well-tested, robust and powerful Smoothie Bar Financial Model Excel is your solid foundation to plan a business model. Advanced users are free to expand and tailor all sheets as desired, to handle specific requirements or to get into greater detail.
Generate growth inspiration
By running various scenarios and looking at the effects they could have on your cash balance, you will begin to see which options are best for your business. Ones that are possible, and what is involved in making them work. Organic growth isn't the only option – there are growing funding options becoming available, and Cash Flow Statement For 5 Years could be a way of looking at the impact an injection of cash could have on your business and its growth plans.
Easy to follow
Clear and transparent Smoothie Bar Financial Model Excel structure (15+ separate tabs, each focusing on a specific planning category, colour coded => input, calculation and report sheets).
Build your plan and pitch for funding
Impress bankers and investors with a proven, strategic Smoothie Bar Financial Projection that impresses every time.
Simple-to-use
A very sophisticated Smoothie Bar Excel Financial Model Template, whatever size and stage of development your business is. Minimal previous planning experience and very basic knowledge of Excel is required: however, fully sufficient to get quick and reliable results.
REPORTS and INPUTS
Valuation
With our pre-built valuation template in the Smoothie Bar Budget Financial Model, you will receive all the data your investors might need.
The weighted average cost of capital (WACC) will show your stakeholders the minimum return on enterprise funds invested in its activities capital. Free cash flow valuation will show a cash flow available to all investors, including shareholders and creditors. Discounted cash flow will reflect the value of future cash flows in relation to the current time.
Dashboard
The All-in-one dashboard in this Smoothie Bar 3 Way Financial Model contains all core financial inputs and core start-up metrics critical for the companies' financial analysis. It reflects the financial data from a Balance Sheet, an profit and loss pro forma, and a cash flow forecast. Moreover, users can obtain financial information in the form of graphs or charts.
All in One Place
Get a sophisticated but easy-to-use Financial Projection Model that is fully expandable. Our robust and powerful Smoothie Bar Finance Projection will be your roadmap for many different business models. If you have financial experience, you can expand and tailor all sheets as desired.
Cap Table
The Cap table template in our Smoothie Bar Excel Pro Forma includes four rounds of financing, and it shows how the shares issued to new investors impact the investment income. After each round of financing, the Cap table shows users the ownership structure and the percentage of changes, i.e., the dilution.
Performance KPIs
Lead-to-client conversion rate. Lead-to-Client Conversion Rate is an essential metric for the businesses that attract new clients with the Internet, social media, and other similar channels. Leads do not turn into customers automatically. Company's sale team need to convert these leads into actual customers.
The Lead-to-Conversion business metric is a good measure of the sales team's performance. Moreover, it indicates the quality of your product. If you have a low conversion rate, it may sign that your product is not attractive to the customers.
Break Even
Break-even is a situation where the company covers all its costs with the revenue earned. In other words, this is a point in time when the company is neither making money nor losing money.
Break Even Formula Excel is a useful instrument in studying the relation between the variable cost, fixed cost, and the company's revenue earned under these circumstances. Usually, companies with low fixed cost levels have a low break even point analysis.
Benchmarks
Three Way Financial Model benchmark tab calculates the company's key performance indicators, either business or financial, and finds an industry-wide average as a comparison. The industry average metrics are then used to determine the relative value for benchmarking analysis.
Financial benchmarks are essential for the financial planning of the companies, especially for start-ups. These studies help companies determine the 'best practice' companies within the industry and compare their own financial results with these best practices. It is a useful financial and strategic management tool.
File types:
Excel – Single-User: .xlsx
Excel – Multi-User: .xlsx
Free Demo – .xlsx