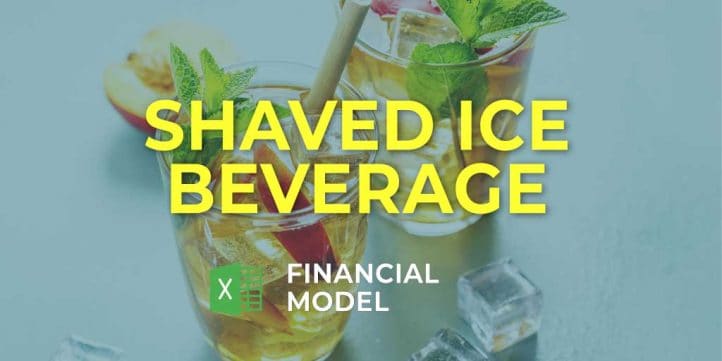 NOTE: Single-User pertains to a limited Single User License where the template can only be used by one single user; while Multi-User is a license for users sharing the template with up to 20 members. Please refer to Terms of Use and License and Permitted Use for clarification.
SHAVED ICE BEVERAGE PRO FORMA TEMPLATE EXCEL KEY FEATURES
Video tutorial:
We do the math
Cash Flow Format In Excel has all the features above ready with no formula writing, no formatting, no programming, no charting, and no expensive external consultants!
Avoid Cash Flow Shortfalls
Unexpected Cash Flow Statement For 5 Years shortfalls can cause significant damage to your business, and it may take months to recover. Negative Cash Flow can appear if you don't continuously track the incoming cash and outgoing of your business. Fortunately, you can solve Cash Flow Pro Forma shortfalls with a bit of effort. Forecasting your Pro Forma Cash Flow Projection will help you identify — and plan for — market fluctuations, sales seasonality, and other cases that can lead to unpredictable Pro Forma Cash Flow Projection. Pro Forma Cash Flow Projection can even help you visualize Cash Flow Projection trends with the help of automatically generated charts and graphs.
Graphical visualization in a convenient dashboard all in one
All necessary reports and calculations, including variable data for your easement, are displayed on a convenient 3 Way Forecast Model dashboard tab. You do not need to move between sheets to compare important data – everything is visible immediately.
Great Value for Money
Use a robust and proven Shaved Ice Beverage Excel Financial Model Template based on years of experience at an affordable price. This profit loss projection has a one-off payment and absolutely no hidden fees or monthly payments.
Get a robust, powerful financial model which is fully expandable
This well-tested, robust and powerful Shaved Ice Beverage Pro Forma Budget is your solid foundation to plan shaved ice beverage business model. Advanced users are free to expand and tailor all sheets as desired, to handle specific requirements or to get into greater detail.
Generate growth inspiration
By running various scenarios and looking at the effects they could have on your cash balance, you will begin to see which options are best for your business. Ones that are possible, and what is involved in making them work. Organic growth isn't the only option – there are growing funding options becoming available, and Pro Forma Cash Flow Projection could be a way of looking at the impact an injection of cash could have on your business and its growth plans.
REPORTS and INPUTS
Top Revenue
This Pro Forma Budget has a tab for a detailed analysis of the company's revenue streams. With this template, users can analyze the revenue streams by each product or service category separately.
Dashboard
The All-in-one dashboard in this Shaved Ice Beverage Excel Pro Forma Template contains all core financial inputs and core start-up metrics critical for the companies' financial analysis. It reflects the financial data from a Balance Sheet, an profit and loss statement, and a pro forma cash flow projection. Moreover, users can obtain financial information in the form of graphs or charts.
Break Even
Break Even Point Excel integrated into this Shaved Ice Beverage Cashflow Projection shows the sales volume or amount of units sold required to break even after all costs, including fixed and variable expenses related to the business operations.
The break even point analysis calculation is a critical business and financial planning tool because financial assumptions involved in these calculations determine the company's ability to bring profits.
Benchmarks
A benchmarking study as the element of the Pro Forma Template Excel is usually used to evaluate a business's performance by focusing on one or more particular indicators and comparing them with similar indicators of other companies in the industry.
In respect of the financial benchmarking study, these indicators could be profit margins, cost margins, cost per unit, productivity margins, or others. Later the company's performance indicators should be compared to that of other companies within the same industry.
Benchmarking is a useful strategic management tool, which is essential for start-ups. Companies can evaluate any economic, business, or financial metric or process and compare them to the processes of 'best practice' companies within the same field or industry.
Financial KPIs
With the help of the financial key performance indicators (KPIs), you can track your company's performance and improve its financial health. This Shaved Ice Beverage Cash Flow Format In Excel allows showing the key performance indicators in the form of charts.
Top Expenses
It is very important for a start-up and existing company to monitor, plan, and manage its costs and expenses to maintain a good profitability level.
For this purpose, it is necessary to analyze the highest costs and always work on their optimization. In our Startup Financial Model we have created a Top expense report helps users with this task. It summarizes the four biggest expense categories and the rest of the expenses as the 'other', so the users can easily monitor these expenses and track the tendencies related to their increase or decrease from year to year.
Cap Table
The capitalization table helps business owners to calculate shareholder's ownership dilution. The Cap table in our Shaved Ice Beverage 3 Way Financial Model Template has four rounds of funding, and users can apply all of them or one or two rounds for their financial projections.
File types:
Excel – Single-User: .xlsx
Excel – Multi-User: .xlsx
Free Demo – .xlsx