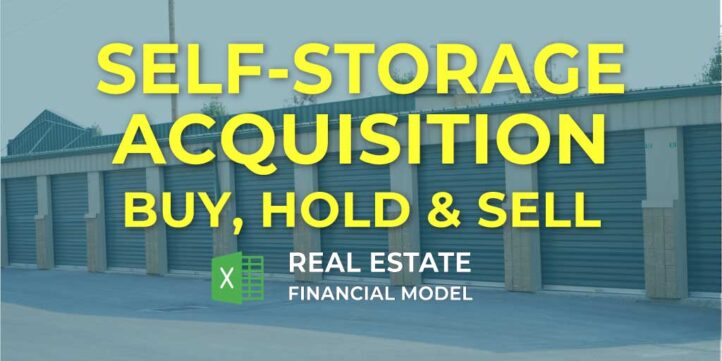 Financial Model, Mini Storage, Real Estate
10-year financial projections, Cap Rate (Capitalization Rate), Cash Flow Projections, Cash on Cash Yield, Cash-on-Cash Multiple, Debt Schedule, Excel, Financial Feasibility, Financial Model, Financial Modeling, Financial Planning, Financial Projection, Financial Projections, Financial Statements, Investment Multiple, Investor Cash Flows, Pro-Forma, Property Valuation, Real Estate Valuation, Terminal Value, Uses and Sources of Funds, Valuation, Venture Capital, WACC (Weighted Average Cost of Capital), Waterfall
Acquire a Self-Storage, Manage Rental Revenues, and Expenses, Sell the Self-Storage, Distribute the Equity via GP/LP with IRR hurdles.
Video

This Self-Storage Acquisition Financial model is built for real estate investors looking at acquisition projects. However, it could be useful for financial analysts or students looking to improve their real estate financial modeling skills.
It is ready to use financial model with on the fly calculations and provides a complete analysis of a potential Self-Storage acquisition.
User-friendly design streamlines the assumptions entering process up to 10 minutes.
Get these templates too for a discount!