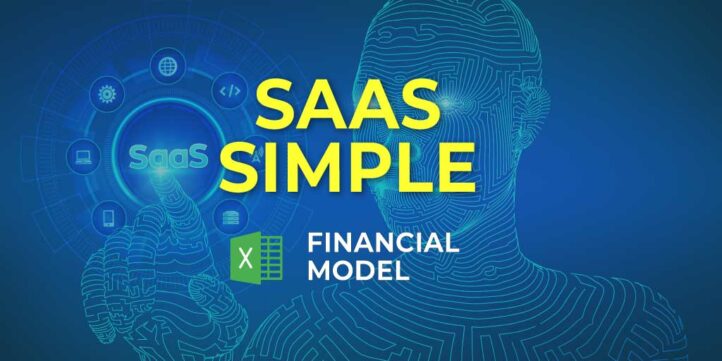 Financial Model, Online Businesses & IT, SaaS
5-year financial projections, Accounts Payable, Accounts Receivable, ARPU, Break-Even, Budgeting, Business Valuation, Cap Table, Cash Flow Analysis, Cash Flow Projections, Cost Calculation, Cost Projections, CPC, Customer Acquisition Costs (CAC), Customer Lifetime Value, Dashboard, DCF Model, Debt Schedule, Excel, Financial Debt, Financial Feasibility, Financial Model, Financial Modeling, Financial Planning, Financial Projection, Financial Projections, Financial Reporting, Financial Statements, Financing, Forecast, Forecasting, Free Financial Model Templates, Fundraising, KPIs (Key Performance Indicators), NPV (Net Present Value), Pricing, Pro-Forma, Profitability Analysis, Revenue Projections, Startup Financial Models, Three Statement Model | Three Financial Statements, Valuation
NOTE: Single-User pertains to a limited Single User License where the template can only be used by one single user; while Multi-User is a license for users sharing the template with up to 20 members. Please refer to Terms of Use and License and Permitted Use for clarification.
SAAS FINANCIAL PROJECTION KEY FEATURES
Video tutorial:
Currency for inputs and denomination
In Financial Model Excel Template define any currency code or symbol and preferred denomination (e.g. 000s) to reflect your preferences.
Gaining trust from stakeholders
Investors and financing providers tend to think in terms of the big picture. They want the c-level of the companies they invest in to do the same to ensure they maintain a clear idea of the future. Providing stakeholders with a monthly pro forma cash flow projection will demonstrate a level of awareness that leads to confidence and trust and will make it easier to raise more investment.
Predict the Influence of Upcoming Changes
Does your company plan to purchase new equipment or to launch a new product? Projected Cash Flow Statement Format enable you to obtain a complete picture of the effect that specific changes will have on your Cash Flow Statement Forecast. When planning your finances in the Projected Cashflow Statement, you will forecast cash inflows and outflows based on future invoices, bills due, and payroll. You can then create multiple 'what if' scenarios, such as buying new equipment to choose the best way for you. Forecasting shows you how the upcoming changes will affect your cash balance.
Avoid Cash Flow Shortfalls
Unexpected Cash Flow Statement Projection shortfalls can cause significant damage to your business, and it may take months to recover. Negative Cash Flow can appear if you don't continuously track the incoming cash and outgoing of your business. Fortunately, you can solve Pro Forma Cash Flow Projection shortfalls with a bit of effort. Forecasting your Cash Flow Statement Proforma will help you identify — and plan for — market fluctuations, sales seasonality, and other cases that can lead to unpredictable Startup Cash Flow Statement. Cash Flow Statement Projection can even help you visualize Startup Cash Flow Projection trends with the help of automatically generated charts and graphs.
Plan for Future Growth
Cashflow Forecast can help you plan for future growth and expansion. No matter you're extending your company with new employees and need to take into account increased staff expenses. Or to scale production to keep up with increased sales, future projections help you see accurately where you're running — and how you'll get there. Forecasting is also a well-known goal-setting framework to help you plan out the financial steps your company has to take to reach targets. There's power in Cash Flow Pro Forma and the insight they can provide your business. Fortunately, this competitive advantage comes with little effort when you use the Cash Flow Pro Forma.
Saves you time
Allows you to spend less time on Cash Flow Statement By Month and more time on your products, customers and business development
REPORTS and INPUTS
Financial KPIs
A Saas Pro Forma Budget outputs include both company and sector-specific key performance indicators KPIs. These KPIs include profitability metrics, cash flow metrics, and liquidity metrics. It also has KPIs crucial for the attraction of investments.
Operational KPIs
Financial graphs and charts in this Saas Cash Flow Proforma Template help the stakeholders visually track liquidity, budgets, expenses, cash flow, and many other company financial metrics. These graphs will also help a company's management avoid problems by reflecting its financial data in real-time, with a comprehensive financial information overview.
These operational performance graphs will help the business owners and financial managers ensure the best possible performance and financial health of their company because regular financial analytics procedures and the highest quality of financial data are the company's top priorities.
Our financial graphs will also help the company's financial specialists raise financial issues at the general meetings and deliver understandable financial information to other departments and external stakeholders.
Cash Flow KPIs
Cash balance. The cash balance shows the total amount of money in a financial account of the company. Any company needs to hold in reserve enough amount of cash to meet current obligations.
Break Even
A break even point excel tab in this 3 Way Forecast Model shows the break even formula excel. This calculation illustrates when your company is supposed to become profitable. In other words, a break even formula excel indicates when the company's overall revenues exceed its expenses.
CAPEX
Capex, or capital expenditures, represents the total company's expenditures on purchasing assets in a given period. These expenditures include both assets acquired and built by the company.
Usually, the company's investments, or expenditures, related to these assets are significant. These capital assets provide value to the company over a more extended period than one reporting period. Therefore, the company reflects these CapEX calculations in the Balance Sheet and does not recognize the whole amount of investments in the forecasted income statement in one reporting period.
Dashboard
A financial dashboard in this Saas P&L Projection is a useful financial management tool. It helps track all your relevant finance key performance indicators (KPIs), assures effective cash management, and enables financial management to track expenses, sales, and profits in detail to meet and outperform a department or company's financial objectives.
Top Revenue
When the company's management starts to make a Financial Model In Excel Template, revenue is the most crucial component in the Cash Flow Proforma Template. Revenue is one of the main drivers of the enterprise's value in the Five Year Financial Projection Template. That is why financial analysts must pay special attention to the planning and devising the best strategy to approach modeling future revenue streams.
Revenue forecasts should also have assumptions about the growth rate based on historical financial data. Users can find all the components of wise financial planning of the revenue streams in our Saas Budget Financial Model.
File types:
Excel – Single-User: .xlsx
Excel – Multi-User: .xlsx
Free Demo – .xlsx