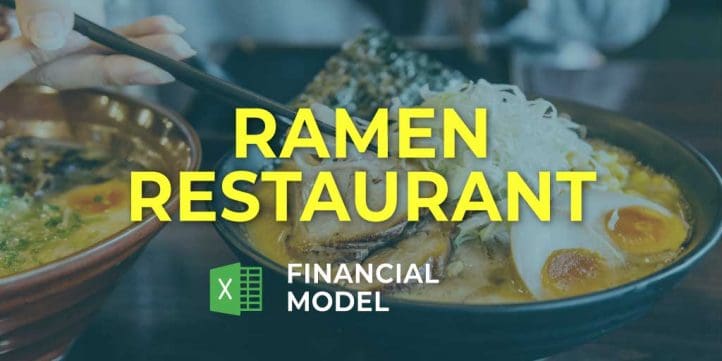 Financial Model, Hospitality, Restaurant
5-year financial projections, Business Valuation, Financial Model, Financial Modeling, Financial Projection, Financial Projections, Pro-Forma, Startup Financial Models, Three Statement Model | Three Financial Statements
NOTE: Single-User pertains to a limited Single User License where the template can only be used by one single user; while Multi-User is a license for users sharing the template with up to 20 members. Please refer to Terms of Use and License and Permitted Use for clarification.
RAMEN RESTAURANT CASH FLOW PROFORMA TEMPLATE KEY FEATURES
Video tutorial:
Works for startups
Excel Financial Model Template creates a financial summary formatted for your pitch deck
Simple-to-use
A very sophisticated Ramen Restaurant Financial Projection Template, whatever size and stage of development your business is. Minimal previous planning experience and very basic knowledge of Excel is required: however, fully sufficient to get quick and reliable results.
Graphical visualization in a convenient dashboard all in one
All necessary reports and calculations, including variable data for your easement, are displayed on a convenient Cashflow Projection dashboard tab. You do not need to move between sheets to compare important data – everything is visible immediately.
Confidence in the future
Using our financial model, you can effectively plan, prevent risks, manage stocks and Cash Flow Statement For 5 Years and foresee your prospects for the next 5 years.
Investors ready
Print ready (including a pro forma profit and loss, a Cash Flow Statement Proforma, a balance sheet, and a complete set of financial ratios).
Plan for Future Growth
Projected Cash Flow Statement can help you plan for future growth and expansion. No matter you're extending your company with new employees and need to take into account increased staff expenses. Or to scale production to keep up with increased sales, future projections help you see accurately where you're running — and how you'll get there. Forecasting is also a well-known goal-setting framework to help you plan out the financial steps your company has to take to reach targets. There's power in Cash Flow Statement Forecast and the insight they can provide your business. Fortunately, this competitive advantage comes with little effort when you use the Cash Flow Statement By Month.
REPORTS and INPUTS
Dashboard
In this Budget Spreadsheet, users will find a Dashboard with core financial metrics relevant to their business. This financial dashboard is a snapshot of all critical financial metrics at a particular point in time. In particular, on this dashboard, you will see your core financials, such as revenue breakdown by years, cash flow statement, profitability forecasts, and cumulative cash flows.
Loan opt-in
Similar to the amortization of the Ramen Restaurant Cash Flow Format In Excel assets, a loan amortization reflects the spreading out the repayment of a loan for a certain period that covers several reporting periods. The process of loan amortization includes a series of fixed payments over time. Usually, companies make these payments on a monthly basis, but there may also be quarterly or annual payments.
CAPEX
A capital expenditure ('CapEx' for short) table reflects the company's expenses, either cash or credit, on purchases of goods that are capitalized on the balance sheet. Such capitalized expenses, the company does not reflect directly in the profit and loss pro forma as expenses, and such expenses are considered as an investment in the company's expansion.
Cap Table
Our Ramen Restaurant Three Statement Financial Modelhas a cap table proforma on a separate Excel spreadsheet. It shows the ownership breakdown of your start-up at different periods. A cap table tells investors how much money they will make if they decide to exit.
Valuation
Our Ramen Restaurant Financial Projection Model Excel has two integrated valuation methods. It has a discounted cash flow (DCF) and the weighted average cost of capital (WACC) calculations to show a company's forecasted financial performance.
Benchmarks
Cash Flow Proforma Template benchmark tab calculates the company's key performance indicators, either business or financial, and finds an industry-wide average as a comparison. The industry average metrics are then used to determine the relative value for benchmarking analysis.
Financial benchmarks are essential for the financial planning of the companies, especially for start-ups. These studies help companies determine the 'best practice' companies within the industry and compare their own financial results with these best practices. It is a useful financial and strategic management tool.
Profitability KPIs
Gross profit margin. A gross profit margin is a measure of a company's profitability, which is calculated by dividing gross profit by net sales.
File types:
Excel – Single-User: .xlsx
Excel – Multi-User: .xlsx
Free Demo – .xlsx