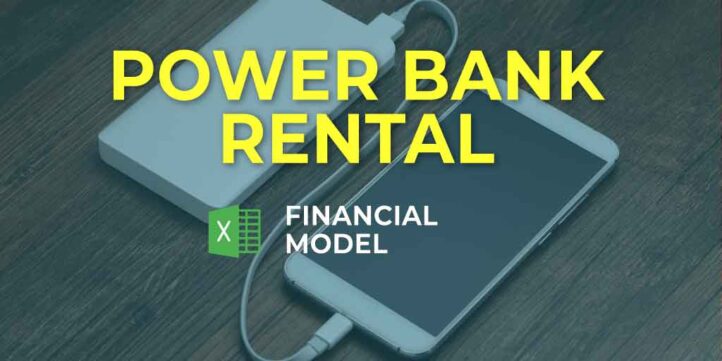 Financial Model, General Excel Financial Models
5-year financial projections, Break-Even, Budget, Budgeting, Business Valuation, Cash Flow Projections, DCF Model, Excel, Financial Feasibility, Financial Model, Financial Modeling, Financial Planning, Financial Projection, Financial Projections, Financial Statements, Pro-Forma, Revenue Projections, Terminal Value, Three Statement Model | Three Financial Statements, Uses and Sources of Funds, Valuation
Analyze Powerbanks Rental Revenue Model, Costs, Profit, And Cash Flow With Powerbanks Rental Financial Model Excel Template. Get It!
WHAT'S INSIDE AND FOR WHOM WE DESIGNED THE POWERBANKS RENTAL FINANCIAL MODEL?
This powerbanks rental financial model has primary financial reports, i.e., Balance Sheet, Income Statement, and Cash Flow Statement.
It also has all the spreadsheets with the main types of income and expenses relevant to the powerbanks rental company, in particular, the total amount of powerbanks the company
has and the number of items rented to restaurants, cafes, and other customers.
The model has the template for the calculation of income from one powerbank per day.
Users can include charging stations into calculations with the allocation of the powerbanks between the stations.
The model envisages the calculation of the cost of sales. It also reflects the term of usage for each powerbank. According to the usage period, it forecasts the time of its replacement, including the purchase expenses on the new item.
Our powerbanks rental business model helps to calculate the revenue share that the rental company should pay to a restaurant or café that took the powerbanks.
WHAT WILL I GET WITH ONLINE BANK FINANCIAL MODEL?
This model is a well-developed complete business plan for powerbanks rental companies
It allows us to include all revenues and expenses with the division by type into the calculation.
The model has an option to reflect the prepayments for the suppliers of powerbanks. It also reflects the advances received from customers.
The model also takes into consideration seasonality trends and allows us to forecast occupancy seasonality.
You can enter the term of usage for one powerbank into the model.
It will reflect the powerbanks' replacement cost into the forecast.
This financial model can be used as a solid background for negotiations with investors and banks.
You can use this financial model for powerbanks rental companies in Excel or PDF for your convenience.
Get these templates too for a discount!