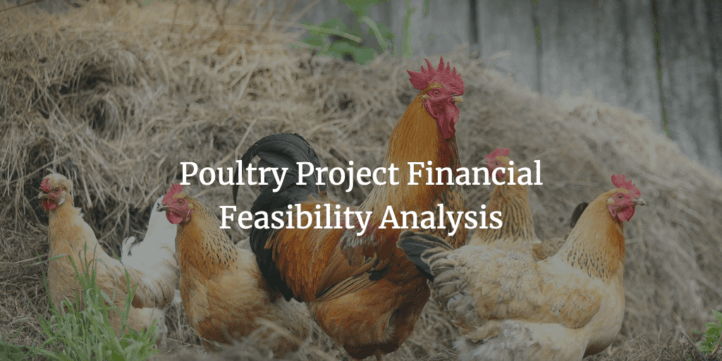 Agriculture, Financial Model, Poultry Farming
10-year financial projections, Break-Even, Business Valuation, Cash Flow Projections, Debt Schedule, Dividends, Excel, Financial Feasibility, Financial Model, Financial Modeling, Financial Planning, Financial Projection, Financial Projections, Forecasting, Fundraising, Investment Multiple, IRR (Internal Rate of Return), KPIs (Key Performance Indicators), NPV (Net Present Value), Payback Period, PDF, Sensitivity Analysis, Startup Financial Models, Three Statement Model | Three Financial Statements, Uses and Sources of Funds
The poultry financial feasibility model considers four sources of revenues: sale of chicken products, sale of Day-Old-Chicks, Hatchery Eggs and other revenues. The model template uses a bottom-up approach to derive the required volumes of broiler birds, Day-Old Chicks, Hatchery Eggs and Breeder birds based on estimated on various operational performance parameters, durations of the growing cycle and targeted Weight and Feed Conversion Ratios. Required feed volumes of and space for broiler and breeder houses are calculated as well. The operating model then is aggregated into a financial model containing a comprehensive financial forecast to determine the project's feasibility.
The Excel financial model template comes in two versions where the model's Pro Version includes advanced features such as a more detailed pricing model with secondary processing steps, sensitivity analysis, break-even analysis and detailed cost analysis as a % of revenues, per lb or per bird while the Basic model template version includes the Basic 10-year financial projections only.
The components of this financial model template are the following ones:
Summary Sheet
• Financial Overview
• Financial Metrics Summary such as Funding Required, Expected Profits, Investment Multiple, IRR, NPV, Payback period
• Uses and Sources of Funds
• Volume assumptions for targeted birds per day, sales and purchases along the supply chain
• Basic pricing model
• Direct Cost Assumptions
• Personnel cost estimation
• OPEX Assumptions
• CAPEX Assumptions
• Other assumptions such as Inflation, Interest Rates, Tax Rate, Dividends
• Modifiable labels for currency, volume (lb or kg, oz or g) and area units (sq ft or sqm)
Operations Sheet
• All schedules for 10 years (yearly)
• Detailed Calculations for Volumes
• Calculations for Space required
Financials Sheet
• All schedules for 10 years (yearly)
• Financial projections for Income Statement, Balance Sheet, Cash Flow Statement
• Calculation of Financial Ratios
• Fixed Asset Schedules
• Debt Schedule
• Calculation of projected Free Cash Flows to Firm (FCFF) and Free Cash Flows to Equity (FCFE)
• Calculation of the Financial Metrics
Break-Even Sheet (Pro Version only)
Abbreviations
• Terms and Abbreviations
Instructions
• Instructions how to use the model
The Pro Versions includes in addition the following:
• A more detailed pricing model going into details of prices per chicken products such as Wings, Thigs, etc.
• Separation of processing costs in primary and secondary costs
• Calculation of Secondary Processing Costs
• Detailed Profit Analysis as Standardized Income Statement % of Sales, Profit per lb and Profit ber bird analysis
• Break-Even Analysis
• Sensitivity Analysis
The model offers a great tool to analyze your next chicken bird production project. The model comes in two versions, a Basic and a Pro Version. Both versions are fully editable in MS Excel and PDF Previews are available.
File type:
.xlsx (MS Excel)
.pdf (PDF Adobe Acrobat Reader)
Reviews
I love this model for starting the Vertical Integration for Poultry as the company/integrator, i will dive deep into it soon and continue to give a review. Can i please have the Author's email so that i can ask for clarity or additional questions when i come across something's while evaluating it.
Thank you for your feedback.
Write a Review