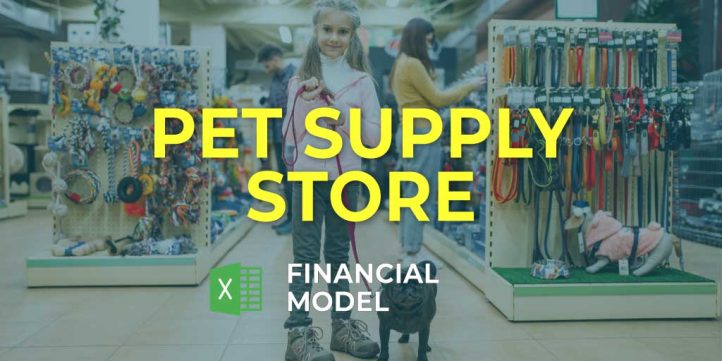 NOTE: Single-User pertains to a limited Single User License where the template can only be used by one single user; while Multi-User is a license for users sharing the template with up to 20 members. Please refer to Terms of Use and License and Permitted Use for clarification.
PET SUPPLY STORE PRO FORMA BUDGET KEY FEATURES
Video tutorial:
5 years forecast horizon
Generate fully-integrated Pet Supply Store Three Statement Financial Model for 5 years (on a monthly basis). Automatic aggregation of annual summaries on outputs tabs.
Better decision making
Make better operational decisions with the help of creating Cash Flow Statement Projection scenarios in your Excel Template. Perhaps you have to choose between new staff members or investment in equipment, and you are wondering which decision to chose. Variants forecasting will give you the information you need to make these decisions with confidence that you know what impact they will have on your cash balance.
Convince investors and lenders
Enhance your pitches and impress potential financiers with a Three Way Financial Model delivering the right information and expected financial and operational metrics. Facilitate your negotiations with investors for successful funding. Raise money more quickly and refocus on your core business.
Simple-to-use
A very sophisticated Pet Supply Store Profit Loss Projection, whatever size and stage of development your business is. Minimal previous planning experience and very basic knowledge of Excel is required: however, fully sufficient to get quick and reliable results.
Identify cash gaps and surpluses before they happen.
Forecasting your future cash balance helps you see well in advance when you may have a cash deficit that could hurt your business. Cash Flow Statement Proforma will give you enough time to take action to prevent a crisis. It will enable you to access better loan rates or speed up incoming payment to bridge the gap. On the other side, if you know ahead of time that the large lump of cash will lay in your bank account within the next three months. In this case, you might need to explore options to reinvest it in your business to drive growth.
Gaining trust from stakeholders
Investors and financing providers tend to think in terms of the big picture. They want the c-level of the companies they invest in to do the same to ensure they maintain a clear idea of the future. Providing stakeholders with a monthly cashflow forecast will demonstrate a level of awareness that leads to confidence and trust and will make it easier to raise more investment.
REPORTS and INPUTS
Liquidity KPIs
Quick Ratio or Acid-Test Ratio. The quick ratio or acid-test ratio uses a firm's balance sheet data to analyze if it has sufficient short-term assets to cover its short-term liabilities. This metric ignores less liquid assets like such as inventory.
Performance KPIs
Sales growth year-to-date. Every entrepreneur wants to see the company grow month-over-month. In some industries, sales depend on the season or other external factors. The sales growth year-to-date metric shows the pace at which the company's sales revenue increases or decreases.
Users can monitor sales volumes over various periods – daily, weekly, monthly, or yearly. Sales growth metric helps to manage sales growth goals in the form of a percentage of last month's sales volume or others. If the company has several sales teams, the management can monitor this metric for each team separately. It will help to monitor better each team's achievements.
Loan opt-in
The start-ups and growing companies need to monitor and manage their loans' repayment schedules. Usually, such schedules reflect the company's loan line-by-line breakdown with information about their amounts, maturity terms, and others.
This loan repayment schedule is an important part of a company's cash flow analysis. Also, interest expense in the debt schedule impacts the company's cash flow pro forma, and the closing debt balance flows onto the balance sheet. Moreover, the principal repayments flow through the projected cash flow statement format as a part of the company's financing activities.
Top Revenue
The Top revenue tab in the Pro Forma Budget shows off the financial information regarding each of your offerings. In particular, with the help of this Pet Supply Store 3 Way Forecast, you can obtain an annual breakdown of your revenue streams, including the revenue depth and revenue bridge.
Sources and Uses
This Pet Supply Store 3 Way Forecast Model has a Sources and Uses template. This tab shows users the company's funding structure and sources and uses of these funds.
Operational KPIs
Our Pet Supply Store Budget Spreadsheet has convenient, informative, and easy-to-use operational performance graphs. Here you may visually track your company's key operational performance indicators (KPIs) in the form of charts. These operational performance graphs show the stakeholders the financial information related to the company's liquidity, revenues, expenses, cash flows, and other financial metrics. This financial information in the form of graphs will help a business owner to create presentations for banks and investors with minimum efforts.
Financial KPIs
With the help of the financial key performance indicators (KPIs), you can track your company's performance and improve its financial health. This Pet Supply Store Financial Model Excel Spreadsheet allows showing the key performance indicators in the form of charts.
File types:
Excel – Single-User: .xlsx
Excel – Multi-User: .xlsx
Free Demo – .xlsx