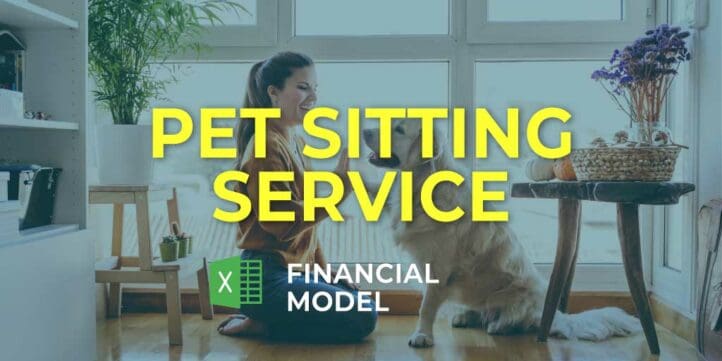 Financial Model, Service Businesses
5-year financial projections, Business Valuation, Financial Model, Financial Modeling, Financial Projection, Financial Projections, Free Financial Model Templates, Pro-Forma, Startup Financial Models, Three Statement Model | Three Financial Statements
NOTE: Single-User pertains to a limited Single User License where the template can only be used by one single user; while Multi-User is a license for users sharing the template with up to 20 members. Please refer to Terms of Use and License and Permitted Use for clarification.
PET SITTING SERVICE 3 WAY FORECAST KEY FEATURES
Video tutorial:
Get a Robust, Powerful, and Flexible Financial Model
This well-tested, robust and powerful Pet Sitting Service 3 Way Forecast Model is your solid foundation to plan a business model. Advanced users are free to expand and tailor all sheets as desired, to handle specific requirements, or to get into greater detail.
Gaining trust from stakeholders
Investors and financing providers tend to think in terms of the big picture. They want the c-level of the companies they invest in to do the same to ensure they maintain a clear idea of the future. Providing stakeholders with a monthly cash flow statement will demonstrate a level of awareness that leads to confidence and trust and will make it easier to raise more investment.
Update anytime
You can easily adjust inputs at the launch stage and throughout the further activities of your business to refine your Pet Sitting Service Excel Pro Forma.
Convenient, All-In-One Dashboard
Includes all required forecasting reports, including assumptions, profit and loss statement, startup cash flow projection, balance sheets, performance reviews, and summaries for months and years (incl. numerous graphs and KPIs).
Prove You Can Pay Back the Loan You Requested
When you apply for a business loan, bankers will study your Cash Flow Statement in an attempt to answer this question: Can this business pay back the loan? Requesting a loan without showing your Projected Cash Flow Statement for paying it back is a common way to land in the rejection pile. It is exceptionally accurate if your current cash flow won't cover all of your monthly operating expenses — plus your loan payment. Don't fall into this kind of situation. Use Cash Flow Projection to strengthen your case by showing the banker exactly how you plan to use the loan and when you will start repaying the debt. This type of forecasting helps you create a road map that can impress a lender with the confidence they need to approve your loan.
Manage surplus cash
Most companies don't have excess cash in the bank. It is a well-known situation. But managing surplus cash for reinvestment in new market opportunities, or debt repayments can be essential to keeping stay in the business. Managers are entirely ready to plan for what to do with the cash surplus if they have the forecast of when and where the business will have surplus cash in the bank account. Cash Flow Statement Projection will provide supplementary guidance on what to do with a cash surplus.
REPORTS and INPUTS
Financial Statements
With our Three Statement Financial Model, you can easily create a projected income statement, a Balance Sheet, and a cash flow statement for 5 years for your company. You can choose these statements' format and make any financial statement with a monthly or annual breakdown, or for five years.
Costs
Start-up costs are an essential part of any Financial Model Excel. They begin to accrue before actual operations start, so it is crucial to monitor them early to avoid overspendings and underfunding. Our Pet Sitting Service Financial Projection Template has the proforma for start-up costs that show both funding and expenses. You can use this proforma to monitor your expenses and create cost budgets.
Profitability KPIs
EBITDA. Earnings before interest, tax, depreciation, and amortization (EBITDA) is the primary measure of a company's operating performance.
Benchmarks
A benchmarking study as the element of the Financial Projection Excel is usually used to evaluate a business's performance by focusing on one or more particular indicators and comparing them with similar indicators of other companies in the industry.
In respect of the financial benchmarking study, these indicators could be profit margins, cost margins, cost per unit, productivity margins, or others. Later the company's performance indicators should be compared to that of other companies within the same industry.
Benchmarking is a useful strategic management tool, which is essential for start-ups. Companies can evaluate any economic, business, or financial metric or process and compare them to the processes of 'best practice' companies within the same field or industry.
Loan opt-in
Our Excel Pro Forma has a built-in loan amortization schedule with both the principal (i.e., the amount of loan borrowed) and the interest calculation. A loan amortization schedule template will calculate your company's payment amount, including the information on the principal, interest rate, time length of the loan, and the payments' frequency.
All in One Place
We created the fully modular 3 Way Forecast Excel Template that separates the financial core: financial statements, operating costs, hiring plan, cap table, valuation, and actuals reporting. It contains growth forecasts and revenue projections, and you can easily change or delete any input or projection.
The 3 Way Forecast structure allows extending it by adding additional details or financial forecasting methods for specific business types. All cells and formulas are completely open and unlocked so that you can edit or change anything in the Pet Sitting Service Finance Projection.
Cap Table
In the Startup Financial Model, the capitalization table, or 'cap table', lists a company's securities that include common stock, preferred stock, options, warrants, etc. It also shows who owns those securities. Business owners should keep this information organized and up-to-date to make wise decisions regarding fundraising, employee options, and acquisition offers.
File types:
Excel – Single-User: .xlsx
Excel – Multi-User: .xlsx
Free Demo – .xlsx