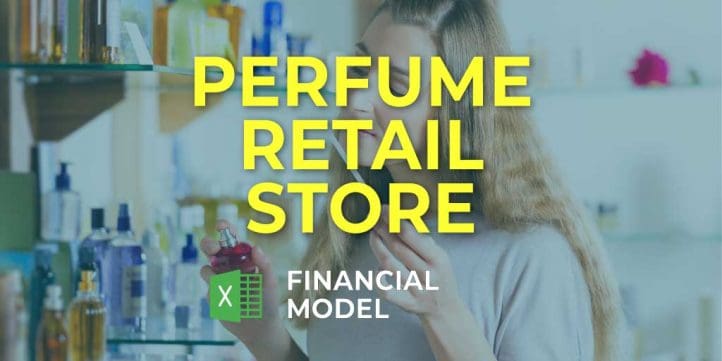 Financial Model, Retail
5-year financial projections, Business Valuation, Financial Model, Financial Modeling, Financial Projection, Financial Projections, Free Financial Model Templates, Pro-Forma, Startup Financial Models, Three Statement Model | Three Financial Statements
PERFUME RETAIL STORE STARTUP FINANCIAL MODEL KEY FEATURES
Video tutorial:
Simple and Incredibly Practical
Simple-to-use yet very sophisticated Perfume Retail Store Financial Projection Template Excel tool. Whatever size and stage of development your business is, with minimal planning experience and very basic knowledge of Excel you can get complete and reliable results. Additionally, you will receive uncompromised after-sales service and access to valuable tutorial videos and blog posts.
Great Value for Money
Use a robust and proven Perfume Retail Store 3 Way Forecast Model based on years of experience at an affordable price. This excel pro forma has a one-off payment and absolutely no hidden fees or monthly payments.
Simple-to-use
A very sophisticated Perfume Retail Store Financial Projection Template, whatever size and stage of development your business is. Minimal previous planning experience and very basic knowledge of Excel is required: however, fully sufficient to get quick and reliable results.
Run different scenarios
A Pro Forma Cash Flow Projection shows you what your cash balance will look like taking into account the numbers you put into the template. It means you can play with the various variables that impact your cash flow forecast, i.e., wages, sales inflow, supplier payments, taxes, and so on. By adjusting the input amounts, you will be able to see what impact they will have on your businesses' cash flow and when this impact is likely to occur. A well-known example of this is the ability to forecast the effect a new member of staff might have on your cash flow over different periods. Increase the wage costs and see what happens to your cash flow. Running different scenarios in your Projected Cash Flow Statement Format can have several benefits.
External stakeholders, such as banks, may require a regular forecast.
If the business has a bank loan, the bank will ask for a Perfume Retail Store 3 Way Forecast Excel Template regularly.
Track your spending and staying within budget
Have you written a vague idea of cash inflows and cash outflows on the back of a napkin? All is well and good. Looking at the projected p&l statement will give you a snapshot of the past business performance, but it won't show the future in terms of the Cash Flow Projection. With a cashflow forecast, you can plan future cash inflows and cash outflows and compare it to the budget, which can be invaluable information.
REPORTS and INPUTS
Cap Table
In our Perfume Retail Store Cashflow Projection, a Capitalization table, or Cap table is a spreadsheet critical for start-ups that shows the company's ownership structure. It lists your company's shares and options, if any. It also shows the prices your investors have paid for these shares and each investor's percentage of ownership in the company.
Valuation
With our Perfume Retail Store Excel Pro Forma Template, you will get proformas for valuation analysis. You will be able to perform a Discounted Cash Flow (DCF) valuation analysis and other valuations you may need.
Liquidity KPIs
Quick Ratio or Acid-Test Ratio. The quick ratio or acid-test ratio uses a firm's balance sheet data to analyze if it has sufficient short-term assets to cover its short-term liabilities. This metric ignores less liquid assets like such as inventory.
Profitability KPIs
Net present value (NPV). Present value (PV) is a financial metric that reflects discounted cash flows and addresses the type of questions like 'What is the value today of a $1 to be received several years from now?'. The sum of such present values for a multi-period cash inflow stream is called Net present value or NPV.
Loan opt-in
Our Cash Flow Proforma has a built-in loan amortization schedule with both the principal (i.e., the amount of loan borrowed) and the interest calculation. A loan amortization schedule template will calculate your company's payment amount, including the information on the principal, interest rate, time length of the loan, and the payments' frequency.
Financial KPIs
With the help of the financial key performance indicators (KPIs), you can track your company's performance and improve its financial health. This Perfume Retail Store Cashflow Projection allows showing the key performance indicators in the form of charts.
All in One Place
A well-developed and easy-to-use 3 Way Financial Model Template. You do not to be a financial expert to design your start-up Pro Forma Budget. Everything you need is the right set of financial tools, and our Perfume Retail Store Financial Projection will give you them.