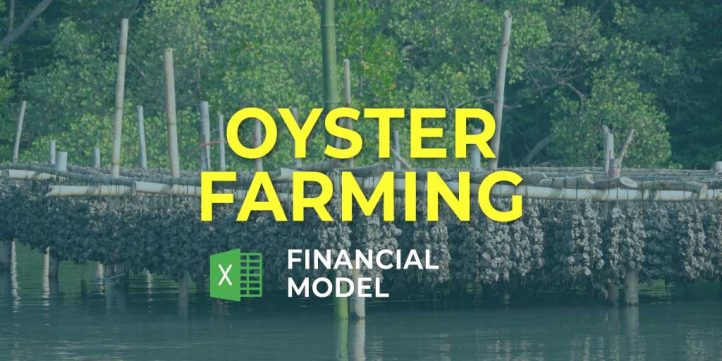 NOTE: Single-User pertains to a limited Single User License where the template can only be used by one single user; while Multi-User is a license for users sharing the template with up to 20 members. Please refer to Terms of Use and License and Permitted Use for clarification.
OYSTER FARMING PROFIT LOSS PROJECTION KEY FEATURES
Video tutorial:
Print-ready Reports
Solid package of print-ready reports, including a income statement projection, cashflow forecast, a balance sheet, and a complete set of financial ratios.
External stakeholders, such as banks, may require a regular forecast.
If the business has a bank loan, the bank will ask for a Oyster Farming Financial Projection Excel regularly.
Build your plan and pitch for funding
Impress bankers and investors with a proven, strategic Oyster Farming Budget Spreadsheet that impresses every time.
Graphical visualization in a convenient dashboard all in one
All necessary reports and calculations, including variable data for your easement, are displayed on a convenient Financial Model dashboard tab. You do not need to move between sheets to compare important data – everything is visible immediately.
Generate growth inspiration
By running various scenarios and looking at the effects they could have on your cash balance, you will begin to see which options are best for your business. Ones that are possible, and what is involved in making them work. Organic growth isn't the only option – there are growing funding options becoming available, and Pro Forma Cash Flow Projection could be a way of looking at the impact an injection of cash could have on your business and its growth plans.
Currency for inputs and denomination
In Profit Loss Projection define any currency code or symbol and preferred denomination (e.g. 000s) to reflect your preferences.
REPORTS and INPUTS
Liquidity KPIs
Current Ratio. The current ratio is a liquidity ratio that helps users measure a company's ability to meet short-term obligations that should be paid within a year. This financial metric tells investors how a company can maximize the current assets on its balance sheet to cover its current debts.
Costs
Start-up costs are an essential part of any Pro Forma Budget. They begin to accrue before actual operations start, so it is crucial to monitor them early to avoid overspendings and underfunding. Our Oyster Farming 3 Way Financial Model Template has the proforma for start-up costs that show both funding and expenses. You can use this proforma to monitor your expenses and create cost budgets.
Sources and Uses
The sources and uses statement in this Oyster Farming Excel Financial Model Template describes all of the company's funding sources and the ways it spends these funds.
Valuation
With our Oyster Farming Financial Projection, you will get proformas for valuation analysis. You will be able to perform a Discounted Cash Flow (DCF) valuation analysis and other valuations you may need.
Profitability KPIs
EBIT. Earnings before interest and tax (EBIT) is also known as operating income. It is a profitability measure that shows the difference between a company's revenues and operating expenses, including the cost of sales, interest on loans, and taxes. This calculation shows the company's ability to generate profits and, therefore, this metric is also named as operating earnings or operating profit.
Loan opt-in
The start-ups and growing companies need to monitor and manage their loans' repayment schedules. Usually, such schedules reflect the company's loan line-by-line breakdown with information about their amounts, maturity terms, and others.
This loan repayment schedule is an important part of a company's cash flow analysis. Also, interest expense in the debt schedule impacts the company's projected cashflow statement, and the closing debt balance flows onto the balance sheet. Moreover, the principal repayments flow through the statement of cash flows as a part of the company's financing activities.
Top Expenses
The Top expenses tab of the Oyster Farming Three Statement Financial Model reflects your company's annual expenses, both total and grouped by four categories.
This Cashflow Projection provides an overview of annual expenses on customer acquisition, COSS placeholders, wages & salaries, fixed and variable expenses, and all other expenses.
NOTE: Single-User pertains to a limited Single User License where the template can only be used by one single user; while Multi-User is a license for users sharing the template with up to 20 members. Please refer to Terms of Use and License and Permitted Use for clarification.