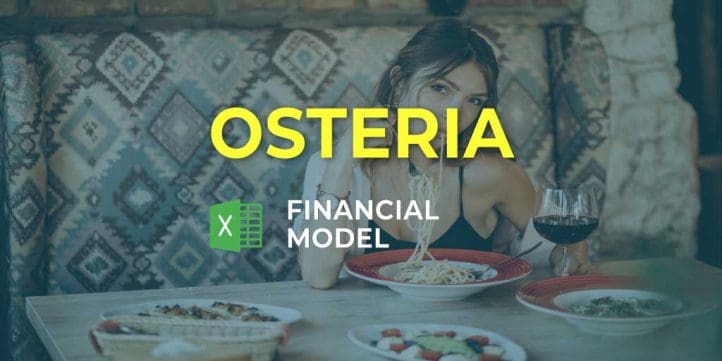 Financial Model, Hospitality, Restaurant
5-year financial projections, Business Valuation, Financial Model, Financial Modeling, Financial Projection, Financial Projections, Pro-Forma, Startup Financial Models, Three Statement Model | Three Financial Statements
NOTE: Single-User pertains to a limited Single User License where the template can only be used by one single user; while Multi-User is a license for users sharing the template with up to 20 members. Please refer to Terms of Use and License and Permitted Use for clarification.
OSTERIA PRO FORMA TEMPLATE KEY FEATURES
Video tutorial:
Update anytime
With Profit Loss Projection you can easily adjust inputs at the launch stage and throughout the further activities of your store to refine your forecast.
Update anytime
You can easily adjust inputs at the launch stage and throughout the further activities of your business to refine your Osteria Three Statement Financial Model Template.
Get Investors to Notice
Most entrepreneurs can't get investors to return their calls. With the Osteria Financial Projection Model Excel, you will secure meetings with potential investors easily.
Generate growth inspiration
By running various scenarios and looking at the effects they could have on your cash balance, you will begin to see which options are best for your business. Ones that are possible, and what is involved in making them work. Organic growth isn't the only option – there are growing funding options becoming available, and Cash Flow Statement For 5 Years could be a way of looking at the impact an injection of cash could have on your business and its growth plans.
Build your plan and pitch for funding
Impress bankers and investors with a proven, solid osteria financial model that impresses every time.
External stakeholders, such as banks, may require a regular forecast.
If the business has a bank loan, the bank will ask for a Osteria Financial Model regularly.
REPORTS and INPUTS
Cash Flow KPIs
Cash conversion cycle (CCC). The cash conversion cycle (CCC) is a financial metric that expresses the time it takes for a company to convert its resources in the form of inventory and other resources into cash flows. The cash conversion cycle is also called the Net Operating Cycle.
CCC measures how long each dollar that the company inputted is tied up in the production and sales process before it gets converted into cash.
The cash conversion cycl metric accounts for various factors, such as how much time it takes to sell inventory, how much time it takes to collect accounts receivable, and how much time it takes to pay obligations.
Costs
Start-up costs are an essential part of any Three Way Financial Model. They begin to accrue before actual operations start, so it is crucial to monitor them early to avoid overspendings and underfunding. Our Osteria Profit Loss Projection has the proforma for start-up costs that show both funding and expenses. You can use this proforma to monitor your expenses and create cost budgets.
Liquidity KPIs
Accounts payable turnover (APT). The accounts payable turnover ratio (APT) is a short-term liquidity metric that helps to quantify the rate at which a company pays off its suppliers. Accounts payable turnover shows how many times a company pays off its accounts payable within a certain period.
This financial metric is a short-term debt of a company, and the accounts payable turnover ratio shows how efficiently a company pays its debts.
Burn and Runway
This Osteria Excel Pro Forma Template automatically calculates the cash burn rate based on the inputs from other spreadsheets, in particular, from the startup cash flow statement.
Break Even
Break-even is a situation where the company covers all its costs with the revenue earned. In other words, this is a point in time when the company is neither making money nor losing money.
Excel Break Even Formula is a useful instrument in studying the relation between the variable cost, fixed cost, and the company's revenue earned under these circumstances. Usually, companies with low fixed cost levels have a low break even excel.
CAPEX
Detailed capital expenditure (i.e., CAPEX ) planning and automatic calculation of depreciation is an essential part of any Financial Model. Our CAPEX calculation template allows users to apply straight-line or double-declining balance depreciation for financial planning purposes.
Benchmarks
Our Pro Forma Template Excel has the proforma for industry benchmark analysis. Industry benchmarks, including the financial benchmarks, show users the comparison of performance indicators, e.g., financial indicators, with similar performance indicators of the other companies in the same industry.
File types:
Excel – Single-User: .xlsx
Excel – Multi-User: .xlsx
Free Demo – .xlsx