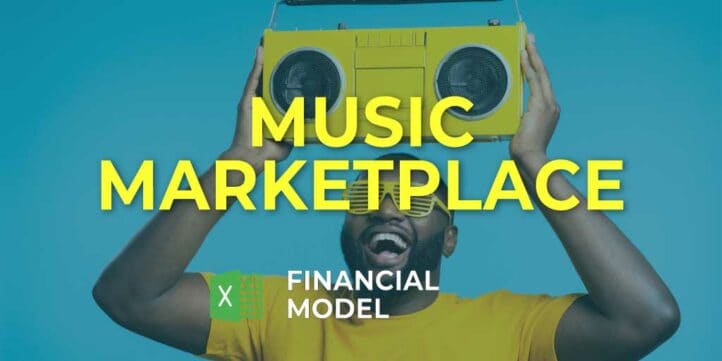 Financial Model, Marketplaces, Online Businesses & IT
5-year financial projections, Business Valuation, Financial Model, Financial Modeling, Financial Projection, Financial Projections, Free Financial Model Templates, Pro-Forma, Startup Financial Models, Three Statement Model | Three Financial Statements
NOTE: Single-User pertains to a limited Single User License where the template can only be used by one single user; while Multi-User is a license for users sharing the template with up to 20 members. Please refer to Terms of Use and License and Permitted Use for clarification.
MUSIC MARKETPLACE FINANCIAL MODEL EXCEL KEY FEATURES
Investors ready
Print ready (including a projected income statement, a Cash Flow Statement Proforma, a balance sheet, and a complete set of financial ratios).
All necessary reports
When creating a Music Marketplace Three Statement Financial Model, you will not need to independently prepare financial reports and study the requirements for them. Our Excel template contains all the necessary reports and calculations that correspond with the lenders' demand.
5 years forecast horizon
Generate fully-integrated Music Marketplace 3 Way Forecast Model for 5 years (on a monthly basis). Automatic aggregation of annual summaries on outputs tabs.
Simple and Incredibly Practical
Simple-to-use yet very sophisticated Music Marketplace Cashflow Projection tool. Whatever size and stage of development your business is, with minimal planning experience and very basic knowledge of Excel you can get complete and reliable results. Additionally, you will receive uncompromised after-sales service and access to valuable tutorial videos and blog posts.
Update anytime
You can easily adjust inputs at the launch stage and throughout the further activities of your business to refine your Music Marketplace Financial Projection Excel.
Manage accounts receivable.
By creating a cash flow forecast that takes invoices and bills into account, you'll be more easily able to identify who is systematically paying late. You could even go on to model different payment dates on overdue invoices to see the real effect of late payments on your cash flow.
REPORTS and INPUTS
Performance KPIs
Return on equity. The return on equity financial metric can be calculated based on the information both from the Balance Sheet and pro forma income statement. It measures the correspondence of earnings to the equity, i.e., the amount of money used to get profits.
Loan opt-in
Our Music Marketplace 3 Way Financial Model has a pre-built feature for automatic loan calculation. This Budget Financial Model includes the fees, interest, and principal payments.
Valuation
With our pre-built valuation template in the Music Marketplace Five Year Financial Projection Template, you will receive all the data your investors might need.
The weighted average cost of capital (WACC) will show your stakeholders the minimum return on enterprise funds invested in its activities capital. Free cash flow valuation will show a cash flow available to all investors, including shareholders and creditors. Discounted cash flow will reflect the value of future cash flows in relation to the current time.
CAPEX
Capital expenditure (or CapEX) is an essential part of any 3 Way Forecast Excel Template. Financial specialists calculate CapEx to monitor investment in the fixed assets to handle depreciation, additions, and/or disposals related to the property, plant, and equipment (PPE).
CAPEX calculation also includes the company's assets' additions, including the assets in financial leasing.
All in One Place
This Music Marketplace Financial Projection Template Excel will give the entrepreneurs financial assumptions regarding costs and income that can be brought together to get the business's full picture.
Benchmarks
A benchmarking study as the element of the 3 Way Financial Model is usually used to evaluate a business's performance by focusing on one or more particular indicators and comparing them with similar indicators of other companies in the industry.
In respect of the financial benchmarking study, these indicators could be profit margins, cost margins, cost per unit, productivity margins, or others. Later the company's performance indicators should be compared to that of other companies within the same industry.
Benchmarking is a useful strategic management tool, which is essential for start-ups. Companies can evaluate any economic, business, or financial metric or process and compare them to the processes of 'best practice' companies within the same field or industry.
Financial Statements
The Music Marketplace Pro Forma Budget has pre-built proformas for the balance sheet, the pro forma income statement, and the cash flow statement forecast. These proformas allow users to create statements both on a monthly and annual basis.
Users can create detailed financial statements using the financial assumptions inputted in the Excel Financial Model Template.
File types:
Excel – Single-User: .xlsx
Excel – Multi-User: .xlsx
Free Demo – .xlsx