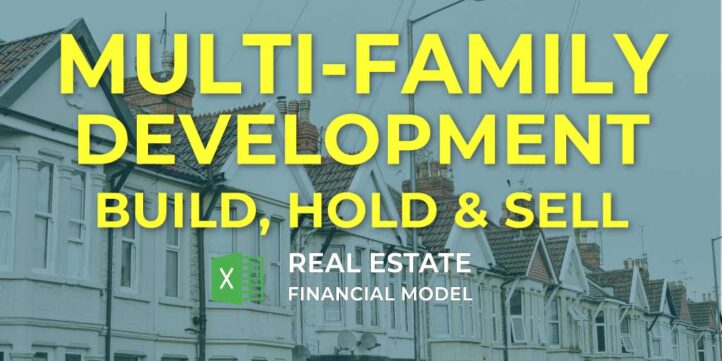 Development, Financial Model, Real Estate, Residential Properties
10-year financial projections, Cap Rate (Capitalization Rate), Cash Flow Analysis, Cash Flow Projections, Cash on Cash Yield, Cash-on-Cash Multiple, Cost Calculation, Cost Projections, Dashboard, Financial Model, Financial Modeling, Financial Planning, Financial Projection, Financial Projections, Financial Ratios, Financial Statements, Free Financial Model Templates, Gross Yield, Investment Multiple, Investor Cash Flows, Pro-Forma, Property Valuation, Real Estate Valuation, Rental income, Scenario Analysis, Sensitivity Analysis, Uses and Sources of Funds, Valuation, Waterfall
Get ready-to-use Multi-Family Development financial model/pro forma with equity hurdles.
Video tutorial:

This Multi-Family Development Real Estate Financial Model will serve you perfectly for a proper analysis of a real estate acquisition opportunity. It was created especially for construction and running the Multi-Family Development business.
The purpose of the Multi-family Property Development Financial Model: Construction of the Multi-family, Manage Multi-family revenues and expenses, Sell the Multi-family Property, distribute the equity via GP/LP with IRR hurdles.
Build a Multi-family Property, Manage Multi-family Property Revenues, and Expenses, Sell the Property, Distribute the Equity via GP/LP with IRR hurdles.
This Multi-family Property Development Financial model is built for real estate investors looking at construction projects. However, it could be useful for financial analysts or students looking to improve their real estate financial modeling skills.
It is ready to use financial model with on the fly calculations. It provides a complete analysis of potential Multi-family Property construction.
User-friendly design streamlines the assumptions entering process up to 10 minutes.
Creates A Financial Summary Formatted For Your Pitch Deck
Schedule Your Startup Loan'S Repayments
Take A Loan
Calculate Capital Demand
Assess The Feasibility Of Your Idea
Calculate Startup Expenses
Control Over Your Business
Raise A Capital
Sell Your Business
Reassess Assumptions
Simple and Incredibly Practical
Simple-to-use yet very sophisticated cash flow planning tool. Whatever size and stage of development your business is, with minimal planning experience and very basic knowledge of Excel you can get complete and reliable results.
External stakeholders, such as banks, may require a regular forecast.
If the business has a bank loan, the bank will ask for a cash flow forecast regularly.
Identify cash gaps and surpluses before they happen.
Forecasting your future cash balance helps you see well in advance when you may have a cash deficit that could hurt your business.
Cash Flow Forecasting will give you enough time to take action to prevent a crisis. It will enable you to access better loan rates or speed up incoming payment to bridge the gap.
On the other side, if you know ahead of time that the large lump of cash will lay in your bank account within the next three months. In this case, you might need to explore options to reinvest it in your business to drive growth.
Identify potential shortfalls in cash balances in advance.
The cash flow forecast works like an ""early warning system."" It is, by far, the most significant reason for a cash flow forecast.
We do the math
Have all the features above ready with no formulas writing, no formatting, no programming, no charting, and no expensive external consultants!
Gaining trust from stakeholders
Investors and financing providers tend to think in terms of the big picture.
They want the c-level of the companies they invest in to do the same to ensure they maintain a clear idea of the future. Providing stakeholders with a monthly cash flow forecast will demonstrate a level of awareness that leads to confidence and trust and will make it easier to raise more investment.
Generate growth inspiration
By running various scenarios and looking at the effects they could have on your cash balance, you will begin to see which options are best for your business. Ones that are possible, and what is involved in making them work.
Organic growth isn't the only option – there are growing funding options becoming available, and cash flow forecasting could be a way of looking at the impact an injection of cash could have on your business and its growth plans.
It is part of the reports set you need.
It doesn't matter you are worried about cash or not, setting up, and managing a cash flow forecast should be a cornerstone of your reporting set.
It's the main report of your business that must have in place to grow sustainably.
Before you rush into rent more office space or making a new hire, you should always run a Cash Flow scenario. You can model how that action would impact your cash balance in the nearest future.
Knowing whether or not plans are possible is crucial to minimizing risk.
Users who purchased Multi-Family Development Financial Model Excel Template – Build, Hold And Sell, also purchased:
Get these templates too for a discount!