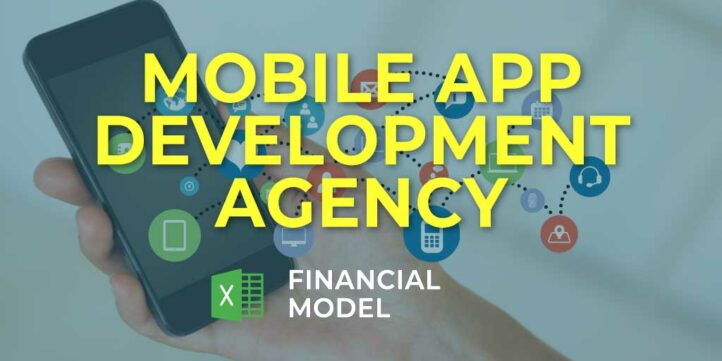 Financial Model, IT Services, Professional Services & Advisory, Service Businesses
5-year financial projections, Budget, Budgeting, Cash Flow Projections, Excel, Financial Feasibility, Financial Model, Financial Modeling, Financial Planning, Financial Projection, Financial Projections, Financial Reporting, Financial Statements, Free Financial Model Templates, Startup Financial Models, Three Statement Model | Three Financial Statements, Uses and Sources of Funds, Valuation
NOTE: Single-User pertains to a limited Single User License where the template can only be used by one single user; while Multi-User is a license for users sharing the template with up to 20 members. Please refer to Terms of Use and License and Permitted Use for clarification.
MOBILE APP DEVELOPMENT AGENCY EXCEL PRO FORMA TEMPLATE KEY FEATURES
Video tutorial:
Get a Robust, Powerful and Flexible Financial Model
This well-tested, robust and powerful Mobile App Development Agency Pro Forma is your solid foundation to plan a business model. Advanced users are free to expand and tailor all sheets as desired, to handle specific requirements or to get into greater detail.
Prove You Can Pay Back the Loan You Requested
When you apply for a business loan, bankers will study your Projected Cash Flow Statement Format in an attempt to answer this question: Can this business pay back the loan? Requesting a loan without showing your Cash Flow Statement Forecast for paying it back is a common way to land in the rejection pile. It is exceptionally accurate if your current cash flow won't cover all of your monthly operating expenses — plus your loan payment. Don't fall into this kind of situation. Use Cash Flow Statement Proforma to strengthen your case by showing the banker exactly how you plan to use the loan and when you will start repaying the debt. This type of forecasting helps you create a road map that can impress a lender with the confidence they need to approve your loan.
External stakeholders, such as banks, may require a regular forecast.
If the business has a bank loan, the bank will ask for a Mobile App Development Agency Excel Financial Model Template regularly.
Integrated Model to convince Investors
Cashflow Projection includes and connects everything (assumptions, calculations, outputs) and presents it in an investor-friendly, deal-proven way.
Manage accounts receivable.
By creating a pro forma cash flow projection that takes invoices and bills into account, you'll be more easily able to identify who is systematically paying late. You could even go on to model different payment dates on overdue invoices to see the real effect of late payments on your cash flow.
Get it Right the First Time
Funding is a binary event: either you succeed or you fail. If you fail, most investors won't give you a second chance. Learn about the pros and cons with Mobile App Development Agency Financial Model Excel.
REPORTS and INPUTS
Profitability KPIs
Net present value (NPV). Present value (PV) is a financial metric that reflects discounted cash flows and addresses the type of questions like 'What is the value today of a $1 to be received several years from now?'. The sum of such present values for a multi-period cash inflow stream is called Net present value or NPV.
Costs
Our Mobile App Development Agency Financial Model Excel Spreadsheet has a well-developed methodology for creating a cost budget. You can plan and forecast your costs from operations and other expenses for up to 72 months. The cost budget has a detailed hiring plan while also automatically handling the expenses' accounting treatment. You can set salaries, job positions, and the time of hiring.
Moreover, the model allows users to calculate hiring as the company scales automatically. Pre-built expense forecasting curves enable users to set how an expense changes over time. These pre-built options include % of revenues, % of salaries, % of any revenue category, growth (or decline) rates that stay the same or change over time, ongoing expenses, expenses that periodically reoccur, expenses that regularly change, and many more. Costs can be allocated to key expense areas and labeled for accounting treatment as SG&A, COGS, or CAPEX.
CAPEX
This Excel Financial Model has a template for the automatic calculation of capital requirements and funding based on an implied cash flow waterfall (different equity and debt tranches with alternative funding priorities).
Top Revenue
The Top revenue tab in the Three Statement Financial Model shows off the financial information regarding each of your offerings. In particular, with the help of this Mobile App Development Agency Pro Forma, you can obtain an annual breakdown of your revenue streams, including the revenue depth and revenue bridge.
Cash Flow KPIs
Operating cash flow. Operating cash flow calculation shows how much cash the company generates from the business operations. This calculation does not include secondary sources of revenue, like interest or investments.
Financial KPIs
A Mobile App Development Agency 3 Way Financial Model outputs include both company and sector-specific key performance indicators KPIs. These KPIs include profitability metrics, cash flow metrics, and liquidity metrics. It also has KPIs crucial for the attraction of investments.
Break Even
This Mobile App Development Agency Financial Model Excel Spreadsheet has a template for a break even excel. This financial instrument helps users identify when the revenue of the company starts exceeding its total cost. This is the time point when the project under consideration or a company as a whole will start generating profits. Studying the relationship between the company's revenue and its fixed and variable costs is crucial for its success.
The break-even point calculation helps the company's management determine the necessary level of sales and product price that will cover the total cost of business, i.e., fixed and variable costs. It shows users how to calculate the time point when a company is expected to make a profit.
File types:
Excel – Single-User: .xlsx
Excel – Multi-User: .xlsx
Free Demo – .xlsx