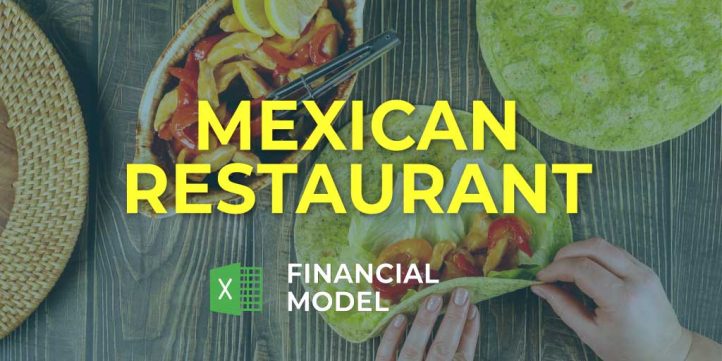 Financial Model, Hospitality, Restaurant
5-year financial projections, Business Valuation, Financial Model, Financial Modeling, Financial Projection, Financial Projections, Pro-Forma, Startup Financial Models, Three Statement Model | Three Financial Statements
NOTE: Single-User pertains to a limited Single User License where the template can only be used by one single user; while Multi-User is a license for users sharing the template with up to 20 members. Please refer to Terms of Use and License and Permitted Use for clarification.
MEXICAN RESTAURANT PROFIT LOSS PROJECTION KEY FEATURES
Video tutorial:
Generate growth inspiration
By running various scenarios and looking at the effects they could have on your cash balance, you will begin to see which options are best for your business. Ones that are possible, and what is involved in making them work. Organic growth isn't the only option – there are growing funding options becoming available, and Projected Cash Flow Statement Format could be a way of looking at the impact an injection of cash could have on your business and its growth plans.
Easy to follow
Clear and transparent Mexican Restaurant P&L Projection structure (15+ separate tabs, each focusing on a specific planning category, colour coded => input, calculation and report sheets).
Convince investors and lenders
Enhance your pitches and impress potential financiers with a Financial Projection Template Excel delivering the right information and expected financial and operational metrics. Facilitate your negotiations with investors for successful funding. Raise money more quickly and refocus on your core business.
5 years forecast horizon
Generate fully-integrated Mexican Restaurant Excel Pro Forma Template for 5 years (on a monthly basis). Automatic aggregation of annual summaries on outputs tabs.
Key Metrics Analysis
Creates 5-year Mexican Restaurant Financial Projection Model, proforma, financial statements, and financial ratios in GAAP or IFRS formats on the fly.
Manage surplus cash
Most companies don't have excess cash in the bank. It is a well-known situation. But managing surplus cash for reinvestment in new market opportunities, or debt repayments can be essential to keeping stay in the business. Managers are entirely ready to plan for what to do with the cash surplus if they have the forecast of when and where the business will have surplus cash in the bank account. Cash Flow Projection will provide supplementary guidance on what to do with a cash surplus.
REPORTS and INPUTS
CAPEX
Capital expenditures reflect the company's amount on long-term assets expected to bring value for more than one year. For example, the cost of a computer may be capital expenditure included in the balance sheet. In contrast, the electricity cost to run this computer is an expense included in the pro forma profit and loss
.
All long term assets have a useful life, and part of the cost of the asset is written off each year to the income statement projection as an expense. Users can find these expenses in the proforma income statement under the heading of depreciation. The depreciation expense amount reduces the value of the asset shown in the balance sheet for the year.
Simultaneously, the CAPEX report shows the company's stakeholders the full picture of the company's expenditures on assets.
All in One Place
A well-developed and easy-to-use P&L Projection. You do not to be a financial expert to design your start-up 3 Way Financial Model Template. Everything you need is the right set of financial tools, and our Mexican Restaurant Financial Projection Model Excel will give you them.
Burn and Runway
This Mexican Restaurant 3 Way Forecast Excel Template automatically calculates the cash burn rate based on the inputs from other spreadsheets, in particular, from the projected cashflow statement.
Profitability KPIs
The Mexican Restaurant Financial Projection Template Excel contains all performance metrics that correspond with pre-built templates and financial reports. It also has pre-built proformas for pro forma profit and loss, Balance Sheet, and startup cash flow statement, which you can use both for financial planning and presentations for investors.
With these reports, you can easily monitor your company's cash flows, revenues, costs, and profitability, including profitability margins, liquidity analysis, sources and uses, and others. The model calculates profitability ratios and other performance metrics, e.g., customer acquisition costs, and SaaS metrics, if applicable.
Financial Statements
Our Mexican Restaurant Financial Model In Excel has a pre-built integrated financial summary that contains all the financial information from other spreadsheets, including the primary financial statements: Balance Sheet, Statement of financial position, and cash flow statement proforma. Our specialists have already formatted this financial summary for your pitch deck.
Valuation
With our pre-built valuation template in the Mexican Restaurant Financial Projection Model, you will receive all the data your investors might need.
The weighted average cost of capital (WACC) will show your stakeholders the minimum return on enterprise funds invested in its activities capital. Free cash flow valuation will show a cash flow available to all investors, including shareholders and creditors. Discounted cash flow will reflect the value of future cash flows in relation to the current time.
Loan opt-in
A loan amortization schedule template reflects the company's schedule to which it repays its loans.
Our Mexican Restaurant 3 Way Financial Model Template has a loan amortization schedule with pre-built formulas that shows the amount of each installment and much principal and interest the company should repay each month, quarter, or year.
File types:
Excel – Single-User: .xlsx
Excel – Multi-User: .xlsx
Free Demo – .xlsx