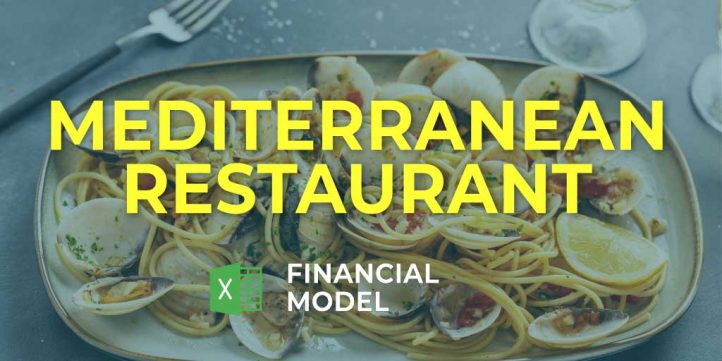 Financial Model, Hospitality, Restaurant
5-year financial projections, Business Valuation, Financial Model, Financial Modeling, Financial Projection, Financial Projections, Pro-Forma, Startup Financial Models, Three Statement Model | Three Financial Statements
NOTE: Single-User pertains to a limited Single User License where the template can only be used by one single user; while Multi-User is a license for users sharing the template with up to 20 members. Please refer to Terms of Use and License and Permitted Use for clarification.
MEDITERRANEAN RESTAURANT THREE STATEMENT FINANCIAL MODEL TEMPLATE KEY FEATURES
Video tutorial:
Predict the Influence of Upcoming Changes
Does your company plan to purchase new equipment or to launch a new product? Cash Flow Statement Projection enable you to obtain a complete picture of the effect that specific changes will have on your Cash Flow Statement Forecast. When planning your finances in the Cash Flow Statement By Month, you will forecast cash inflows and outflows based on future invoices, bills due, and payroll. You can then create multiple 'what if' scenarios, such as buying new equipment to choose the best way for you. Forecasting shows you how the upcoming changes will affect your cash balance.
Manage surplus cash
Most companies don't have excess cash in the bank. It is a well-known situation. But managing surplus cash for reinvestment in new market opportunities, or debt repayments can be essential to keeping stay in the business. Managers are entirely ready to plan for what to do with the cash surplus if they have the forecast of when and where the business will have surplus cash in the bank account. Projected Cashflow Statement will provide supplementary guidance on what to do with a cash surplus.
Currency for inputs and denomination
In Pro Forma Template define any currency code or symbol and preferred denomination (e.g. 000s) to reflect your preferences.
Simple-to-use
A very sophisticated Mediterranean Restaurant Financial Model Excel, whatever size and stage of development your business is. Minimal previous planning experience and very basic knowledge of Excel is required: however, fully sufficient to get quick and reliable results.
Print-ready Reports
Solid package of print-ready reports, including a income statement projection, projected cashflow statement, a balance sheet, and a complete set of financial ratios.
5 years forecast horizon
Generate fully-integrated Mediterranean Restaurant Financial Projection Template Excel for 5 years (on a monthly basis). Automatic aggregation of annual summaries on outputs tabs.
REPORTS and INPUTS
All in One Place
Our integrated Mediterranean Restaurant Finance Projection includes and connects everything you need for investors' meeting. It has financial assumptions, proformas, calculations, cash flow forecasts, and other templates. Moreover, our Finance Projection presents it in an investor-friendly way.
Financial Statements
The Mediterranean Restaurant Financial Model Excel Template has pre-built proformas for the balance sheet, the pro forma p&l statement, and the projected cashflow statement. These proformas allow users to create statements both on a monthly and annual basis.
Users can create detailed financial statements using the financial assumptions inputted in the Financial Model Excel Template.
Loan opt-in
The loan amortization schedule template in this Mediterranean Restaurant Excel Pro Forma Template reflects the schedule of repayment of the loan. It shows detailed information about the company's periodic payments or installments that comprise of principal amount and an interest component.
These elements are shown in the loan amortization schedule template for the period till the end of the loan term or up to which the full amount of the loan is paid off.
Break Even
Break Even Excel usually involves revenue and sales analysis. At the same time, it is essential to differentiate sales, revenue, and profit in the financial planning process. Revenue shows the total amount of money from sales of a product, and the profit is the revenue less all fixed and variable expenses.
Profitability KPIs
Gross profit margin. A gross profit margin is a measure of a company's profitability, which is calculated by dividing gross profit by net sales.
Financial KPIs
In the Three Way Financial Model you can visually track key financial indicators over the five years period as well as 24 months period.
– EBITDA/EBIT shows your company's operational performance
– CASH FLOWS shows your company's inflows and outflows
– CASH BALANCE this is the forecast of cash in hand you will have.
Costs
A Mediterranean Restaurant Pro Forma Projection is an important financial tool that enables users to identify actual and forecasted expenditures, as well as financial resources needed to cover these costs. With a well-developed cost budget, you can see the areas where you can save money and the areas of high priority. As a part of a business plan, the cost budget supports the process of pitching to investors and loan applications.
File types:
Excel – Single-User: .xlsx
Excel – Multi-User: .xlsx
Free Demo – .xlsx