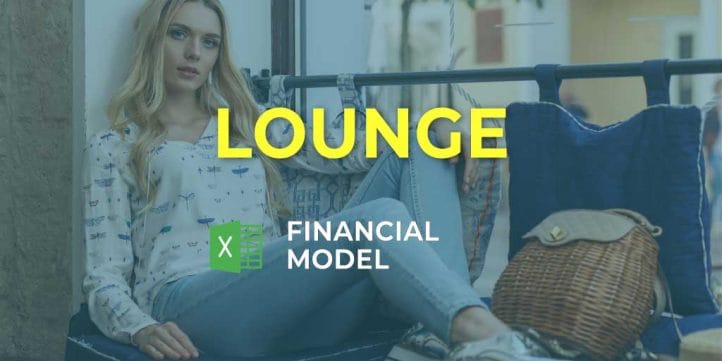 NOTE: Single-User pertains to a limited Single User License where the template can only be used by one single user; while Multi-User is a license for users sharing the template with up to 20 members. Please refer to Terms of Use and License and Permitted Use for clarification.
LOUNGE PRO FORMA TEMPLATE EXCEL KEY FEATURES
Video tutorial:
Update anytime
With Three Way Financial Model you can easily adjust inputs at the launch stage and throughout the further activities of your store to refine your forecast.
Get Investors to Notice
Most entrepreneurs can't get investors to return their calls. With the Lounge Startup Financial Model, you will secure meetings with potential investors easily.
Simple-to-use
A very sophisticated Lounge Excel Pro Forma, whatever size and stage of development your business is. Minimal previous planning experience and very basic knowledge of Excel is required: however, fully sufficient to get quick and reliable results.
5 years forecast horizon
Generate fully-integrated Lounge Pro Forma Template for 5 years (on a monthly basis). Automatic aggregation of annual summaries on outputs tabs.
It is part of the reports set you need.
It doesn't matter you are worried about cash or not, setting up, and managing a Lounge Financial Projection Template Excel should be a cornerstone of your reporting set. It's the main report of your business that must have in place to grow sustainably. Before you rush into rent more office space or making a new hire, you should always run a Cash Flow Statement scenario. You can model how that action would impact your cash balance in the nearest future. Knowing whether or not plans are possible is crucial to minimizing risk.
Get a Robust, Powerful and Flexible Financial Model
This well-tested, robust and powerful Lounge Pro Forma Projection is your solid foundation to plan a business model. Advanced users are free to expand and tailor all sheets as desired, to handle specific requirements or to get into greater detail.
REPORTS and INPUTS
Top Revenue
This Financial Projection Model Excel has a tab for a detailed analysis of the company's revenue streams. With this template, users can analyze the revenue streams by each product or service category separately.
Cap Table
The Lounge Excel Financial Model has built-in proformas to calculate discounted cash flows and various sales' and EBITDA valuations. Business owners can use these valuations to assess the exit value and perform the financial projections of returns to investors.
Users can use the Cap table or ignore it; it will not have a negative impact on the other financial calculations in the model.
Benchmarks
Our Financial Projection Template Excel has the proforma for industry benchmark analysis. Industry benchmarks, including the financial benchmarks, show users the comparison of performance indicators, e.g., financial indicators, with similar performance indicators of the other companies in the same industry.
Sources and Uses
As you can understand from the title, a Sources and Uses of Funds statement represents the company's financing sources and spending policies.
In respect of the 'Sources', this statement shows the company's money for its business activities and how it gets this money. Usually, companies have a mix of funding sources, such as business loans, investors' money, share issue, and others.
The 'Uses' section of the Sources and Uses statement shows the stakeholders how the company spends its money. For example, this statement may reflect the cost of land, building, or equipment the company plans to acquire. It also may reflect the start-up costs.
Break Even
This Lounge 3 Way Forecast Model has a break even point excel tab that predicts the period within which the company is supposed to move to a new level, i.e., start to bring profits to its owners. break even formula excel uses forecasted revenues and expenses and makes Budget Spreadsheet on the period when its overall revenues become significantly bigger than costs.
Loan opt-in
Our Profit Loss Projection has a built-in loan amortization schedule with both the principal (i.e., the amount of loan borrowed) and the interest calculation. A loan amortization schedule template will calculate your company's payment amount, including the information on the principal, interest rate, time length of the loan, and the payments' frequency.
All in One Place
Our Lounge Pro Forma Projection has all financial reports crucial for start-ups and existing businesses. It has proformas for projected p&l statement, cash flow statement projection, and balance sheet. It also has templates for performance reviews and summaries on a monthly, quarterly, and annual basis.
File types:
Excel – Single-User: .xlsx
Excel – Multi-User: .xlsx
Free Demo – .xlsx