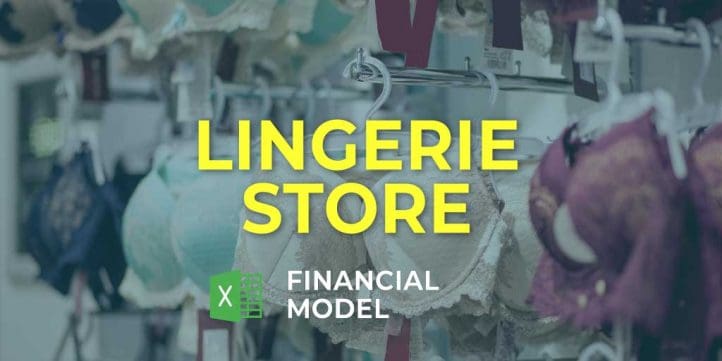 NOTE: Single-User pertains to a limited Single User License where the template can only be used by one single user; while Multi-User is a license for users sharing the template with up to 20 members. Please refer to Terms of Use and License and Permitted Use for clarification.
LINGERIE STORE EXCEL FINANCIAL MODEL TEMPLATE KEY FEATURES
Video tutorial:
Currency for inputs and denomination
In Pro Forma Template define any currency code or symbol and preferred denomination (e.g. 000s) to reflect your preferences.
Confidence in the future
Using our financial model, you can effectively plan, prevent risks, manage stocks and Cashflow Forecast and foresee your prospects for the next 5 years.
Track your spending and staying within budget
Have you written a vague idea of cash inflows and cash outflows on the back of a napkin? All is well and good. Looking at the income statement projection will give you a snapshot of the past business performance, but it won't show the future in terms of the Cash Flow Projection. With a cash flow statement for 5 years, you can plan future cash inflows and cash outflows and compare it to the budget, which can be invaluable information.
Build your plan and pitch for funding
Impress bankers and investors with a proven, solid lingerie store financial model that impresses every time.
Identify potential shortfalls in cash balances in advance.
The Lingerie Store Three Statement Financial Model works like an 'early warning system.' It is, by far, the most significant reason for a Cash Flow Statement Forecast.
Convenient, All-In-One Dashboard
Includes all required forecasting reports, including assumptions, p&l forecast, startup cash flow projection, balance sheets, performance reviews and summaries for months and years (incl. numerous graphs and KPIs).
REPORTS and INPUTS
Loan opt-in
Similar to the amortization of the Lingerie Store Financial Model Excel assets, a loan amortization reflects the spreading out the repayment of a loan for a certain period that covers several reporting periods. The process of loan amortization includes a series of fixed payments over time. Usually, companies make these payments on a monthly basis, but there may also be quarterly or annual payments.
All in One Place
This Lingerie Store Financial Model Excel Spreadsheet is key for investors. You will need a Financial Projection Excel to validate how much money you need to start-up with and how much your investor can make on this investment. Remember that investors are not tolerant to start-ups that do not have a business plan or a Three Statement Financial Model.
Cash Flow KPIs
Cash conversion cycle (CCC). The cash conversion cycle (CCC) is a financial metric that expresses the time it takes for a company to convert its resources in the form of inventory and other resources into cash flows. The cash conversion cycle is also called the Net Operating Cycle.
CCC measures how long each dollar that the company inputted is tied up in the production and sales process before it gets converted into cash.
The cash conversion cycl metric accounts for various factors, such as how much time it takes to sell inventory, how much time it takes to collect accounts receivable, and how much time it takes to pay obligations.
Valuation
This Pro Forma has a valuation report template that will allow users to perform a Discounted Cash Flow valuation with just a few rate inputs in the Cost of Capital.
Cap Table
The Cash Flow Proforma Template and its Capitalization table (or Cap table) summarizes your investors' information, their share in the company, and how much they have paid for these shares.
Profitability KPIs
EBITDA. Earnings before interest, tax, depreciation, and amortization (EBITDA) is a financial metric that shows a company's profitability. This metric includes both monetary and non-monetary items and, therefore, differs from cash flows. EBITDA shows the potential profitability of leveraged buyouts and is widely used in various industries.
CAPEX
This Financial Model In Excel Template has a template for the automatic calculation of capital requirements and funding based on an implied cash flow waterfall (different equity and debt tranches with alternative funding priorities).
File types:
Excel – Single-User: .xlsx
Excel – Multi-User: .xlsx
Free Demo – .xlsx