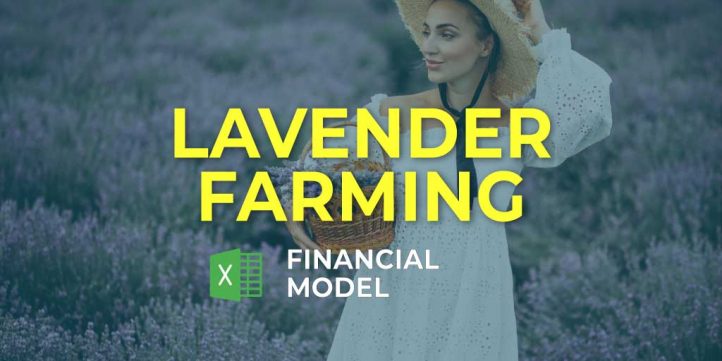 NOTE: Single-User pertains to a limited Single User License where the template can only be used by one single user; while Multi-User is a license for users sharing the template with up to 20 members. Please refer to Terms of Use and License and Permitted Use for clarification.
LAVENDER FARMING FINANCIAL MODEL EXCEL TEMPLATE KEY FEATURES
Video tutorial:
Generate growth inspiration
By running various scenarios and looking at the effects they could have on your cash balance, you will begin to see which options are best for your business. Ones that are possible, and what is involved in making them work. Organic growth isn't the only option – there are growing funding options becoming available, and Cash Flow Pro Forma could be a way of looking at the impact an injection of cash could have on your business and its growth plans.
Gaining trust from stakeholders
Investors and financing providers tend to think in terms of the big picture. They want the c-level of the companies they invest in to do the same to ensure they maintain a clear idea of the future. Providing stakeholders with a monthly statement of cash flows will demonstrate a level of awareness that leads to confidence and trust and will make it easier to raise more investment.
Avoid Cash Flow Shortfalls
Unexpected Cash Flow Statement For 5 Years shortfalls can cause significant damage to your business, and it may take months to recover. Negative Cash Flow can appear if you don't continuously track the incoming cash and outgoing of your business. Fortunately, you can solve Cash Flow Statement Forecast shortfalls with a bit of effort. Forecasting your Cash Flow Pro Forma will help you identify — and plan for — market fluctuations, sales seasonality, and other cases that can lead to unpredictable Cash Flow Statement By Month. Pro Forma Cash Flow Projection can even help you visualize Cash Flow Statement For 5 Years trends with the help of automatically generated charts and graphs.
Prove You Can Pay Back the Loan You Requested
When you apply for a business loan, bankers will study your Cash Flow Projection in an attempt to answer this question: Can this business pay back the loan? Requesting a loan without showing your Cash Flow Forecast for paying it back is a common way to land in the rejection pile. It is exceptionally accurate if your current cash flow won't cover all of your monthly operating expenses — plus your loan payment. Don't fall into this kind of situation. Use Cash Flow Statement to strengthen your case by showing the banker exactly how you plan to use the loan and when you will start repaying the debt. This type of forecasting helps you create a road map that can impress a lender with the confidence they need to approve your loan.
External stakeholders, such as banks, may require a regular forecast.
If the business has a bank loan, the bank will ask for a Lavender Farming Profit Loss Projection regularly.
Saves you time
Allows you to spend less time on Cash Flow Statement For 5 Years and more time on your products, customers and business development
REPORTS and INPUTS
Liquidity KPIs
Working Capital. The working capital financial metric reflects the money you need for short-term operations. Working capital shows the difference between current assets and current liabilities.
Top Expenses
This Lavender Farming Five Year Financial Projection Template has a Top expenses tab that displays your company's four most significant expense categories and the rest of the expenses as the 'other'.
Operational KPIs
Our Lavender Farming Three Statement Financial Model Template has convenient, informative, and easy-to-use operational performance graphs. Here you may visually track your company's key operational performance indicators (KPIs) in the form of charts. These operational performance graphs show the stakeholders the financial information related to the company's liquidity, revenues, expenses, cash flows, and other financial metrics. This financial information in the form of graphs will help a business owner to create presentations for banks and investors with minimum efforts.
Financial Statements
The Lavender Farming Three Way Financial Model has pre-built proformas for the balance sheet, the statement of profit and loss proforma, and the projected cash flow statement. These proformas allow users to create statements both on a monthly and annual basis.
Users can create detailed financial statements using the financial assumptions inputted in the Pro Forma.
Profitability KPIs
EBITDA. Earnings before interest, tax, depreciation, and amortization (EBITDA) is a financial metric that shows a company's profitability. This metric includes both monetary and non-monetary items and, therefore, differs from cash flows. EBITDA shows the potential profitability of leveraged buyouts and is widely used in various industries.
Costs
A Lavender Farming Pro Forma is an important financial tool that enables users to identify actual and forecasted expenditures, as well as financial resources needed to cover these costs. With a well-developed cost budget, you can see the areas where you can save money and the areas of high priority. As a part of a business plan, the cost budget supports the process of pitching to investors and loan applications.
Loan opt-in
Our Lavender Farming Financial Projection Model has a loan amortization schedule that will help users track everything related to their loans. You can find this template in the 'Capital' tab.
The loan amortization schedule has proformas with pre-built formulas for internal calculations of the loans, interest, and equity.
File types:
Excel – Single-User: .xlsx
Excel – Multi-User: .xlsx
Free Demo – .xlsx