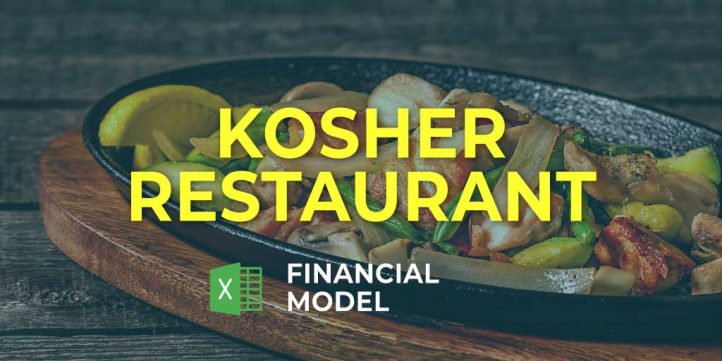 Financial Model, Hospitality, Restaurant
5-year financial projections, Business Valuation, Financial Model, Financial Modeling, Financial Projection, Financial Projections, Pro-Forma, Startup Financial Models, Three Statement Model | Three Financial Statements
NOTE: Single-User pertains to a limited Single User License where the template can only be used by one single user; while Multi-User is a license for users sharing the template with up to 20 members. Please refer to Terms of Use and License and Permitted Use for clarification.
KOSHER RESTAURANT CASH FLOW FORMAT IN EXCEL KEY FEATURES
Video tutorial:
Print-ready Reports
Solid package of print-ready reports, including a profit and loss pro forma, statement of cash flows, a balance sheet, and a complete set of financial ratios.
Simple-to-use
A very sophisticated Kosher Restaurant Excel Pro Forma, whatever size and stage of development your business is. Minimal previous planning experience and very basic knowledge of Excel is required: however, fully sufficient to get quick and reliable results.
Simple and Incredibly Practical
Simple-to-use yet very sophisticated Kosher Restaurant Financial Model Excel tool. Whatever size and stage of development your business is, with minimal planning experience and very basic knowledge of Excel you can get complete and reliable results. Additionally, you will receive uncompromised after-sales service and access to valuable tutorial videos and blog posts.
It is part of the reports set you need.
It doesn't matter you are worried about cash or not, setting up, and managing a Kosher Restaurant Cash Flow Format In Excel should be a cornerstone of your reporting set. It's the main report of your business that must have in place to grow sustainably. Before you rush into rent more office space or making a new hire, you should always run a Projected Cashflow Statement scenario. You can model how that action would impact your cash balance in the nearest future. Knowing whether or not plans are possible is crucial to minimizing risk.
Saves you time
Allows you to spend less time on Statement Of Cash Flows and more time on your products, customers and business development
Convince investors and lenders
Enhance your pitches and impress potential financiers with a Pro Forma Projection delivering the right information and expected financial and operational metrics. Facilitate your negotiations with investors for successful funding. Raise money more quickly and refocus on your core business.
REPORTS and INPUTS
Benchmarks
This Financial Projection Model Excel has a tab for financial benchmarking study. This study involves a financial analysis performance and comparing the company's results with other companies' financial indicators in the industry. Conduction of the financial benchmarking study helps users assess a company's overall competitiveness, efficiency, and productivity.
Valuation
With our pre-built valuation template in the Kosher Restaurant Three Statement Financial Model Template, you will receive all the data your investors might need.
The weighted average cost of capital (WACC) will show your stakeholders the minimum return on enterprise funds invested in its activities capital. Free cash flow valuation will show a cash flow available to all investors, including shareholders and creditors. Discounted cash flow will reflect the value of future cash flows in relation to the current time.
Break Even
breakeven analysis calculation is a part of this Kosher Restaurant Pro Forma Template Excel. This financial indicator is essential for every start-up to understand whether it is appropriate for doing this kind of business.
Break-even analysis shows the company's required revenue level that will cover all the business costs, including taxes. When this revenue level is reached, the company begins to bring in profits, which means that the start-up investments start to pay off.
All in One Place
This Kosher Restaurant Cashflow Projection will give the entrepreneurs financial assumptions regarding costs and income that can be brought together to get the business's full picture.
Dashboard
The financial dashboard in our Financial Projection Model Template is a great financial planning tool that helps to display the results of financial analysis. This financial summary in the form of charts and graphs will help analysts to explain clearly numbers from the financial statements.
With this dashboard's help, users can analyze and present to other stakeholders' revenue forecasts, financial margins, profit charts, and separate items from the balance sheet, pro forma income statement, and cashflow forecast.
Burn and Runway
The cash burn rate is one of the tabs your future investors may be very interested in. This metrics shows the time left to a complete cash burn. Also, this template shows a cash burn ratio. The calculation is based on your average annual cash balance and average monthly operating cash outflows.
Costs
Start-up costs are an essential part of any Cash Flow Proforma. They begin to accrue before actual operations start, so it is crucial to monitor them early to avoid overspendings and underfunding. Our Kosher Restaurant Financial Projection Model has the proforma for start-up costs that show both funding and expenses. You can use this proforma to monitor your expenses and create cost budgets.
File types:
Excel – Single-User: .xlsx
Excel – Multi-User: .xlsx
Free Demo – .xlsx