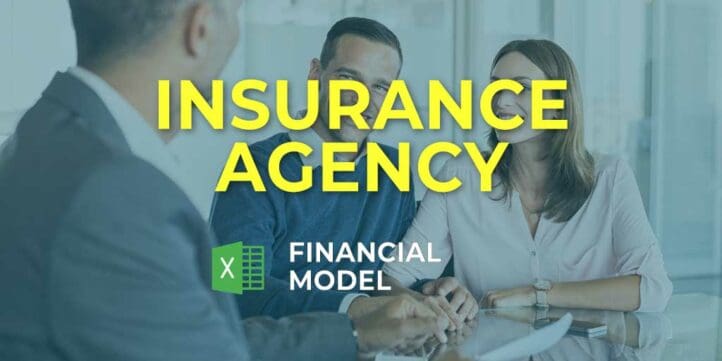 Consulting, Financial Model, Insurance, Professional Services & Advisory
5-year financial projections, Amortization, Break-Even, Budget, Budgeting, Business Valuation, Cap Table, Dashboard, DCF Model, Debt Amortization, Excel, Financial Model, Financial Planning, Financial Projections, Financial Reporting, Financial Statements, Forecast, Forecasting, Loans, NPV (Net Present Value), Pro-Forma, Revenue Projections, Startup Financial Models, Three Statement Model | Three Financial Statements, Uses and Sources of Funds, Valuation
NOTE: Single-User pertains to a limited Single User License where the template can only be used by one single user; while Multi-User is a license for users sharing the template with up to 20 members. Please refer to Terms of Use and License and Permitted Use for clarification.
INSURANCE AGENCY PRO FORMA PROJECTION KEY FEATURES
Video tutorial:
Simple-to-use
A very sophisticated Insurance Agency Financial Projection, whatever size and stage of development your business is. Minimal previous planning experience and very basic knowledge of Excel is required: however, fully sufficient to get quick and reliable results.
Simple-to-use
A very sophisticated Insurance Agency Financial Projection Model, whatever size and stage of development your business is. Minimal previous planning experience and very basic knowledge of Excel is required: however, fully sufficient to get quick and reliable results.
Prove You Can Pay Back the Loan You Requested
When you apply for a business loan, bankers will study your Cash Flow Projection in an attempt to answer this question: Can this business pay back the loan? Requesting a loan without showing your Cash Flow Statement Proforma for paying it back is a common way to land in the rejection pile. It is exceptionally accurate if your current cash flow won't cover all of your monthly operating expenses — plus your loan payment. Don't fall into this kind of situation. Use Cash Flow Statement Proforma to strengthen your case by showing the banker exactly how you plan to use the loan and when you will start repaying the debt. This type of forecasting helps you create a road map that can impress a lender with the confidence they need to approve your loan.
Get a Robust, Powerful and Flexible Financial Model
This well-tested, robust and powerful Insurance Agency Financial Model In Excel is your solid foundation to plan a business model. Advanced users are free to expand and tailor all sheets as desired, to handle specific requirements or to get into greater detail.
We do the math
Financial Projection Model Template has all the features above ready with no formula writing, no formatting, no programming, no charting, and no expensive external consultants!
Build your plan and pitch for funding
Impress bankers and investors with a proven, solid insurance agency financial model that impresses every time.
REPORTS and INPUTS
Cap Table
The capitalization table helps business owners to calculate shareholder's ownership dilution. The Cap table in our Insurance Agency Financial Model In Excel Template has four rounds of funding, and users can apply all of them or one or two rounds for their financial projections.
Performance KPIs
Sales growth year-to-date. Every entrepreneur wants to see the company grow month-over-month. In some industries, sales depend on the season or other external factors. The sales growth year-to-date metric shows the pace at which the company's sales revenue increases or decreases.
Users can monitor sales volumes over various periods – daily, weekly, monthly, or yearly. Sales growth metric helps to manage sales growth goals in the form of a percentage of last month's sales volume or others. If the company has several sales teams, the management can monitor this metric for each team separately. It will help to monitor better each team's achievements.
Financial Statements
Our Insurance Agency Financial Model Excel Spreadsheet has a pre-built integrated financial statement structure that contains all the primary financial statements (Balance sheet, pro forma income statement, and pro forma cash flow projection) and creates financial forecasts for the next five years automatically.
This integrated financial statement structure has pre-built proformas, financial and managerial reports, and financial ratios. Users can choose the presentation of financial information in GAAP or IFRS format for their convenience.
Burn and Runway
Our Insurance Agency Pro Forma automatically creates cash runway and cash burn analysis based on the forecasted revenues and expenses that, in their turn, show net loss, net profit, cash on hand, and break even point analysis. You can also forecast funding requirements using a set of parameters around funding (e.g., equity, debt, grants) and expected runway to raise (for example, 18 months of forecasted expenses).
Cash Flow KPIs
Cash conversion cycle (CCC). The cash conversion cycle (CCC) is a financial metric that expresses the time it takes for a company to convert its resources in the form of inventory and other resources into cash flows. The cash conversion cycle is also called the Net Operating Cycle.
CCC measures how long each dollar that the company inputted is tied up in the production and sales process before it gets converted into cash.
The cash conversion cycl metric accounts for various factors, such as how much time it takes to sell inventory, how much time it takes to collect accounts receivable, and how much time it takes to pay obligations.
Loan opt-in
The loan amortization schedule template in this Insurance Agency Budget Financial Model reflects the schedule of repayment of the loan. It shows detailed information about the company's periodic payments or installments that comprise of principal amount and an interest component.
These elements are shown in the loan amortization schedule template for the period till the end of the loan term or up to which the full amount of the loan is paid off.
Benchmarks
A benchmarking study as the element of the Financial Model Excel is usually used to evaluate a business's performance by focusing on one or more particular indicators and comparing them with similar indicators of other companies in the industry.
In respect of the financial benchmarking study, these indicators could be profit margins, cost margins, cost per unit, productivity margins, or others. Later the company's performance indicators should be compared to that of other companies within the same industry.
Benchmarking is a useful strategic management tool, which is essential for start-ups. Companies can evaluate any economic, business, or financial metric or process and compare them to the processes of 'best practice' companies within the same field or industry.
File types:
Excel – Single-User: .xlsx
Excel – Multi-User: .xlsx
Free Demo – .xlsx