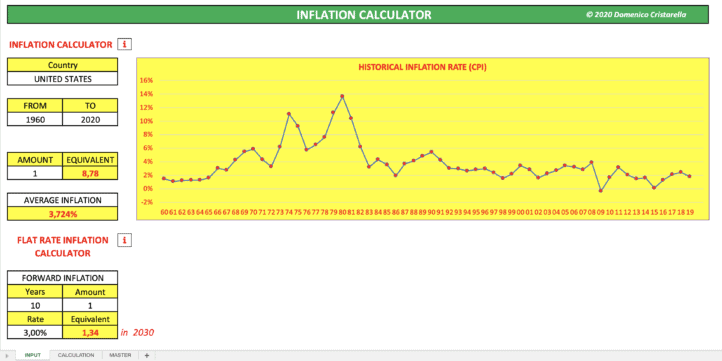 Financial Model, General Excel Financial Models, Investing, Personal Finance
10-year financial projections, CFO, Controlling, Economic Indicators, Excel, Financial Model, Financial Modeling, Free Financial Model Templates, Investors, Macros, Management, Personal finance, Tutorial
This tool actually includes two calculators:
• year-on-year inflation calculator
• flat rate inflation calculator
The first one calculates the equivalent value of a specified amount in any year going back to 1960 (or the earliest available data), based on the average annual CPI (Consumer Price Index) for the selected Country.
It requires selecting the "from" year, the "to" year, and the amount (typically = 1), calculating the equivalent value of such amount by the target year.
Additionally, through the drop-down window, you can visualize either the average inflation rate or the total inflation for the selected period. Moreover, the historical inflation rate for all available years is provided in chart form.
The second one calculates future or backward inflation, based on the specified inflation rate for the selected period and amount.
The file is editable, so you can make changes/updates as needed.
The 46 Countries covered include:
• Australia
• Austria
• Belgium
• Brazil
• Canada
• Chile
• China
• Czech Republic
• Denmark
• Egypt
• Estonia
• Finland
• France
• Germany
• Great Britain
• Greece
• Hungary
• Iceland
• India
• Indonesia
• Ireland
• Israel
• Italy
• Japan
• Luxembourg
• Malaysia
• Mexico
• The Netherlands
• New Zealand
• Norway
• Poland
• Portugal
• Russia
• Saudi Arabia
• Singapore
• Slovakia
• Slovenia
• South Africa
• South Korea
• Spain
• Sweden
• Switzerland
• Thailand
• Turkey
• United Arab Emirates
• United States