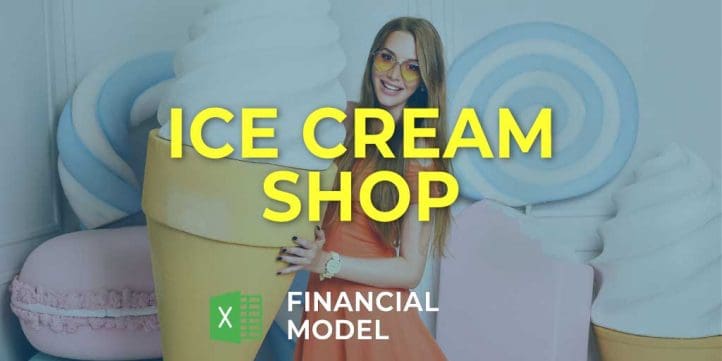 NOTE: Single-User pertains to a limited Single User License where the template can only be used by one single user; while Multi-User is a license for users sharing the template with up to 20 members. Please refer to Terms of Use and License and Permitted Use for clarification.
ICE CREAM SHOP FINANCIAL PROJECTION MODEL KEY FEATURES
Video tutorial:
Identify potential shortfalls in cash balances in advance.
The Ice Cream Shop Excel Financial Model Template works like an 'early warning system.' It is, by far, the most significant reason for a Cash Flow Statement For 5 Years.
Get it Right the First Time
Funding is a binary event: either you succeed or you fail. If you fail, most investors won't give you a second chance. Learn about the pros and cons with Ice Cream Shop Pro Forma Template.
Simple and Incredibly Practical
Simple-to-use yet very sophisticated Ice Cream Shop Financial Projection Model Excel tool. Whatever size and stage of development your business is, with minimal planning experience and very basic knowledge of Excel you can get complete and reliable results. Additionally, you will receive uncompromised after-sales service and access to valuable tutorial videos and blog posts.
Better decision making
Make better operational decisions with the help of creating Projected Cash Flow Statement Format scenarios in your Excel Template. Perhaps you have to choose between new staff members or investment in equipment, and you are wondering which decision to chose. Variants forecasting will give you the information you need to make these decisions with confidence that you know what impact they will have on your cash balance.
Build your plan and pitch for funding
Impress bankers and investors with a proven, solid ice cream shop financial model that impresses every time.
Graphical visualization in a convenient dashboard all in one
All necessary reports and calculations, including variable data for your easement, are displayed on a convenient Three Statement Financial Model dashboard tab. You do not need to move between sheets to compare important data – everything is visible immediately.
REPORTS and INPUTS
Cap Table
The Cap table template in our Ice Cream Shop Financial Model includes four rounds of financing, and it shows how the shares issued to new investors impact the investment income. After each round of financing, the Cap table shows users the ownership structure and the percentage of changes, i.e., the dilution.
Financial Statements
The Ice Cream Shop Finance Projection has pre-built proformas for the balance sheet, the pro forma p&l statement, and the cash flow statement projection. These proformas allow users to create statements both on a monthly and annual basis.
Users can create detailed financial statements using the financial assumptions inputted in the Financial Model Excel Template.
Performance KPIs
Lead-to-client conversion rate. Lead-to-Client Conversion Rate is an essential metric for the businesses that attract new clients with the Internet, social media, and other similar channels. Leads do not turn into customers automatically. Company's sale team need to convert these leads into actual customers.
The Lead-to-Conversion business metric is a good measure of the sales team's performance. Moreover, it indicates the quality of your product. If you have a low conversion rate, it may sign that your product is not attractive to the customers.
Loan opt-in
The loan amortization schedule template in this Ice Cream Shop Budget Financial Model reflects the schedule of repayment of the loan. It shows detailed information about the company's periodic payments or installments that comprise of principal amount and an interest component.
These elements are shown in the loan amortization schedule template for the period till the end of the loan term or up to which the full amount of the loan is paid off.
CAPEX
Capital expenditures, or CapEx, calculations reflect the company's spendings to buy various assets that will bring long-term value to the company. CapEx is typically related to buildings, property, plant, and equipment (PPEs).
Our Ice Cream Shop Startup Financial Model has a pre-built tab for CapEX calculations that will help users determine the company's growth and expansion plans that require significant spendings on equipment and other assets. It is important for business owners and financial specialists to understand the relationship between the company's CapEx, deprecation, and financial statement.
All in One Place
This Ice Cream Shop P&L Projection will give the entrepreneurs financial assumptions regarding costs and income that can be brought together to get the business's full picture.
Valuation
This Ice Cream Shop Financial Projection contains a valuation analysis template that will allow users to perform a Discounted Cash Flow valuation (DCF). It will also help users analyze such financial metrics as residual value, replacement costs, market comparables, recent transaction comparables, etc.
File types:
Excel – Single-User: .xlsx
Excel – Multi-User: .xlsx
Free Demo – .xlsx